What is temi?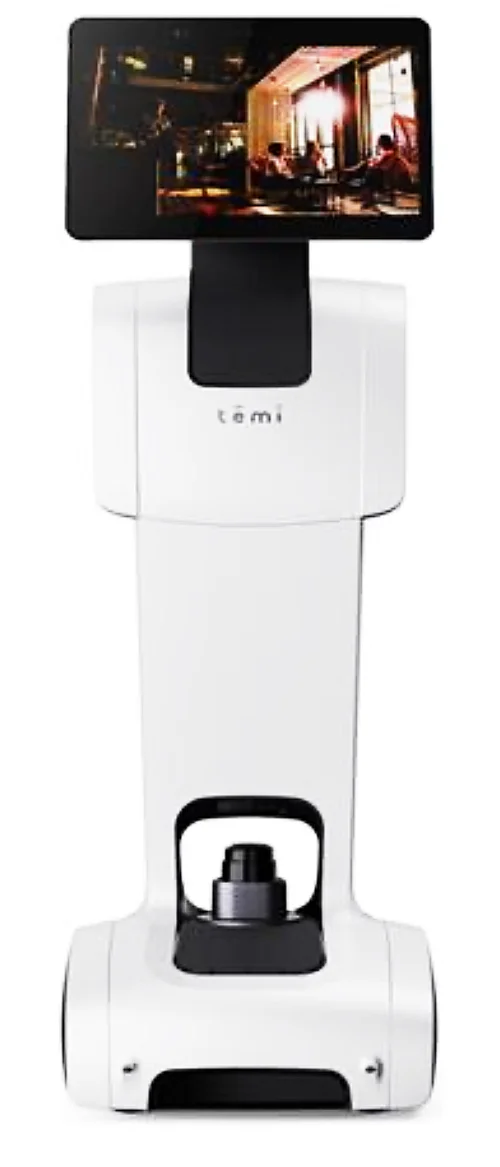 Encourages dialogue with distant loved ones and serves as a gateway to your home or office
It is an AI-equipped automatic mobile telepresence avatar robot.
temi generates an indoor bird's-eye view map with AI using a distance measurement sensor,
Automatic movement is possible with one click.
There is also an automatic follow mode that automatically follows the person in front of you, giving you a new remote control experience.
In addition, with a cute and secure product design,
You will be familiar with people regardless of the scene.
temi is equipped with various extended functions, and by applying iPresence's original teleport application, it has achieved convenience that cannot be found anywhere else.
Usage scene of temi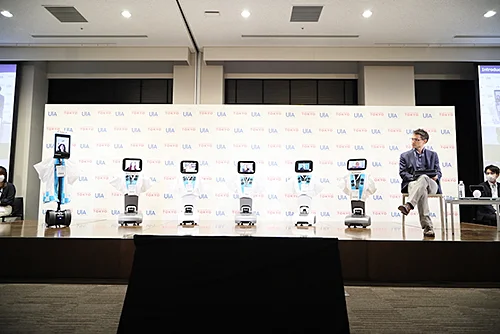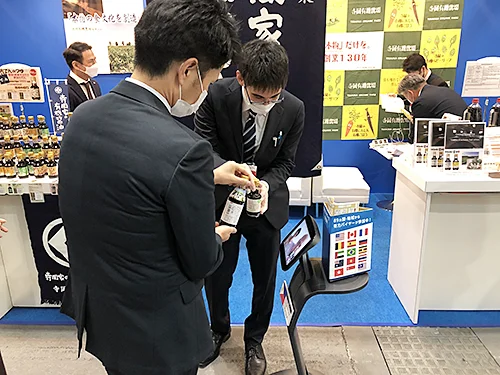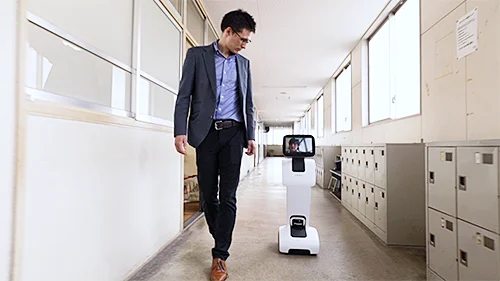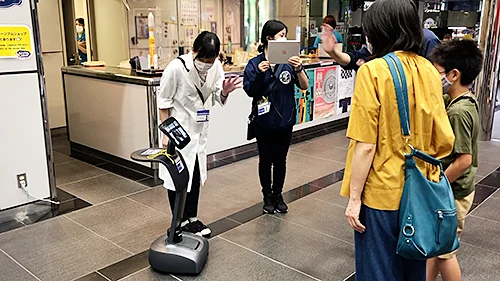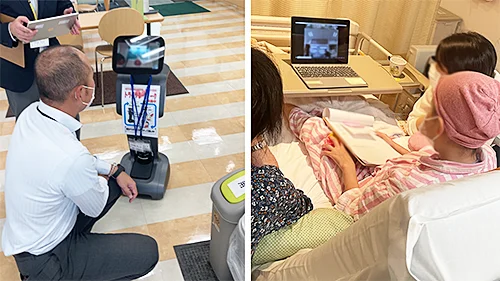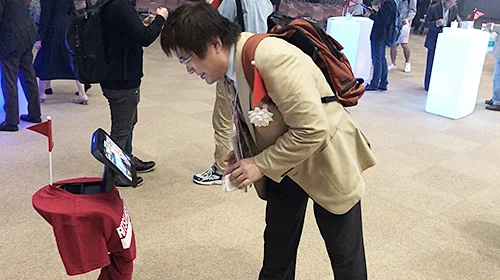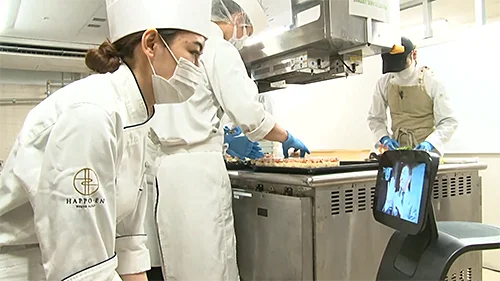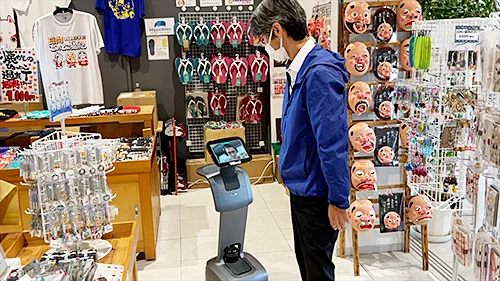 Features of temi
1
AI bird's-eye view map generation function
temi can generate an AI bird's-eye view map of the range traveled with the AI ​​camera and distance sensor.
Once you create a map, it will be displayed in the "temi center" of the operation screen, and you can automatically move to the desired location with one click.You can pinpoint where you want to go even if you are not used to detailed operations.
If you register the sequence, you can also use the patrol function that automatically moves at any time and route on the AI ​​bird's-eye view map, making it possible to use it in an unprecedented way.
2
Automatic tracking function
temi has an "automatic follow-up function" that instantly detects the guide in front of you and follows you automatically.
Even if the operator does not know where to go, he or she can switch modes with a single button and have the detected guide take him or her to the destination without any operation.
Modes can be switched with a single click on the operation screen or a single tap on the top of the temi monitor, and can be easily canceled.Please try using the functions unique to temi that are easy to use.
3
Enhancement of extended functions
temi is packed with full functions on a compact screen, and there is a high degree of freedom in adding applications.
The system base of Android OS is enriched with extended functions that are convenient for everyday life, and it can be operated smoothly like a tablet terminal.
By adding iPresence's original application to temi, you can experience an unprecedented next-generation remote experience.
Functions of temi
ROBOX navigation technology using 18 different sensors realizes smooth autonomous driving.
With real-time object and face recognition, obstacle avoidance, and map generation,
User tracking, on-demand location registration, and autonomous driving navigation and guidance are possible.
personal assistant The best AI assistant recognizes you and supports your needs
Video chat Hands-free and natural conversation with people far away while walking around the house
Personal DJ Listen to music with a high-quality sound system
smart home hub Control smart home devices in your home with just your voice
home presence Always close to family and friends from a smartphone, etc.
private photographer Share special moments with photos and videos with special people
entertainment Interactive games and videos walk with you
News Your favorite online news anytime
learning Learn new languages, math and more in an interactive way
personal caddy Carry stuff with temi's smart tray and charge your smartphone cordlessly
App store Original temi apps and games on the open Android platform
Personal care Access loved ones and health experts anytime from your couch or bed
Product Information
Hardware information
Spec.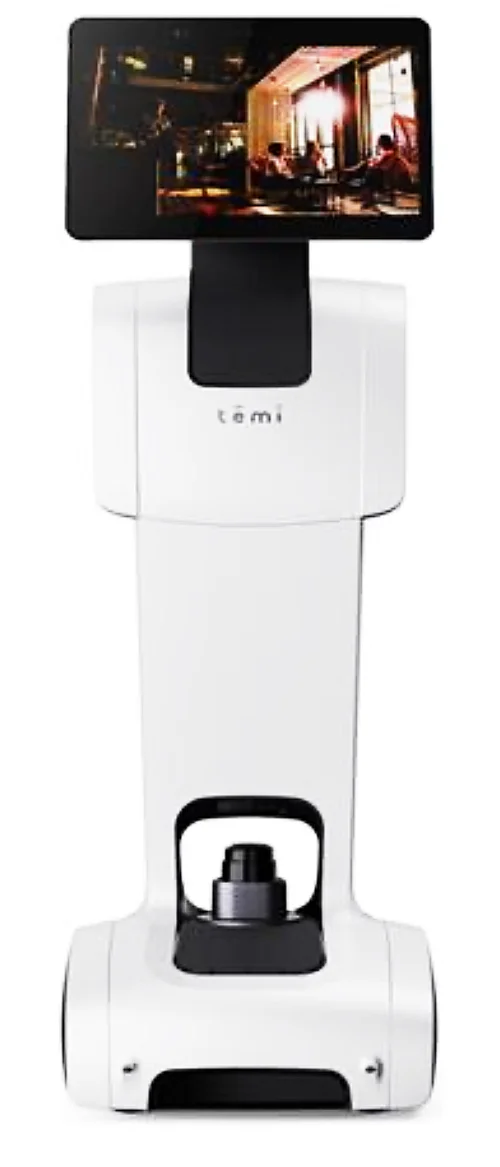 temi V3 - the personal robot
Success Plan
(main unit purchase/system/support/equipment maintenance 3 years)
3 year pack 220 million yen (242 million yen including tax)
After the third year 50 yen/year (55 yen/year including tax)
13.3-inch large display
Android11
high performance CPU
Enhanced USB ports (USB-C/A)
Bluetooth (Master/Slave)
Equipped with 13MP wide-angle camera
Flash: 64GB
Cellular compatible model: temi V3C (5G compatible) (Currently, only NTT Docomo SIM cards are guaranteed to work)
Spec.
[size]
Dimensions: Width 35cm x Depth 45cm x Height 100cm
Weight: 12 kg
[LCD display]
Display: 13.3 inches (H293.76/V 165.24)
Resolution: 1920 x 1080
[Touch panel method]
Glass type: tempered glass 1.1mm surface hardness 8H
Other: Anti-fingerprint coating
[CPU/RAM/Flash memory]
CPU: RK3399 Pro (Rock Chip)
Dual-core Cortex-A72 up to 1.8GHz × 2
Quad-core Cortex-A53 up to 1.4GHz × 2
RAM: 4GB
Flash: 64GB
[Android version/Google Services]
Android: Android 11
Updates: regular security updates
[Network/USB]
Wi-Fi: Wi-Fi5
802.11b/g/n/ac, 2.4G/5G
Cellular model: 4G/LTE/5G (*option)
Bluetooth: V5.0 BLE compatible master/slave mode
USB 3.1 port Type-C: 4G USB dongle type support
External USB camera support
USB device support
USB 2.1 Port Type-A: 4G USB dongle type support
External USB camera support
USB device support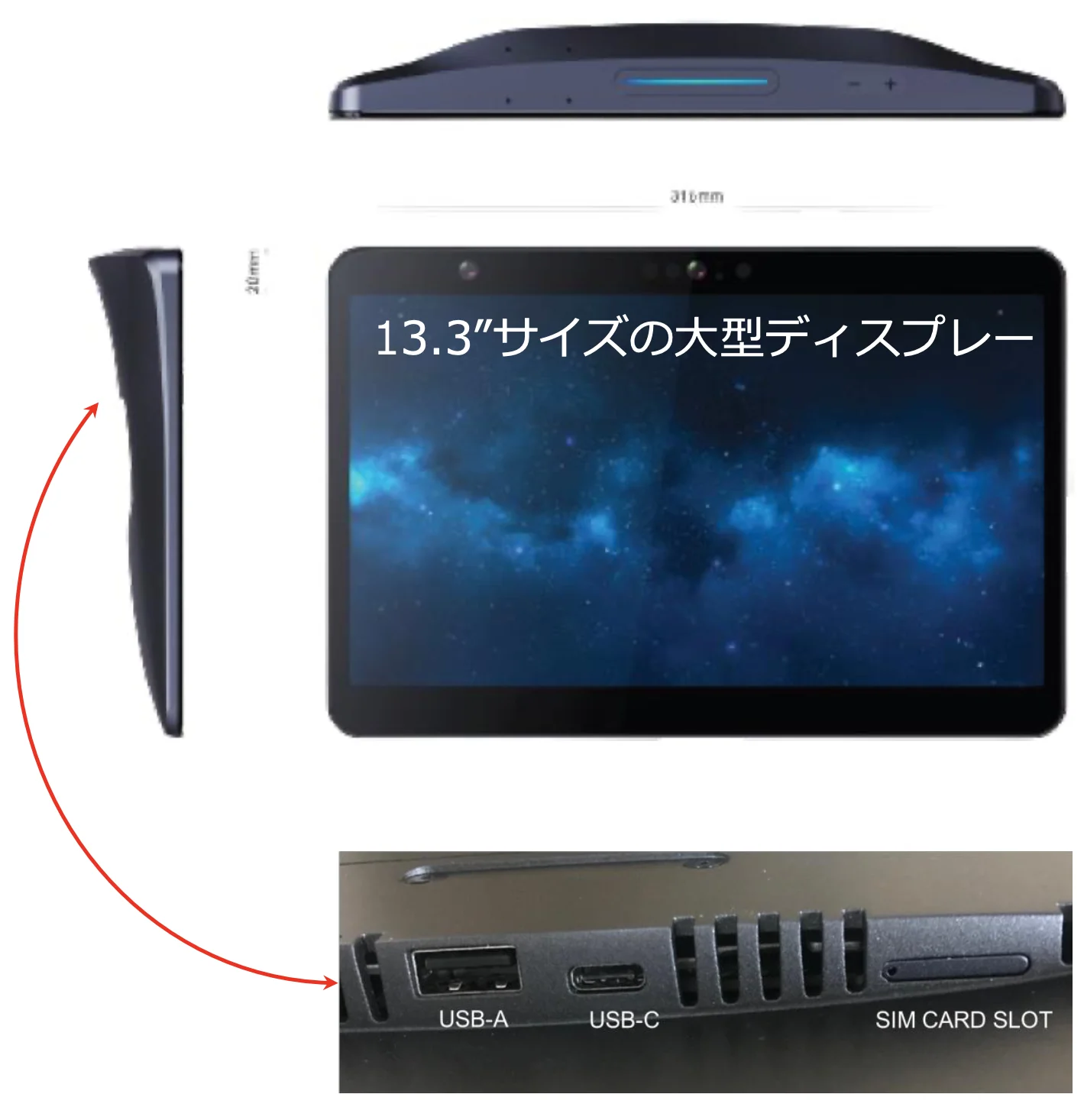 [Sensor/Camera]
LIDAR: detection range 40m
Registered location accuracy 0-10cm
Ground Depth Camera: Detection range ~1.2m
Minimum obstacle detection Height 2cm
[Others]
Tray: 12V/1.2A barrel jack
Spec.
ROBOX
TEMI OS
Usage purpose
Connection
Size and weight
display
screen tilt
Microphone
audio
Camera
CPU
Power
Mobility
tray
Included items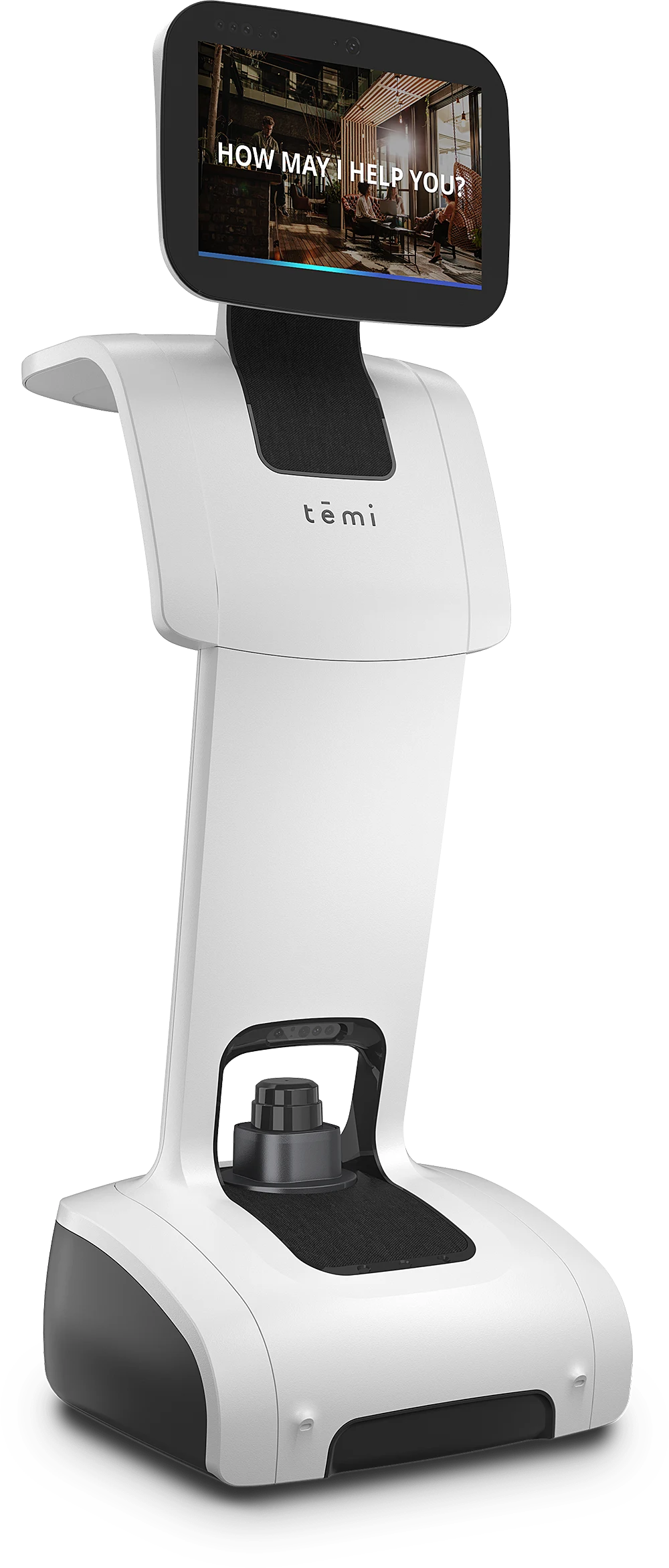 temi V2 - the personal robot
Success Plan
(main unit purchase/system/support/equipment maintenance 1 years)
3 year pack 120 million yen (132 million yen including tax)
After the third year 0 yen / year
Dimensions: Width 35cm x Depth 45cm x Height 100cm
Weight: 12 kg
Tray: 30cm x 25cm load capacity 3kg, with wireless charger
Travel Speed: Up to 1 m/sec, Direct Drive 50W BLDC Motors (x2)
Display: 10.1" HD LCD tilt screen
Microphone: Microphone array
Audio: High quality 20W speaker system
Camera: 13 MP high resolution camera, wide angle camera, TOF depth camera
Sensors: 360 degree LIDAR, depth camera (x1), RGB camera (x2), proximity sensor (x5), IMU sensor, TOF linear sensor (x6), step sensor (x2), ground depth camera (x1)
Connectivity: Wi-Fi, Bluetooth
CPU: TEMI OS - ARM Quad core (Android architecture), ROBOX (TM) navigation system - ARM Hexa core (Linux OS)
Power: Up to 1 hours of operation per charge, Autonomous Charging - 8V, Lithium Ion Battery, High Performance Docking Station
Package: temi main unit, docking station and charging cable, quick start guide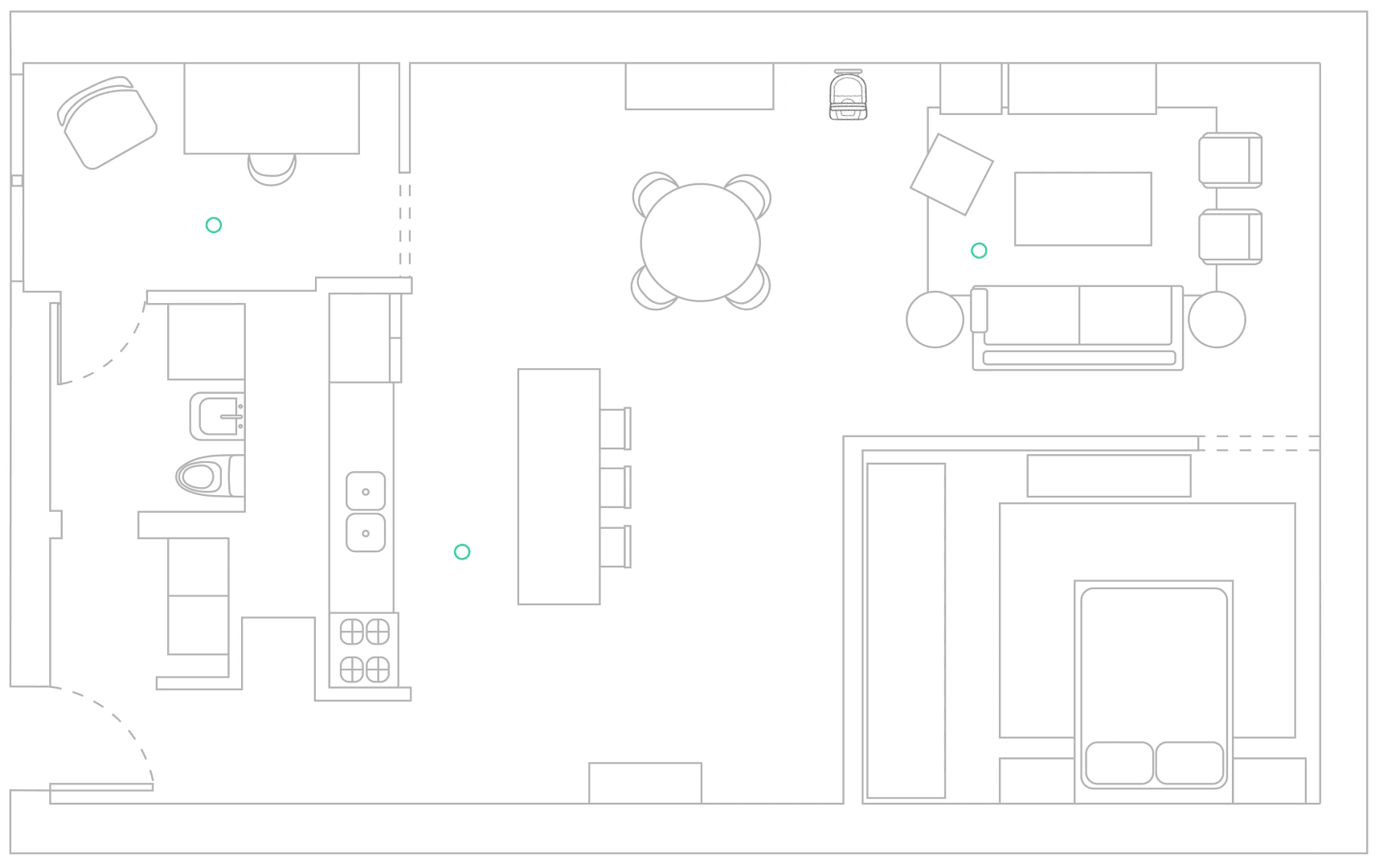 ROBOX
The ROBOX™ navigation system provides human-robot interaction and autonomous navigation for temi.
3D mapping
navigation
User detection and tracking
obstacle avoidance
route planning
CPU
Sensor
360 degree LIDAR
Depth camera x2
RGB camera x1
Proximity sensor x5
IMU sensor
ToF linear sensor x6
Step sensor x2
Real-time sensor fusion and data analytics secure fully autonomous navigation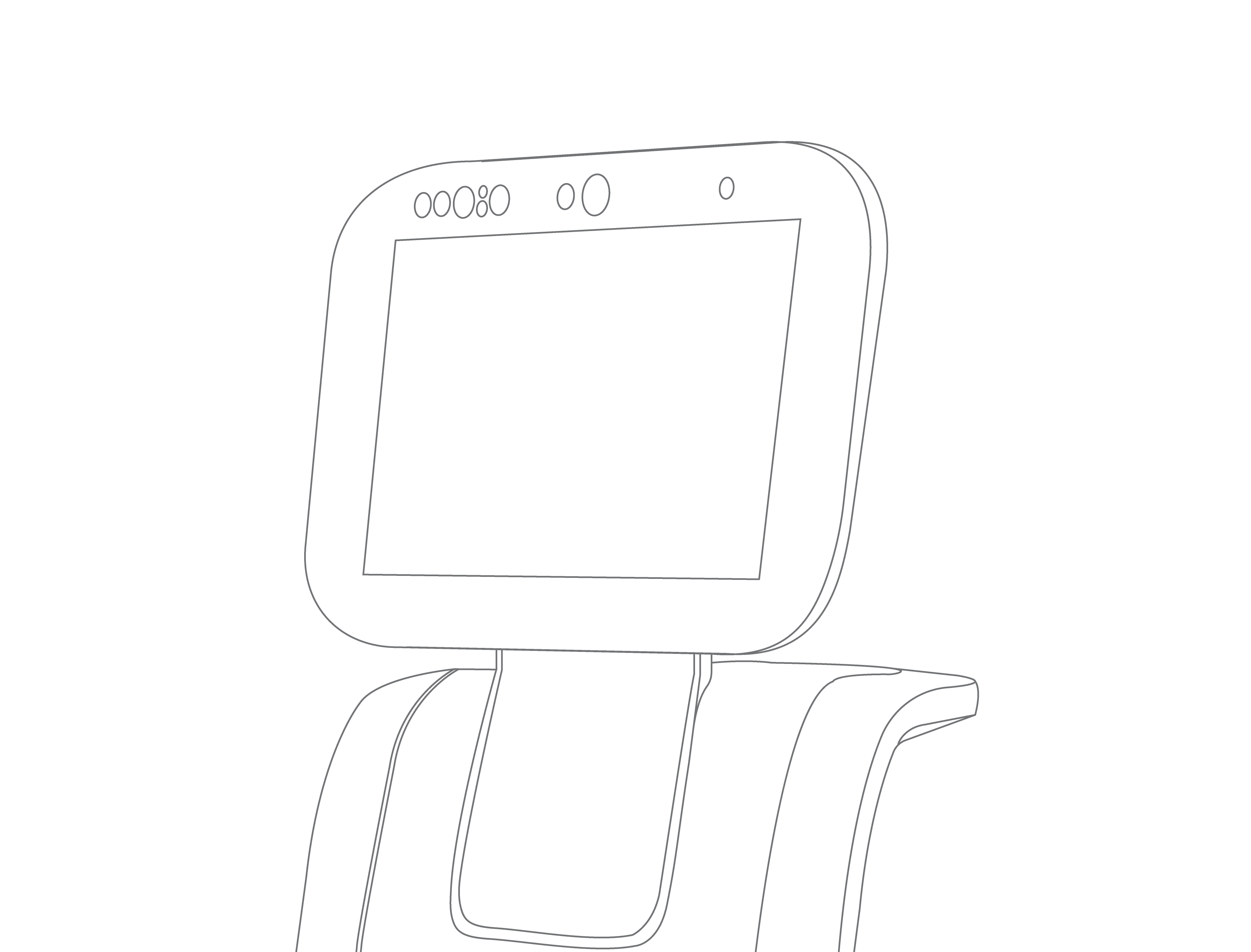 TEMI OS
An intuitive operating system, temi OS learns how to get closer, hear, speak, see, understand and serve you better all the time.
Voice dialogue
Using automatic speech recognition (ASR) and far-field speech technology, natural language processing (NLP), speech-to-text (STT) and text-to-speech (TTS) engines, temi listens and identifies the user's voice understand and respond.
User interface
Designed for the ultimate in human-robot interaction, temi displays visually and video-enhance the user experience of speaking, listening and seeing what they want to see.
AI
temi has an integrated AI engine that connects you to your favorite services.The navigation system self-learns its surroundings and understands where temi is, what it is looking at and where it is going.
Integration with third-party apps
We publish the SDK.
Usage purpose
AI assistant
Telepresence
Video call
News
Personal DJ
Own application development
Photo Summarized video
Guidance/Caddy
home hub
entertainment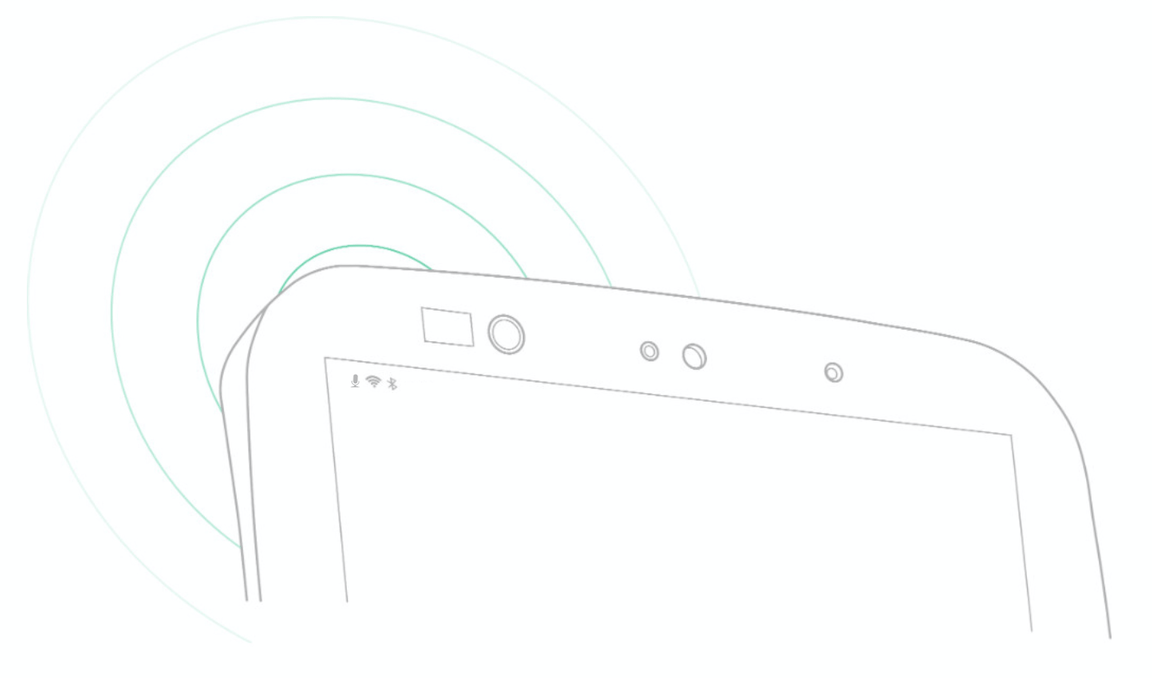 Connection
WiFi
MIMO Wi-Fi
802.11b / g / n / ac
BLUETOOTH
Wireless short-range connectivity with Bluetooth 4.0 devices and accessories (coming soon)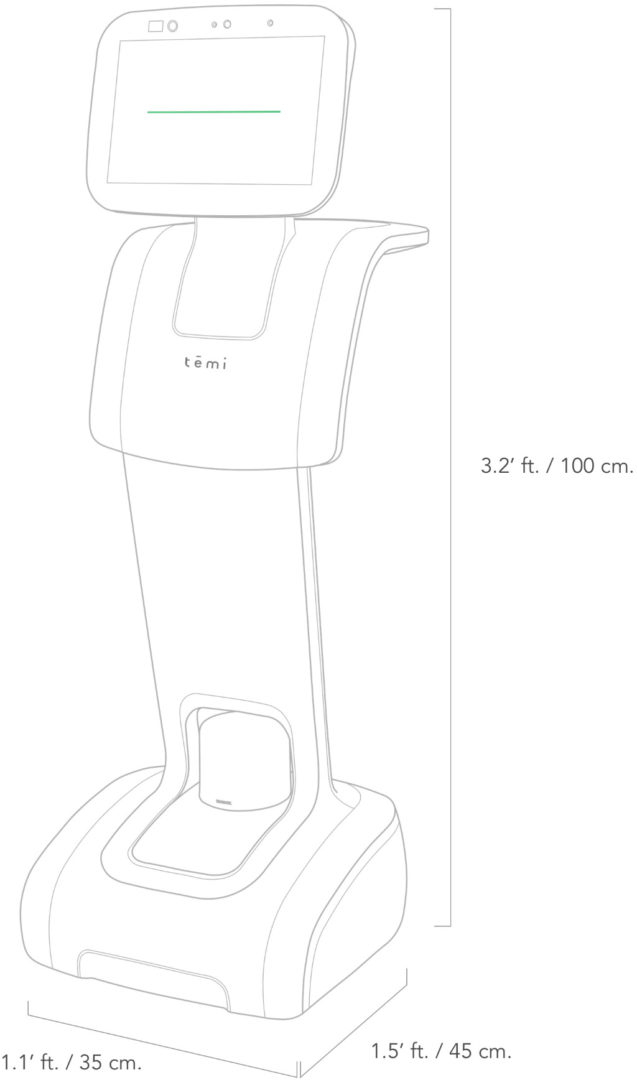 Size and weight
Size
Width 35cm
Depth 45cm
100 cm high
weight
12 kg.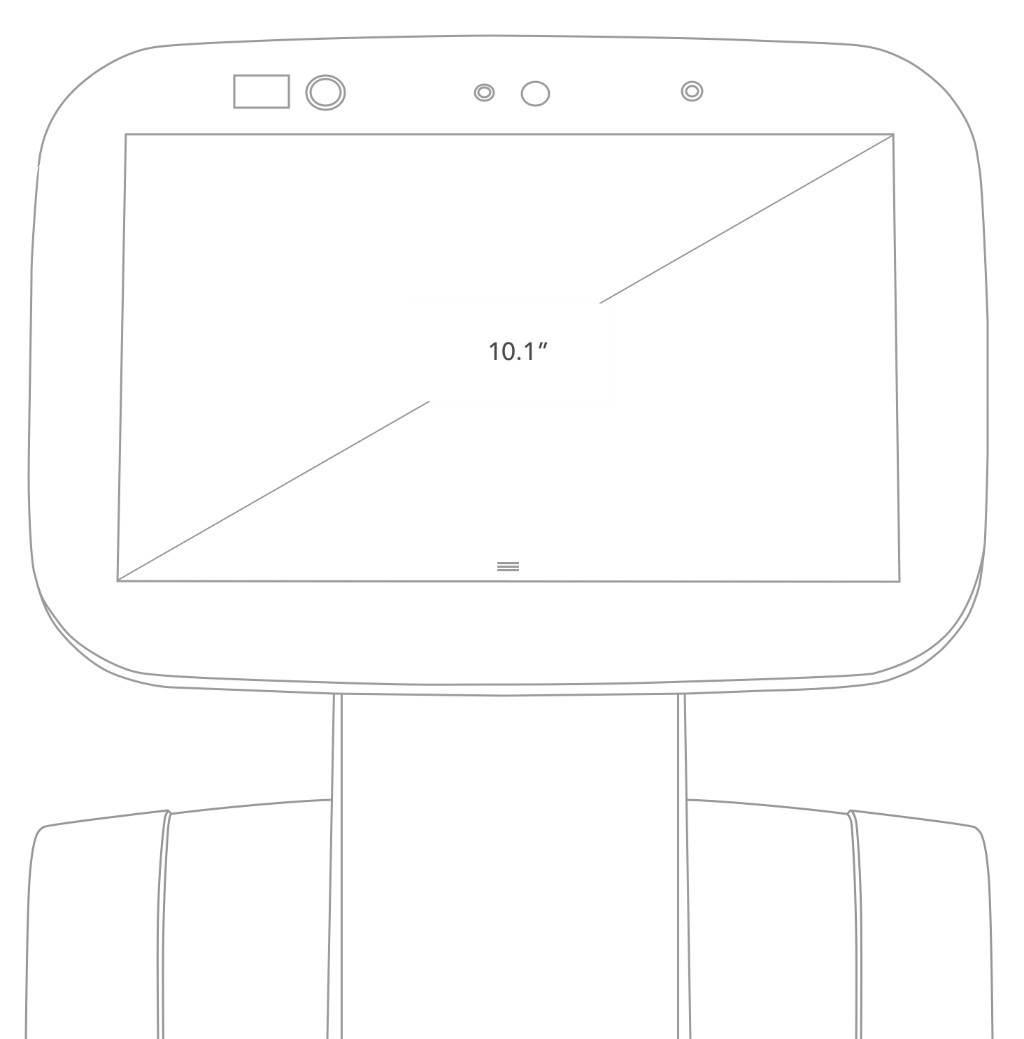 display
10.1 inch HD LCD screen
Capacitive multi-touch (19200X1200) IPS LCD 1600 million colors touch panel display for intuitive interface
Resolution: 224 (ppi)
Brightness up to 340 cd/m2 (typical)
anti-fingerprint coating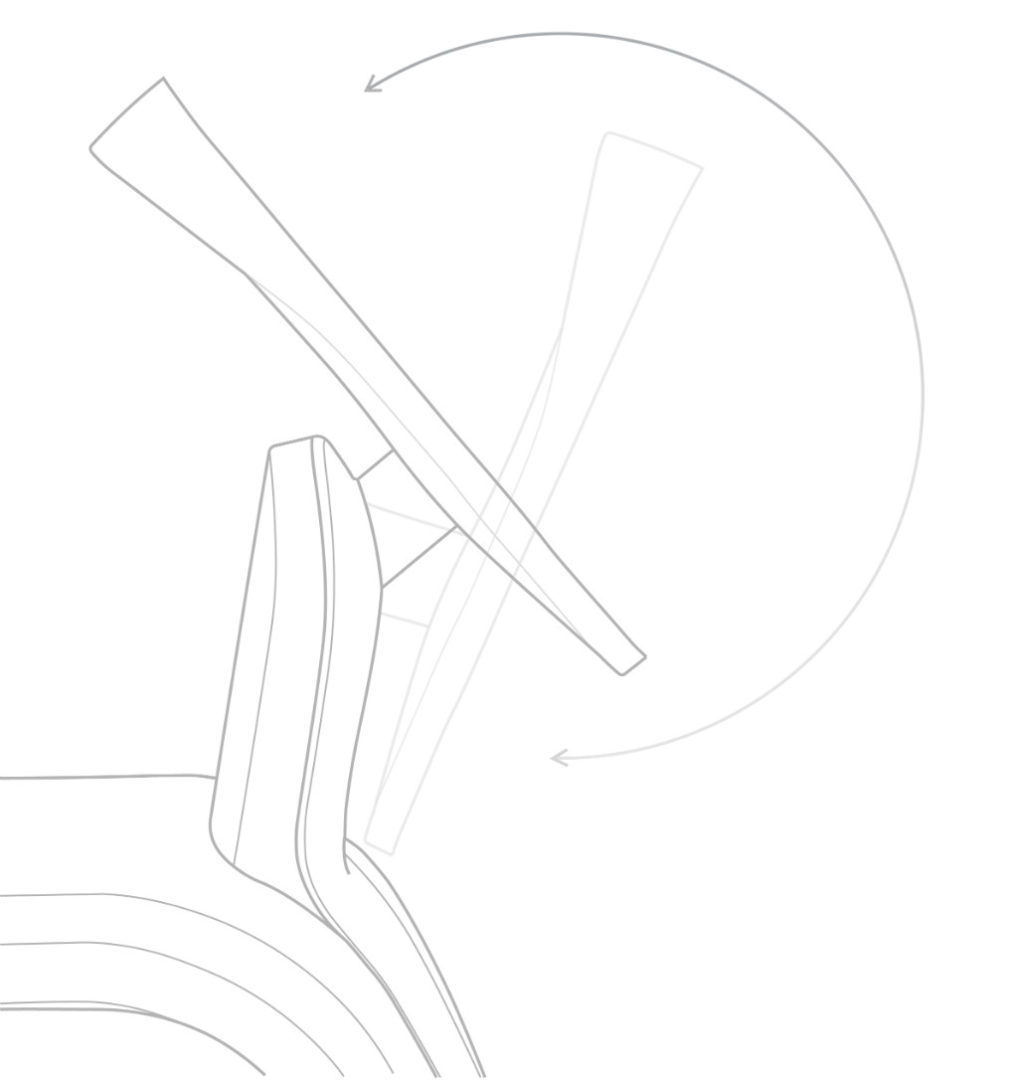 screen tilt
Screen tilt with autonomous face tracking
BLDC motor with planetary gear for high precision and quiet operation
Operating Range: –15°~+55°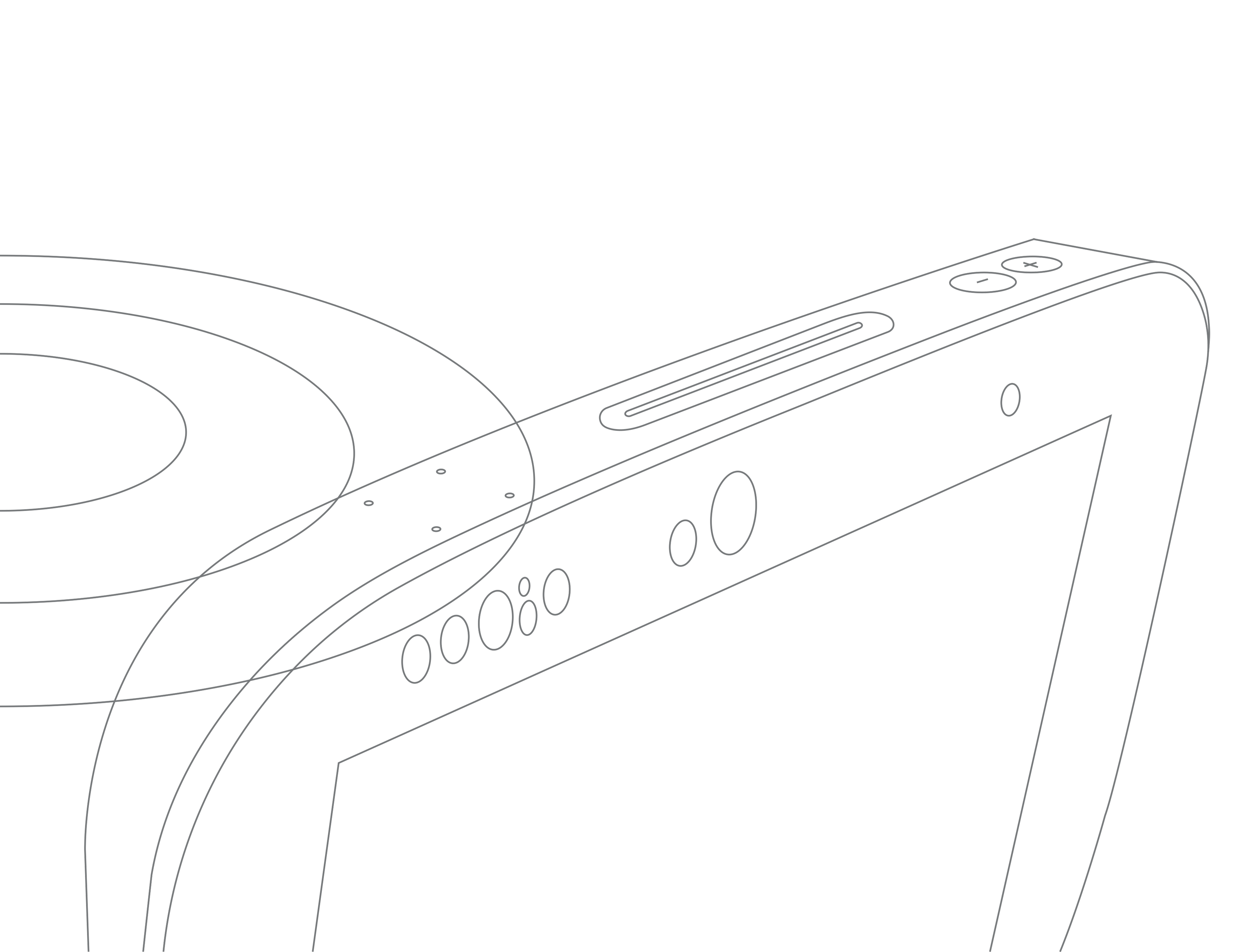 Microphone
microphone array
Omnidirectional digital microphone x4
real-time localization
Beamforming
acoustic echo cancellation
Environmental noise reduction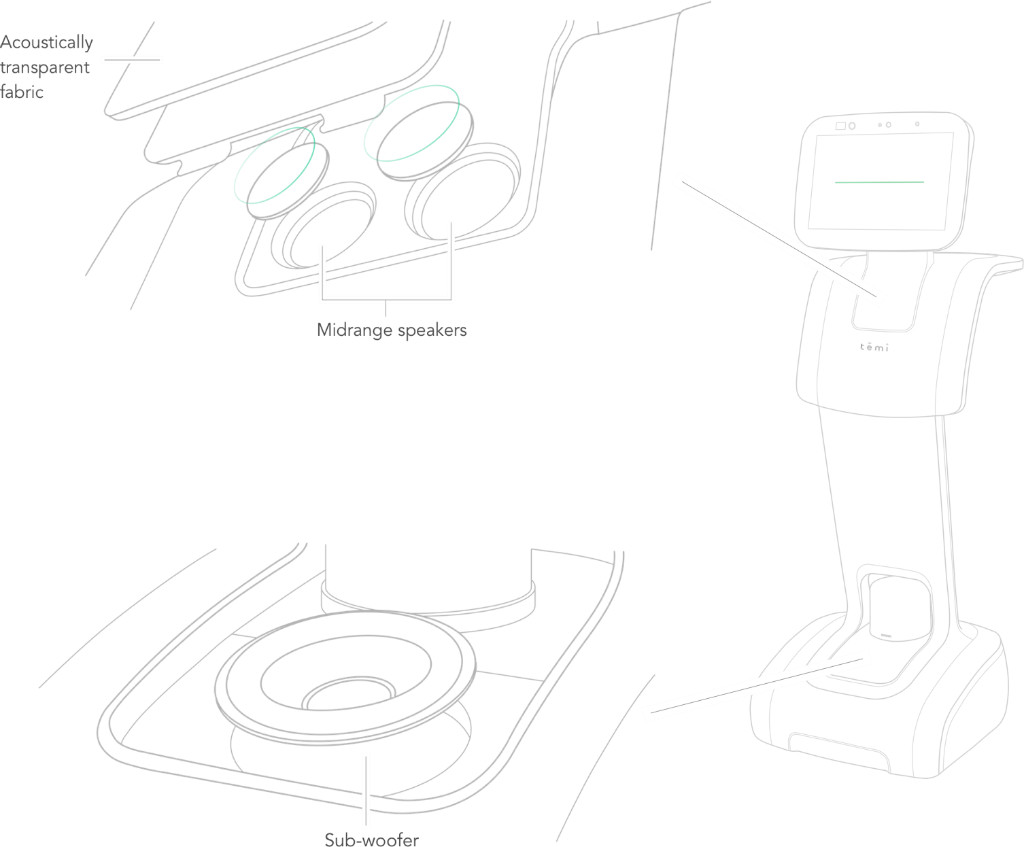 audio
20W audio
HiFi equalizer
Subwoofer x1
Midrange speaker x2
Tweeter x2
passive radiator
acoustically transparent fabric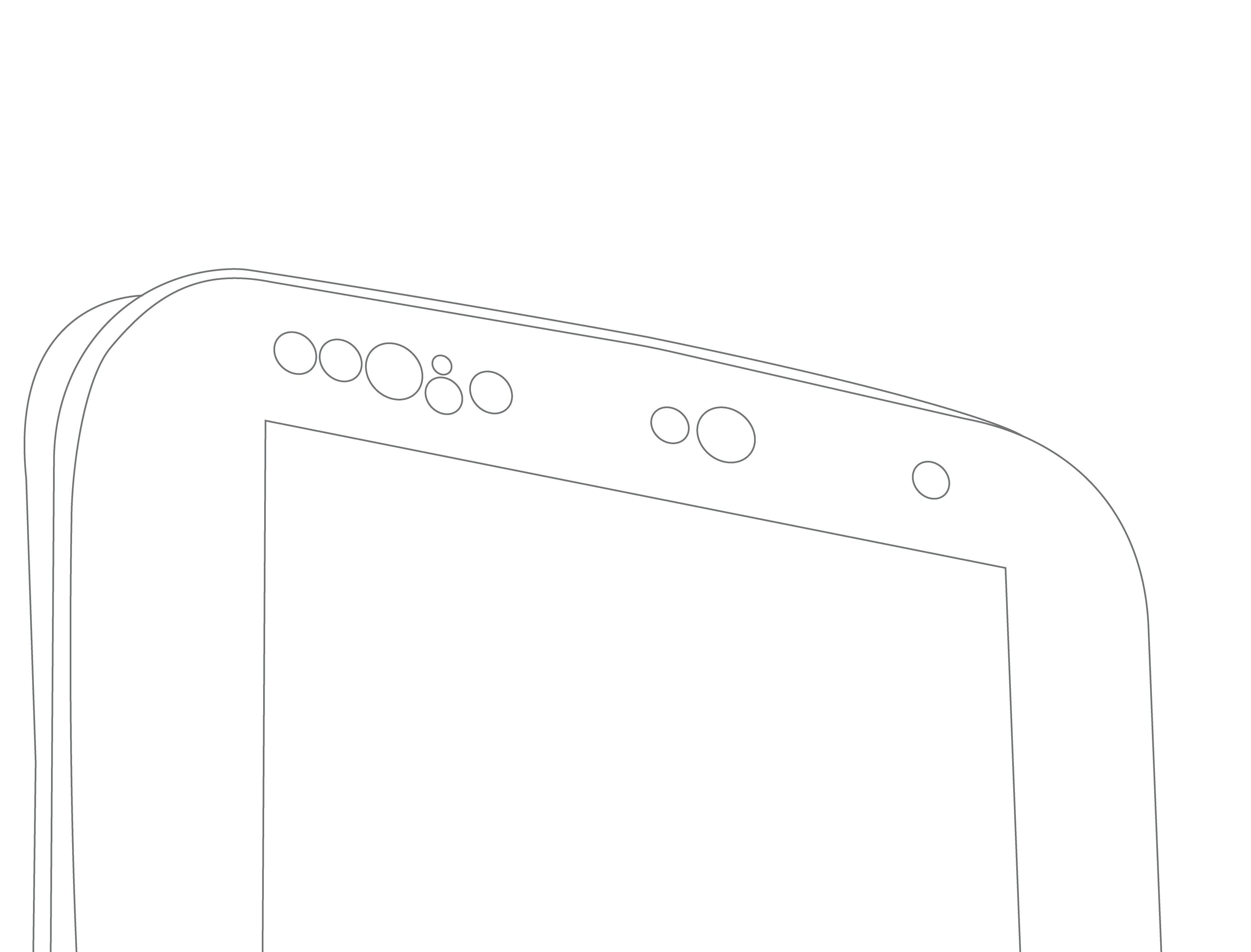 Camera
13 MP high resolution camera
auto focus
1080p@30FPS
angle of view 60 degrees
5 lenses
Hybrid IR filter
wide camera
13MP wide camera for remote navigation
95 degree angle of view, 1080p@30FPS
TOF depth camera
30 FPS
up to 5 meters
angle of view 90 degrees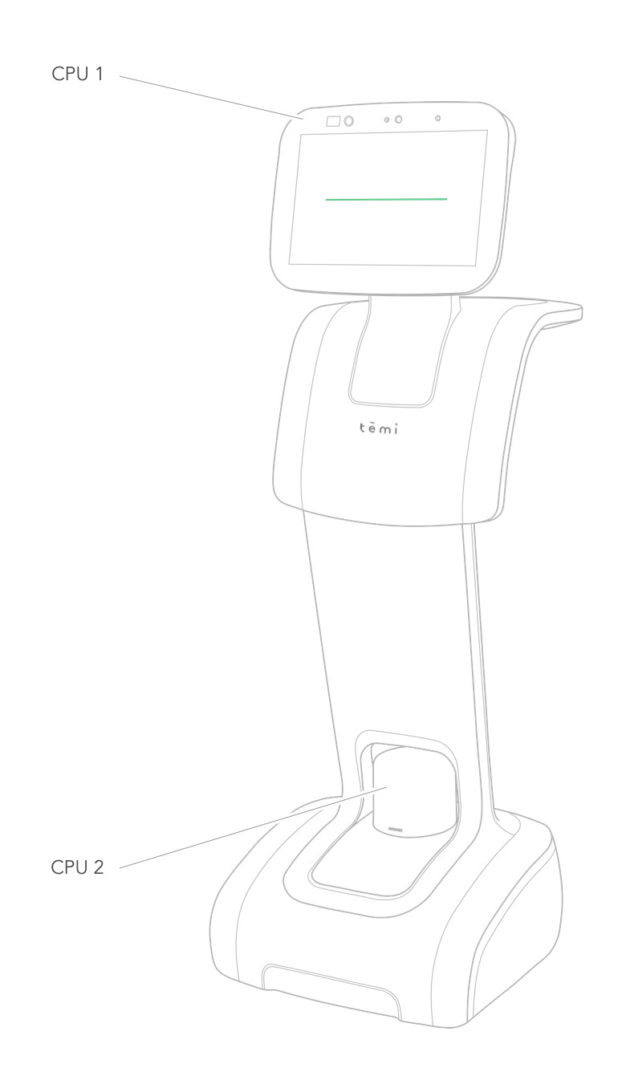 CPU
CPU 1
ARM Quad core
Human interaction computer based on Android architecture with unique launcher and user interface
CPU 2
ARM Hexa core
LINUX OS
Main navigation computer based on ARM architecture for high performance with minimal power consumption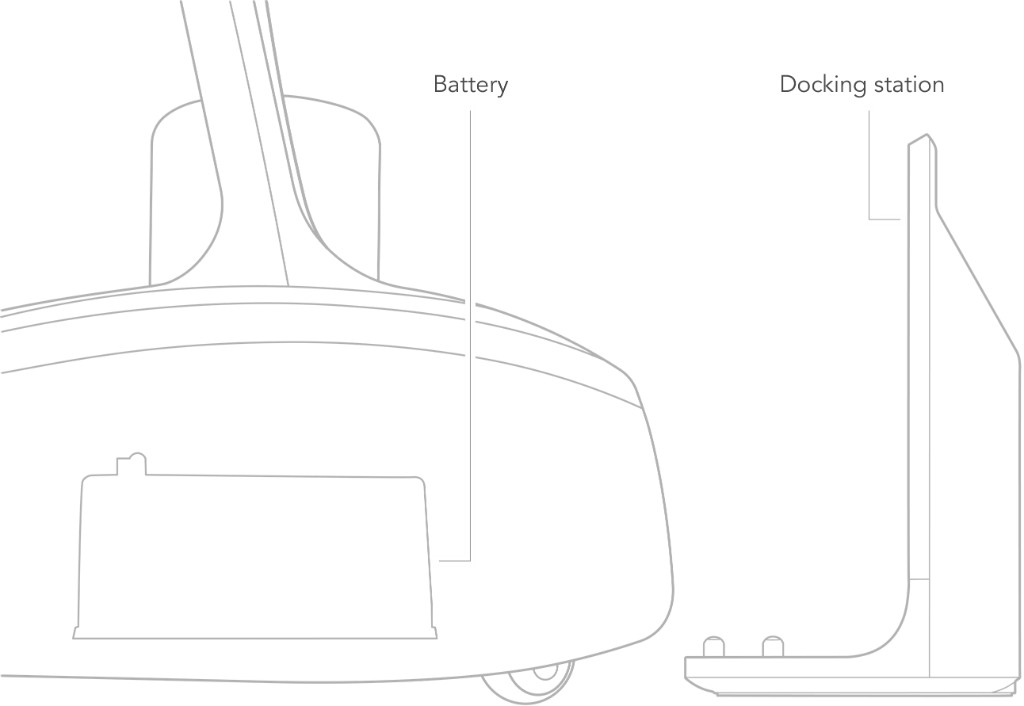 Power
Up to XNUMX hours of operation per charge
Autonomous charging -100V
Lithium ion battery
High performance docking station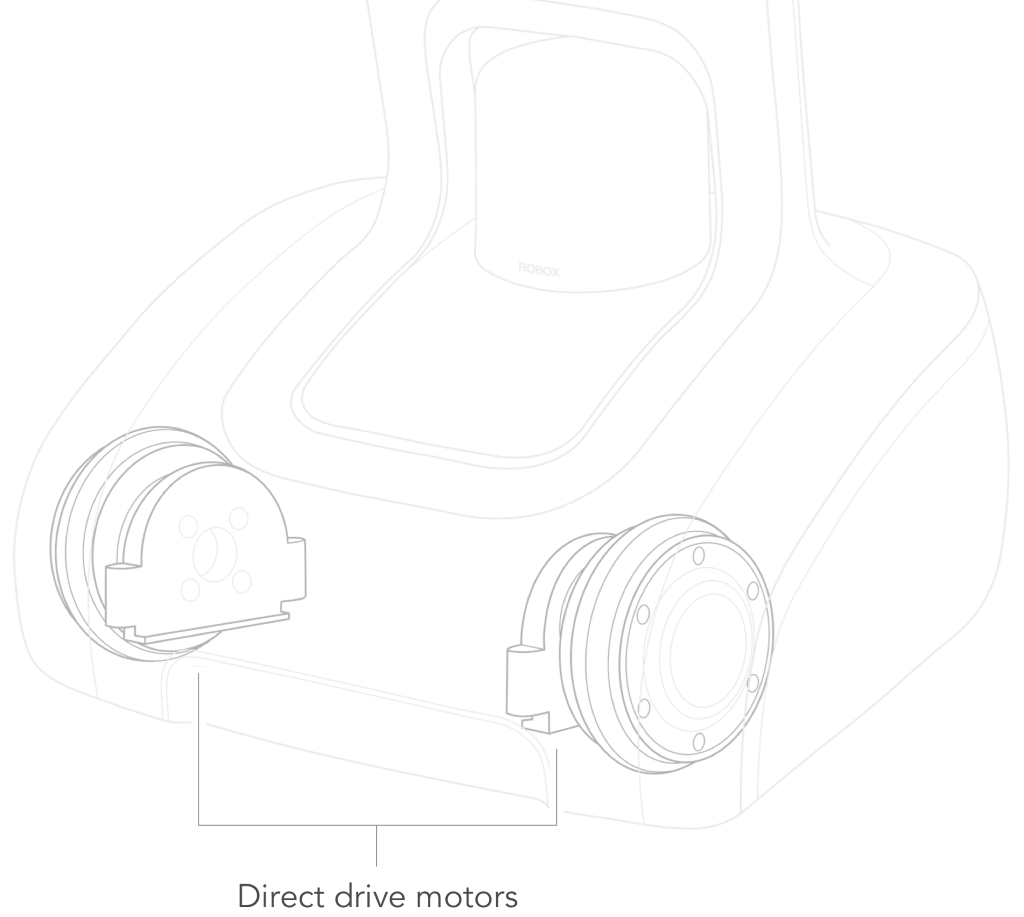 Mobility
Two independent 2 W direct-drive brushless DC motors
High resolution magnetic encoder for a smooth and accurate ride
Mobility
Zero turning radius
Moving Speed
Up to 1m/sec
Optimal grip, stability and vibration control with custom tires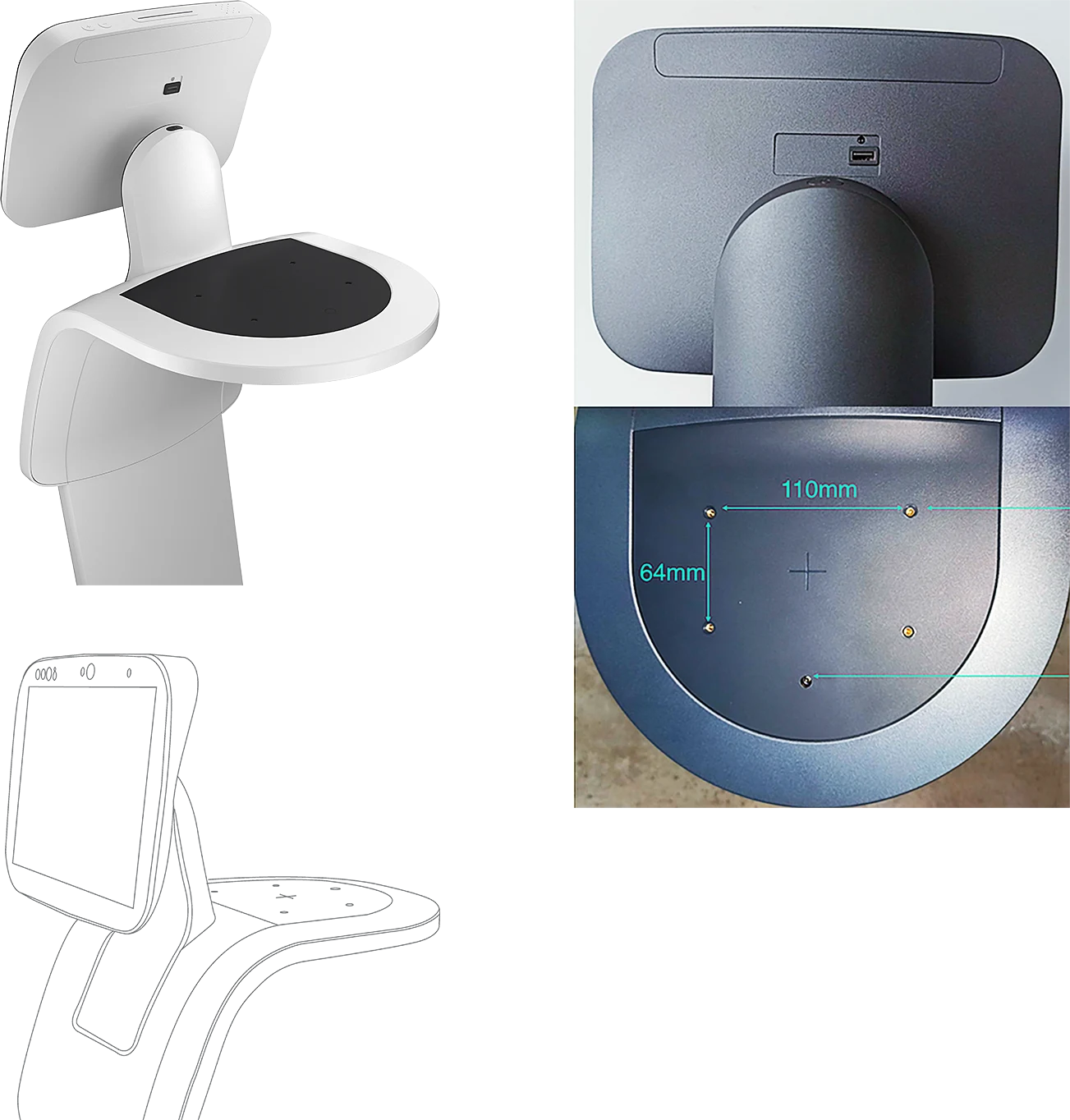 tray
Wireless charging
Tray with standard wireless charger for mobile phones
USB-A host (x1) (DC5V/0.9A)
Barrel jack (x1) (DC12V/1.2A)
Tray mounting screw holes (x4)
tray
30 25 cm x cm
3 Kg load capacity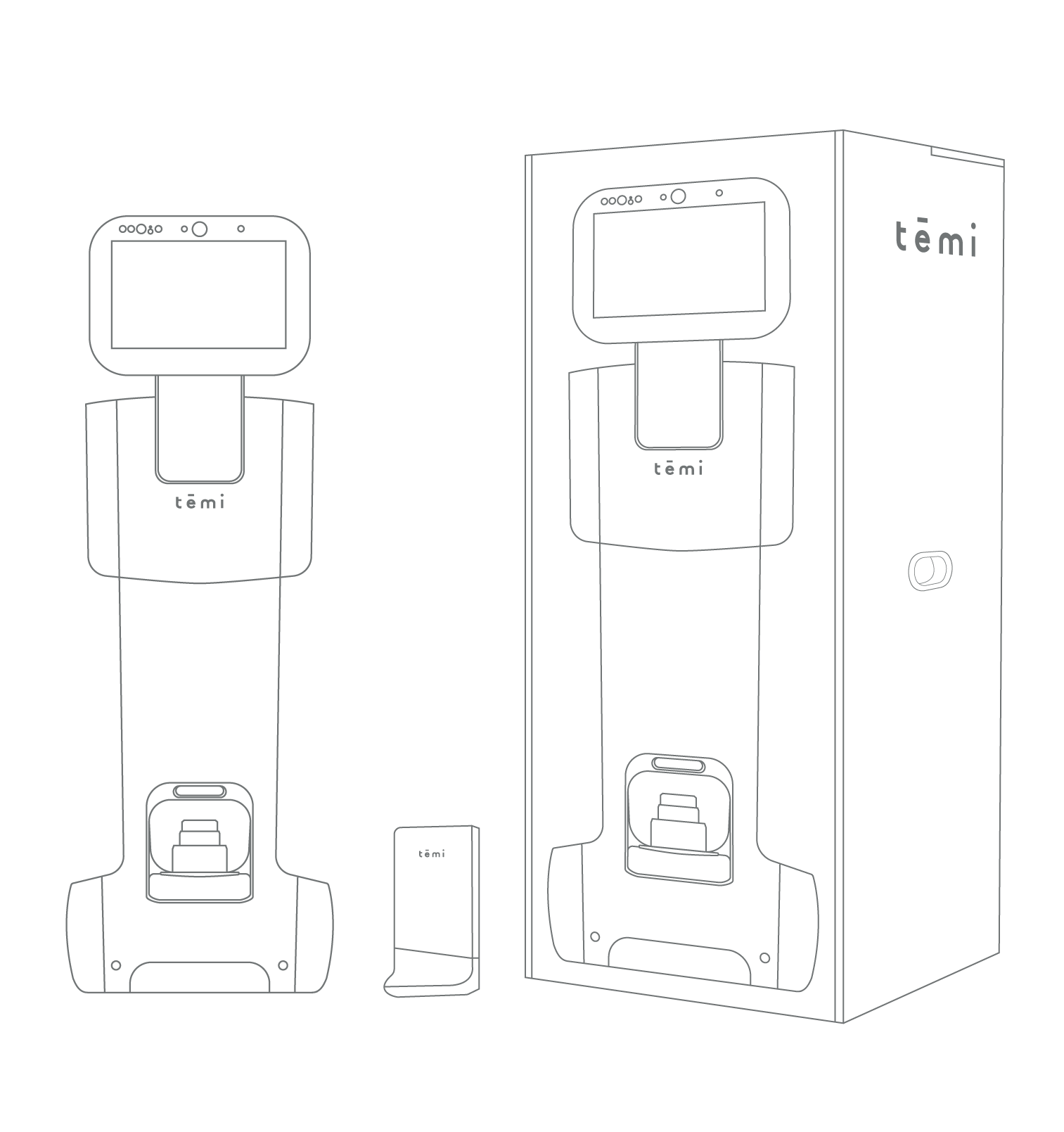 Included items
temi body
Docking station and charging cable
Quick start guide
At the time of purchase, the system usage fee, shipping fee, and annual remote support fee will be included in the above unit price (Success Plan).
Success Plan includes running costs for 3 years.
There is also an option kit that can expand the function.
Contact UsIf you can consult us about your usage environment and purpose from ", our consultant will propose the optimal setup.
About temi's image material linked image
Please use it freely
Supported apps
Comparison of temi V2 and temi V3
Version name
V1
V2 ultimate (ultimate+)
V3 (V3C)
image
Sales Statictics

End of V1 sales
Now accepting upgrades

V2 ultimate on sale
Now accepting upgrades

Sales start

shape
Size
Width 35cm x Depth 45cm x Height 100cm
12kg
Width 35cm x Depth 45cm x Height 100cm
12kg
Width 35cm x Depth 45cm x Height 100cm
12kg
display
resolution
10.1 inch
1920 × 1080
10.1 inch
1920 × 1080
13.3 inch
1920 × 1080
CPU
RK3288
Quad-core Cortex-A17 1.8GHz
RK3288
Quad-core Cortex-A17 1.8GHz
RK3399 Pro Rock Chip
(Dual-core Cortex-A72 1.8GHz)×2
(Quad-core Cortex-A53 1.4GHz)×2
RAM
Flash
2GB
16GB
2GB
16GB
4GB
64GB
OS
Android 6
Android 6
Android 11
WIFI Celluar
802.11b/g/n/ac 2.4GHz/5GHz
-
802.11b/g/n/ac 2.4GHz/5GHz
-
802.11b/g/n/ac 2.4GHz/5GHz
4G/LTE/5G (V3C)
Bluetooth
USB
V4.1 BLE Slave
-
V4.1 BLE Slave
2.1 port Type-A x 2 (ultimate+)
V5.0 BLE compatible master/slave
3.1 port Type-C, 2.1 port Type-A
TO DEAL
Detection range: 10m
Registered location reachability: 0-300cm

Detection range: 40m
Registered location reachability: 0-10cm

Detection range: 40m
Registered location reachability: 0-10cm

Ground Depth Camera
Detection range: ~0.4m
Minimum obstacle detection: height 5cm

Detection range: ~1.2m
Minimum obstacle detection: height 2cm

Detection range: ~1.2m
Minimum obstacle detection: height 2cm

tray
wireless Charger
wireless Charger
12V/1.2A Barrel Jack
Software version
Software updates
Ver128(fix)
-
Ver128(fix)
-
Ver129~
〇
temi Value Service
-
-
Basic
×
PRO
〇
Registration map area
Number of registered points
50m radius around home base
200 maximum
50m radius around home base
200 maximum
50m radius around home base
200 maximum
Control from mobile
Video call
mapping
remote mapping
map backup
temi center (PC control)
Sending notes during telepresence
User rights management
SDK
〇
〇
〇
-
〇
〇
-
〇
〇
〇
〇
〇
-
〇
〇
-
〇
〇
〇
Up to 60 seconds
〇
-
-
-
-
-
-
〇
〇
〇
〇
〇
〇
〇
〇
〇
FAQ
Is auto answer possible?

It is possible.
Is security guaranteed?

Information is encrypted using the P2P (peer-to-peer) method.
Can it be operated by multiple people?

Basically, one terminal is operated per robot.
KeiganHATO and kubi are possible by using background apps.
What conference system can I use?

You will use an application developed based on Zoom.
What is the connection distance?

As long as you have an internet connection, you can connect with the world.
What will be the operating terminal?

Please operate from your iPhone, iPad or PC.
Is it easy to use?

The operation is simple, but there are individual differences until you get used to it.
Is it battery operated?

Yes.
What are some examples of implementation? (Usage plan?)

As a telework installed in the office.Remote visitation at a location away from the facility.It is used in various situations such as remote school participation.
Can it be operated from a PC?

Yes. It is possible.
Can you zoom?

No, I can not.
How long does the battery last?

According to the manufacturer's announcement, it operates for 8 hours.Please consider 4-5 hours if you want to keep the video chat running all the time.
What's the speed?

The data announced by the manufacturer is 1 meter/1 second.
If it is a straight line distance, it is about the speed of an adult walking slowly.
It has a sensor that avoids obstacles, so it will stop if there is something in the direction of travel.
What is the operating terminal?

It will be operated on an iPad with iOS or an iPhone.
Please download the app "AVATAR Robot for ZOOM" from our company on the AppStore.
https://apps.apple.com/jp/app/avatar-robot-for-zoom/id1463359897
What is your internet environment?

A Wi-Fi environment is required.
Since the communication status affects the connection, image quality, and voice quality, it is necessary to prepare a communication environment that allows one robot to use it.
* Video chat is 1 GB per hour as a guideline.
Can I use it in places where there is no power supply?

If the main unit is fully charged, it will operate without a power supply (outlet) on the spot.
Realistically, I think it's safe to use it in a place where you can get a power supply.
Can I wear clothes?

It is possible to decorate it, but please be careful not to cover the LIDAR (automatic stop request) and speakers at your feet.
Can I register the location?

While temi is active, it constantly uses LIDAR to map its surroundings.
After completing the mapping by running in the space, move temi to the desired location and set the point registration.
Is it possible to run on carpet?

It can run on flat, dry floors.It automatically stops at places where peeling or unevenness occurs.
Avoid rugs, rugs, or other rugs with long piles. (The tire will get caught and it will not move.)
What is your safety design?Are designs and tests conducted in accordance with standardized standards?

I am getting:
Terminal Equipment Standard Conformity Certification TELEC https://www.telec.or.jp/services/term/index.html
Electrical Appliance and Material Safety Law PSE https://www.jet.or.jp/law/pse/index.html
Is it possible to set it to work only within a certain range?

A virtual wall can be set.
Is it possible to stop the operation at night or early in the morning to prevent the security device from malfunctioning?

Please turn off temi.It will not work until you reboot.
What is the response when damage occurs (robot damage, building damage, interpersonal injury, etc.)?

There is no compensation for the building in use or personal injury.
In addition, we will not charge for damage to the robot during rental unless it is intentionally damaged by the user or does not correspond to items prohibited in the user manual.
How much electricity do you use?

It is 6 Wh (nominal power, time is actual measurement value) in 211.6 hours of charging time.
Where should I set my home base?

Please install in a place where you can secure 120cm front and 50cm left and right while connected to the power supply.