Applications Closed|Thank you for applying for the 2022 Idea Contest "School Life Changed by Telerobo"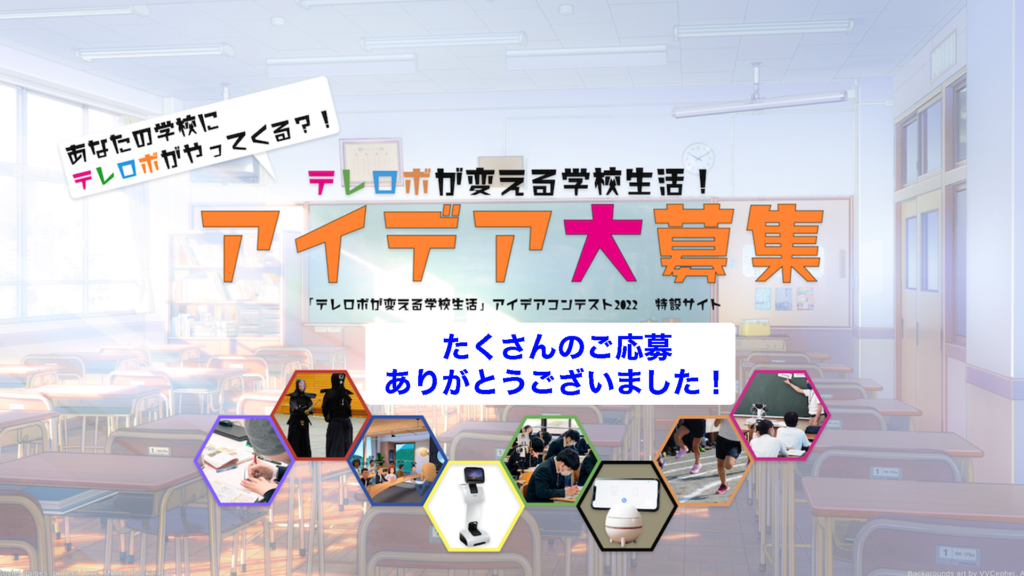 Starting in July 2022, the idea contest 7 titled "School Life Changed by Telerobo*" will be held for students and teachers at elementary, junior high, high school, and special support schools nationwide. We are looking for ideas for × school life.
■ Details of the contents of the event:[Press Release] "School Life Changed by Telerobo" Idea Contest 2022! - Will your unique ideas and telerobo technology change the school of the future? ! ~
What is Telerobo School Life Participation:Official Website
We would like to express our sincere gratitude to everyone involved for the many ideas we received from many people during the application period, which closed on September 9th.
Thank you very much to everyone who applied.
Gold, silver, and bronze prizes and honorable mentions will be selected based on strict examination by experts from everyone's ideas gathered by application!Commendation.
what's your idea 2022 year 10 month 8 day to 2022 year 10 month 15 dayUntilSpecial SitePublished inTo do.I'd love tofavorite ideaTo"How nice"Click it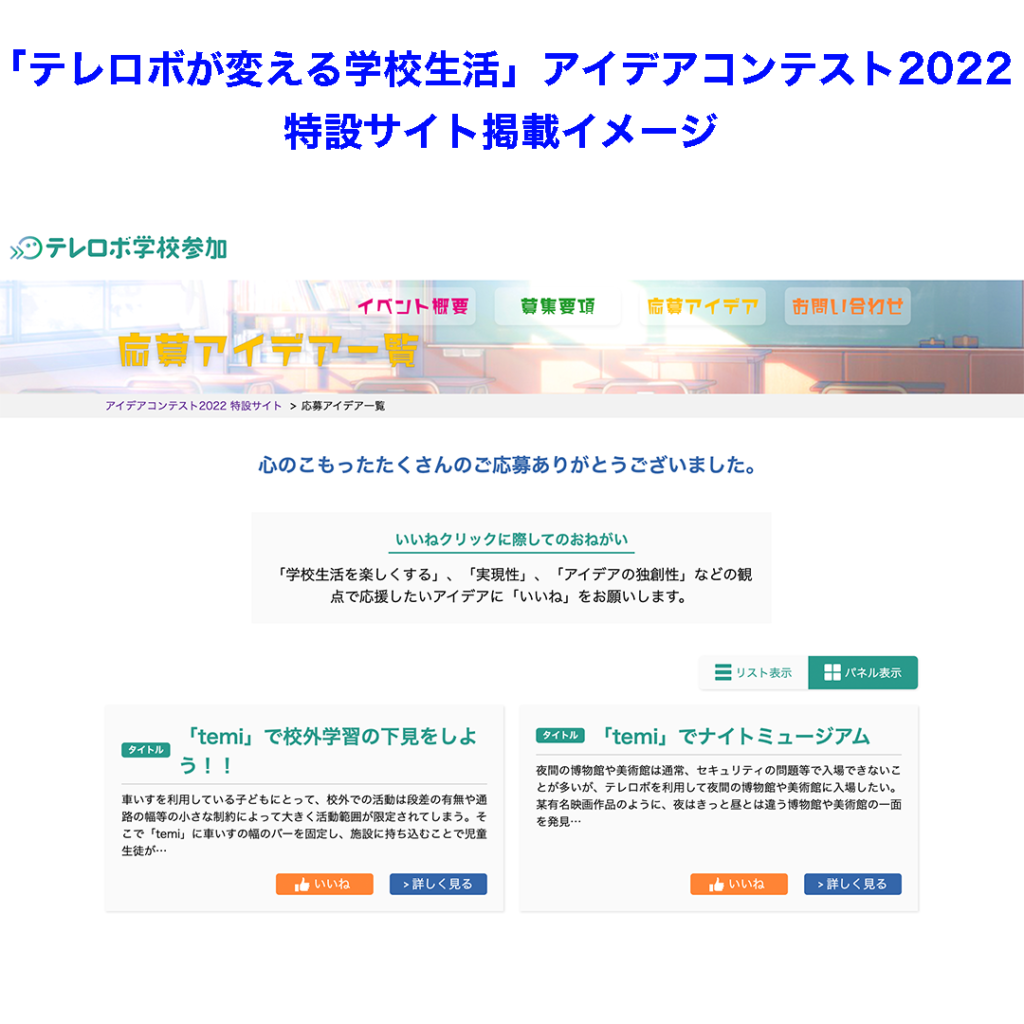 We would appreciate it if you could read it from the perspectives of "enjoying school life", "feasibility", and "originality of ideas".
Please note that the secretariat has made some corrections to the descriptions of personal information, etc. in the content of the submitted ideas.note that.
■ Event schedule
・2022.10/1 (Saturday) Like the submitted work on this page and start judging
・2022.10/15 (Saturday) Like/Judging Deadline
・2022.11/1 (Tue) Results announced at the special Metaverse venue
■ Award
・Gold Award (XNUMX groups)
  Certificate Telerobo lending Special class using Telerobo
・Silver Award (XNUMX groups)
  Certificate Telerobo rental
・Bronze Award (XNUMX groups)
  Telerobo rental
・ Honorable mention (XNUMX groups)
  Telerobo rental
* Telerobo: We will lend you the telerobo you want from kubi, temi, and telepii.
*In the actual rental, we may ask you to consult us about the telerobo model and operation method.
Please take a look at the various ideas, and if you have an idea that you think is good, please give it a "Like!"
We will inform you again about the special metaverse venue.
First of all, thank you again for participating in this idea contest.
We will continue to develop various initiatives so that telerobo can be used not only to participate in school life but also to expand the range of activities to other areas.
Thank you.