[March 2023, 3 Proposal for a new school life] Presentation of the latest use cases of avatar robots at general schools | New Media Development Association
iPresence LLC is working with the New Media Development Association to promote the spread of AVATAR robots.
(The telepresence avatar robot provided by iPresence isClick here for more information.)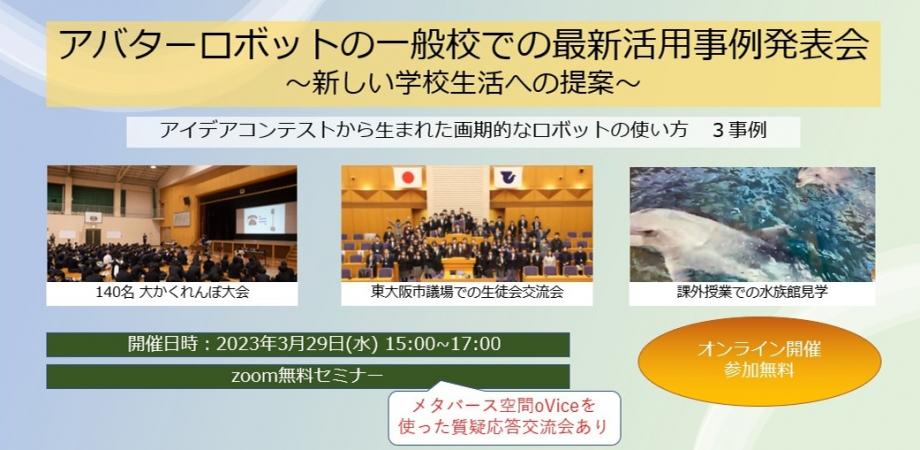 Event overview
From 2020, the New Media Development Association will support children who are hospitalized or who have disabilities to use avatars and participate in school life (classes and waigaya) to make them smile. have been implemented. (*XNUMX)
As the concept of inclusive education progresses, at a general school (former school) where hospitalized children return from a special support school after being discharged from the hospital, by having them use avatar robots on a daily basis, it is possible to use avatars. We are making efforts to prepare for the support of children with disabilities.
As part of this, we set up an opportunity for three teachers from schools and classes who have been working on using avatar robots on a daily basis this year to introduce each case study, share know-how, and share issues.
First, Mr. Mitsuhiro Yano, Chief of ICT Education at Wakayama University Faculty of Education Junior High School, will introduce a case study of "Hide-and-seek with an avatar robot and the latest ICT utilization case study (science class using AR)".
The other day, I would like to talk about the "hide and seek" game devised by our students at our school.TelepiiUsing 18 machines, we were divided into a team to hide and a team to find, and all the eighth graders played hide-and-seek while talking with the other team.
Have you ever experienced AR? The good thing about AR is that you can change the viewpoint and size.This time, I will talk about some examples of using AR in science classes.

Next, Mr. Hiroshi Iida, Head of Science at Higashiosaka Municipal Mito Junior High School, will present a case study of "Hybrid-type Student Council Exchange Meeting at Higashiosaka City Assembly Hall."
The Higashi-Osaka City Student Council Exchange Meeting, which could not be held normally due to the corona wreck.The online exchange meeting, which was supposed to have started as a desperate measure, has gradually developed, and we were able to discover new possibilities through the use of avatar robots.
Until now, student council gatherings had to be limited in number, but with avatar robots, the difference between real participation and remote participation is eliminated, and children interact and discuss from the same point of view "Hybrid student council gathering" Based on this practice, I would like to think about the use of avatar robots between schools.
Lastly, Ms. Mayumi Yamamoto of the Online Hospital Class KAYOU Project will present a case study of an extracurricular class titled "Together with dolphins, connecting dolphins on the remote island of Iki to hospital beds."
Three avatar robots were used to play with dolphins at a dolphin park on the remote island of Iki while children in hospitals were in bed for a long period of time.By installing one next to the keeper who gives the food, you can enjoy the feeding scene and the dolphin jump at a much closer distance than the dolphin show at the aquarium. increase.We had children who cannot go out usually get treatment and motivation for returning to school, and experienced an extraordinary experience.
After the lecture, we will prepare a place for an exchange meeting where you can freely ask questions.
After moving to the metaverse space oVice, you can choose 3 themes you want from the 2 themes and interact with them.
Please join us.
It is mainly open to those involved in schools who are interested in general schools.
If you are interested in education, medical welfare, local governments, related organizations, individuals, etc., please join us. (Free to join).
                     
This event is sponsored by the public interest incorporated foundation JKA bicycle race subsidized project.
*XNUMX Activities of the New Media Development Association:https://www.jka-cycle.jp/_ct/17522614
Click here to apply for participation:https://peatix.com/event/3528189/view
Summary
Organizer New Media Development Association
Date March 2023, 3 (Thursday) 29:15-00:17 (doors open 00:14)
Viewing method ZOOM meeting (lecture), metaverse space oVice (exchange meeting)
Participation fee: Free
Schedule (tentative)