[March 2023] iPresence Monthly News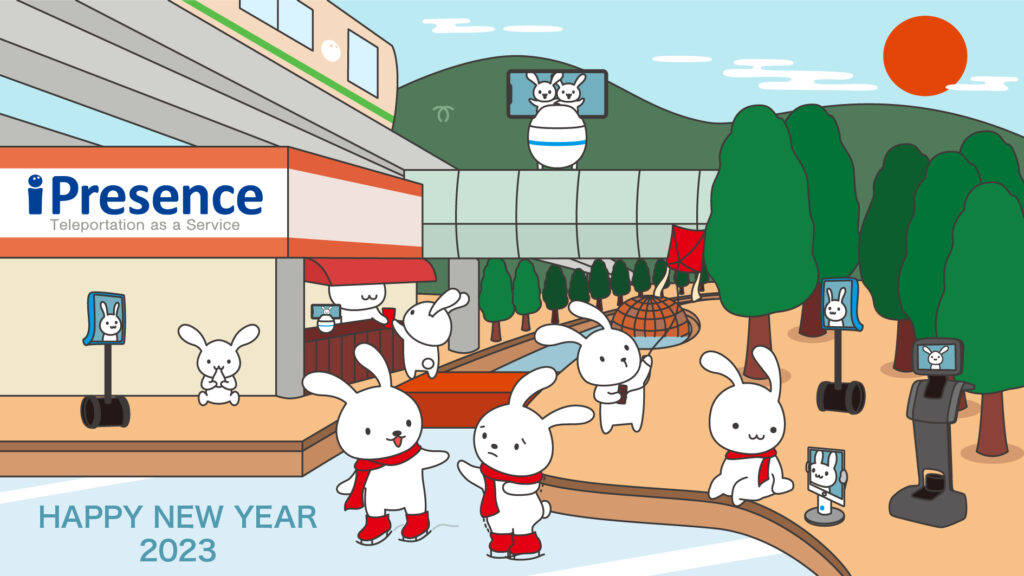 Happy new year!
I would like to express my sincere gratitude for the special support you have given me during the last year.
We would like to ask all of our employees for their continued support this year.
Today, January 2023th, is World Braille Day!
It was adopted on the agenda at the World Federation of the Blind General Assembly held in November 2000, and at the United Nations General Assembly in December 12, awareness of the importance of Braille as a means of communication was raised. approved for the purpose of increasing
The English notation is "World Braille Day", and in Japanese it is also written as "International Braille Day" and "World Braille Day".
The date of the anniversary is the birthday of Louis Braille (1809-1852), a Frenchman who perfected Braille, and the English and French Braille etymology "braille" is derived from his name. that's right.
Braille became blind in both eyes when he was 5 years old, and entered the world's first school for the blind in Paris at the age of 10.He invented Braille when he was only about 15, and he gave new hope to the blind.Since then, improvements have been made to Braille, and with the recognition of the French government, it spread throughout the world, and has been sublimated to the current Braille.
Communication methods change with the times, but I think this is an episode that makes us think that the human desire to communicate remains the same.
In 2023, iPresence will provide services and products that can be used as one way of communication by connecting people and things in various ways, centered on "Share the Experience. We are willing to deliver.
Without further ado, I would like to introduce you to information that will help you discover the possibilities of new business and technological development, as well as services that support smoother communication!
Special news of the month
1. [Sales start] THETA360 degree deliveryTheView in browser onlycan!Avatar360 latest version appeared!
2. [New site]Telerobo school community siteopen!
 When using the telerobo school serviceA place to gather information and exchange opinions!
3. [Metaverse]MetaverseCommitment to - XR CLOUD
 Possibility of a solution that allows you to experience both the real experience of Telerobo and the online experience of the Metaverse at the same time
4.【MICE】Next-generation MICEChallenge to!
 in the MICE industryThe Present and Future of Solutions Using Telerobo
5.[New]From on-site examples to behind the scenes of development!Get the latest blog posts!
 -"ANA Avatar XPRIZE"Interview with iPresence who participated in│ Hearing future prospects based on what was obtained and issuesKu
 -Flutter;start withOSS code readingRecommendation
 -VS CodeVSCode key in vim keybindingshortcut commandcall
 -Pythonfor using GStreamer from OpenCV withBuild OpenCV4.6.0about
 -Flutter Riverpod Of.familyabout
 -M1 OfMacfor x86_64 architecture canvas package installation inx86_64 version brew OfInstallation
6.[Solution] Products, services and applications provided by iPresence
 ・Business area
 ・Provided telerobo
 ・Telerobo hardware development
 ・Telerobot application development
 -Digital twin SaaS 3DVR/AR/MR sales/contract development
 ・Event SaaS sales and support
1.[Sales start] THETA

360 degree delivery

The

View in browser only

can! Avatar360 latest version appeared!

Traditional live streaming can't convey the atmosphere of the place...
RICOH THETA with the iPresence in-house developed app Realize 360-degree video live distribution!
Free timeViewable in a web browser! !
Distinctive benefits
■ Viewers do not need to install software!You can watch it just by opening the specified URL with a web browser (Google Chrome)!You can expect an increase in viewership!
■ Multiple people can watch at the same time!Moreover, each viewer can look around from their favorite viewpoint!So focus on watching!
■ Plan setting that can be started at low price and in a short period of time! Easy to implement with "Let's try first"! A detonator for DX promotion!
Recommended use scene
■When you want to feel the atmosphere of a place, facility, or venue!You can freely look around in an instant, so you can share the atmosphere and signs of the place even from a distance!
■As a semi-real visit to a place you want to visit! Being able to look around 360 degrees makes you feel like you really went online.If you add real-time conversation, it will be even more impressive as a memory!
■For remote management and administration!Since you can grasp the overall view in an instant, it is effective when considering points to be improved and problems to be addressed!Since it is real-time, it is possible to give immediate response instructions, leading to high-quality organizational activities!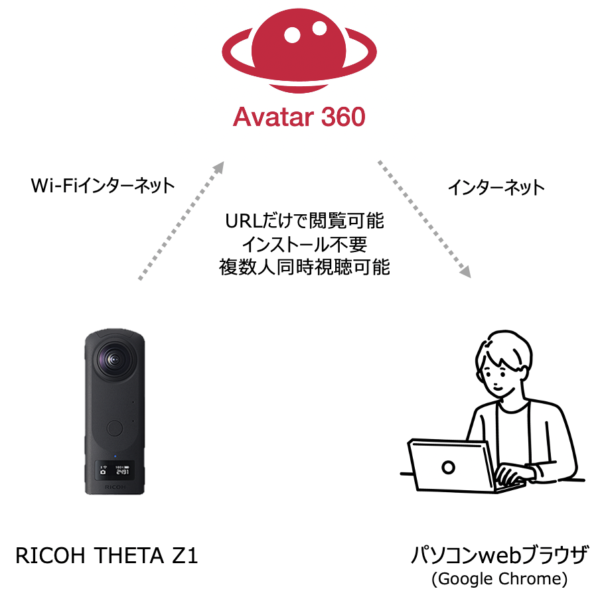 An application developed by iPresence in 2021 in cooperation with Ricoh Co., Ltd. (Headquarters: Ota-ku, Tokyo)【Avatar360 with RICOH THETA (hereafter Avatar360)】.In order to make it even more comfortable to use, we have repeatedly conducted various demonstration experiments and updates, and this time we will officially release the THETA main unit and application usage license.We will start selling.
avatar360By plugging in the RICOH THETA Z1,360 degree video OfReal-time deliveryとBrowse Can be done with a PC web browser (Google Chrome)It is a service that will become
By using this service, you can deliver 360-degree real-time video while carrying the THETA main unit, or you can deliver local video while talking to someone in a different location, so the amount of visual information that can be conveyed at once. can be increased.
Avatar360, which can be easily accessed from anywhere in the world via the Internet on a PC and can be viewed in 360 degrees in real time, is expected to become a cutting-edge initiative in future video distribution, and is expected to spread across a wide range of industries.
If you are considering introducing advanced technology, if you are in the MICE industry, or if you are promoting DX, please try it once.
Along with the sale, we will also provide rental and introduction support.For more informationContact formPlease contact us.
◆ What you need when using Avatar360:
・THETA body
・ Wireless Internet Wi-Fi to connect
◆ RICOH THETA body price (excluding tax)
Purchase Z1: Open price (Purchase is quoted separately)
Rental: 15,000 yen/week, 30,000 yen/month, 100,000 yen/year
◆ Avatar360 license fee (excluding tax)
Monthly contract: 20,000 yen/month
Annual contract: 100,000 yen/year
*20GB available per month.Pay-as-you-go charge of ¥1,000/GB for excess
* About 60 GB is used for 1 minutes of streaming by one person (approximate)
2.[New site]

Telerobo school community site

open!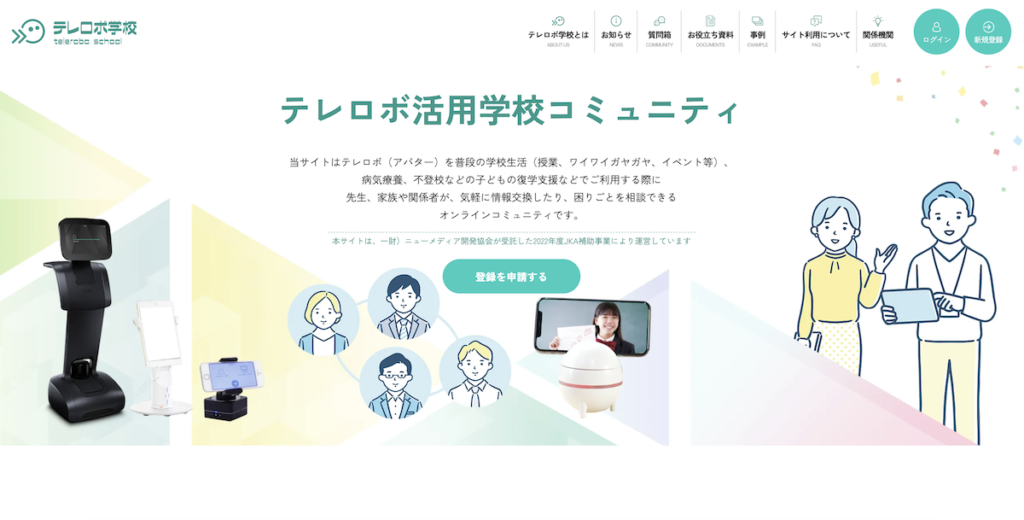 I want to use Telerobo at school, but I don't know where to start...
Telerobo school community siteThePlease use it!
A community site that can be used as a place to collect information and exchange opinions when using the telerobo school life participation service is finally open!
This site isTelepresence avatar robot (*1) (hereinafter referred to as telerobo)When using (avatars) for everyday school life (classes, buzzing, events, etc.), medical treatment, support for children returning to school due to school refusal, etc., teachers, families and related parties can easily exchange information. , is an online community where you can consult about your problems.
(This site is operated by the New Media Development Association under the 2022 JKA subsidized project.) )
Community site→https://avatar-tele-edu.com/

[What you can do on the community site]
・ Exchange of opinions/information sharing in the question box, resolution of questions (possible to interact with Telerobo School users across the country across all barriers)
・Download various useful materials (telerobot operation/usage manuals, business materials, public materials for implementation plans)
・View introduction examples
・Acquisition of the latest related information on telerobo school solutions
Telerobo School Life Participation Service has been verified over several years with the cooperation of many stakeholders.
By using this site, which gathers past cases and knowledge, we will reduce the burden of introducing avatars to school officials, teachers, and students who are considering using avatars in the future. Even if there is, it will be possible to solve it early.
In addition, since the site is a membership system where those who have registered as members can mainly participate and interact, it is possible to exchange necessary information while protecting privacy and interact with other registered members who are in the same position. .Please come and visit the site once.
If you are considering introducing it in the future, or if you are interested in the outline of the service,Official WebsiteとBlog postI would appreciate it if you could see it.
We also accept remote control experiences using applications dedicated to Telerobo School.Contact formPlease feel free to contact us.
3.[Metaverse]

Metaverse

Commitment to – XR CLOUD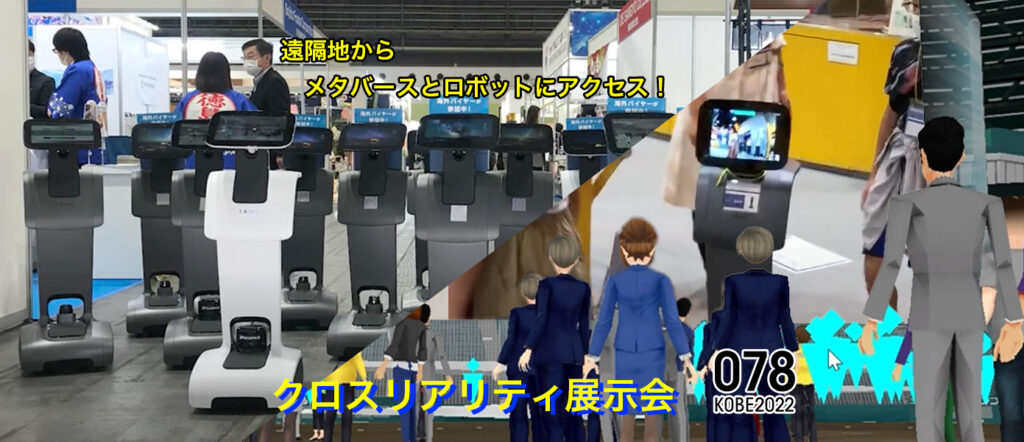 iPresence LLC (Headquarters: Kobe City, Hyogo Prefecture) will participate in the Metaverse platform provided by monoAI technology Inc. By making it possible to go back and forth between "XR CLOUD" and the real event venue via temi, a telepresence avatar robot* (hereafter referred to as "Tele Robo") that is provided by the company, you can experience the 2022 KOBE event even from a remote location. We provided a new type of teleport communication service under the title of Cross Reality Exhibition.
078 Kobe 2022 official website:https://2022.078kobe.jp/
With this solution, you can experience both the real experience of Telerobo and the online experience of the Metaverse at the same time. Enjoy interactive communication.


It was an opportunity to provide a new form of remote communication that allows you to enjoy 078KOBE events with local and online participants.
In addition, there are cases where the Metaverse space has been used as a new solution to connect visitors and exhibitors at an educational site, as well as event planning and management.

iPresence LLC supports the implementation of metaverse platforms such as XR CLOUD as a cutting-edge DX initiative and as an interesting measure in the MICE field.While combining Telerobo, Metaverse, and live distribution,We are willing to spread this experience together with people in the MICE industry.
4.[MICE]

Next-generation MICE

Challenge to!
*MICE refers to corporate meetings (Meetings), incentive/study trips (incentive travel) organized by companies (Incentive Travel), international conferences held by international organizations/organizations, academic societies (Conventions), exhibitions/trade fairs, etc. It is a coined word using the initials of event (Exhibition/Event) and is a general term for these business events. For MICE details, please visit the Japan National Tourism Organization page:https://mice.jnto.go.jp/about-mice/whats-mice.html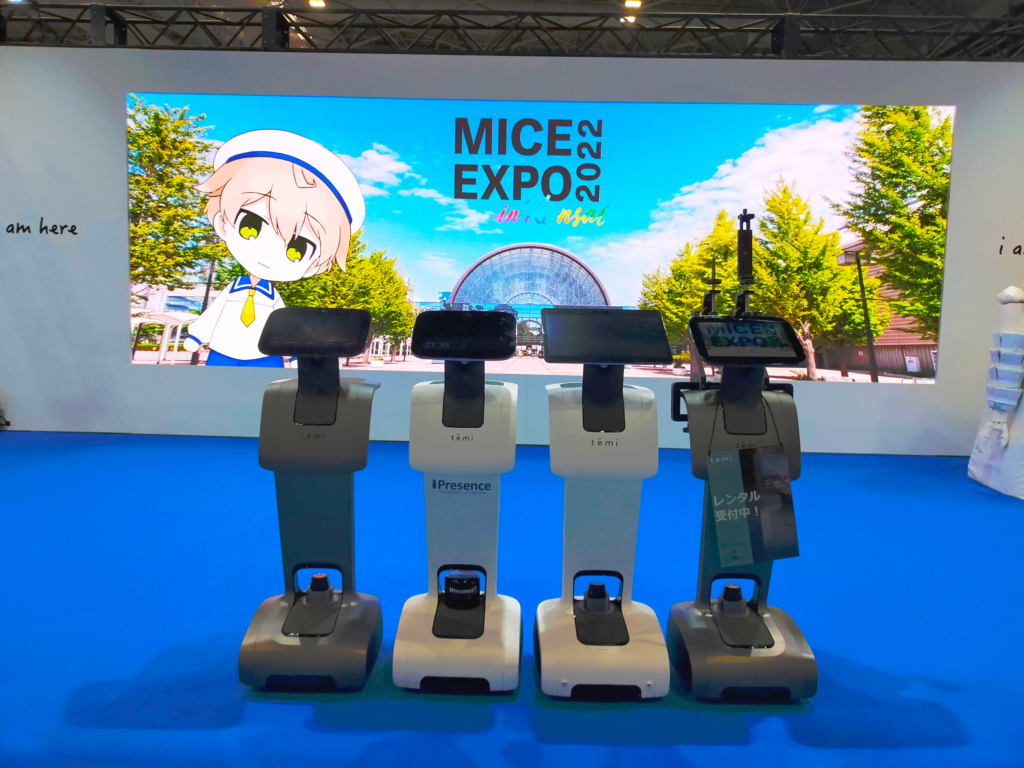 I can't go even if I want to...! !
iPresence proposes services and solutions that will become the next generation standard in the MICE industry using telerobo.
For example, by making it possible to participate via Telerobo at various occasions such as exchange meetings, exhibitions, academic societies, international conferences, panel discussions, lectures, parties, etc., VIPs from overseas and those who wish to visit the venue on the day You will be able to go to the site with Telerobo, move around on your own will, see various things, and share space, time, and feelings with people on site in real time.
Remote communication is possible while feeling each other's presence in real time, which cannot be experienced with conventional video calls, so you can interact and negotiate as if you were there.
It has been well received in the actual field, and the solution that can be used in all situations as described above is becoming a common recognition in the MICE industry as a future standard.
In addition, the number of requests for lectures is increasing, as the achievements of continuing to provide services and support for on-site implementation as a pioneer in the MICE field have been recognized, and the expectations of the industry are high.
Currently, we are working on promoting the introduction of further solutions and developing new functions in collaboration with local governments and research institutes, so please look forward to our next-generation MICE challenges.
Information related to MICE utilization
■Lecture panelists
On October 2021-10, 21, the Union of International Organizations (UIA) will hold the first international conference for the Asia-Pacific region, the UIA Associations Round Table Asia-Pacific, in Tokyo.
The event was the first hybrid format, with a total of 110 online and offline participants.A total of 6 speakers from Australia, Germany, Hong Kong, and Switzerland also teleported to Telerobo Double3 and temi to take the podium, and at the post-session exchange meeting, enjoy interacting with participants in a new way while remotely controlling from overseas. was rare.
Telerobo was used as one solution for holding a hybrid event, and it was a wonderful opportunity to present the future hybrid event.
■ Exhibition tour
At the "Japan Food Export Expo (sponsored by RX Japan)" held at INTEX Osaka from November 2021th to 11th, 17, telerobo online tours from more than 19 countries around the world to the exhibition venue will be realized for 3 days! iPresence provided technical support, and the organizer, RX Japan, operated 10 units of temi!
Follow the interpreter and guide staff in automatic follow-up mode, and after arriving at the booth you are looking for, start remote business negotiations with exhibitors.By having a robot body, the exhibitors can feel the buyer's presence more and face-to-face business negotiations with Telerobo, which is a little different from a simple web conference.Walking around the exhibition hall and temi's presence will give both of you a sense of being there.
We also interviewed the exhibitors who had telerobo business talks, so please take a look to the end!
■ Participation in networking events
At the Ritsumeikan University Alumni Association 100th Anniversary Friendship Event "Mirai EXPO", we provided a remote teleportation experience connecting overseas and the Kyoto International Conference Center with Telerobot temi.
We dispatched 6 temi units and conducted a remote event tour for alumni in Thailand, Singapore, Malaysia, China, and Vietnam!
■ On stage (huge display)
At the 17th DX seminar of the Kobe Chamber of Commerce and Industry, representative Christophers teleports from Nara to Kobe's huge display telerobo!
It was an opportunity to present a new form of seminar presentation with the overwhelming presence of the giant telerobo even though it was remote!
■ Courtesy visit
A remote courtesy call was made from Matsue City, Shimane Prefecture to Kobe City, Hyogo Prefecture via Telerobo "temi"!By having a Telerobo body even though it is online, it was possible to deepen exchanges while sharing a more realistic presence and space with each other, and it was an opportunity to feel the usefulness of telerobo communication in the business scene. .
■Exhibition booth customer service
The new brand "Exverse" is a telepresence solution brand that connects Ex = Extreme, Expansion, Experience, metaverse, physical space, cyber space, and iPresence and stock. Co-provided by Corporate Video Center (AVC).
It is a new standard for remote interaction experiences that will become richer in the future, and aims to seamlessly interact with people around the world regardless of distance regardless of where they are now.
We will respond to implementation at various large-scale events, including the Osaka/Kansai Expo in 2025.
■ Commentary on Telerobo in the MICE scene
iPresence exhibited telerobo temi, Double, Avatar360 with RICOH THETA, etc., which can participate in a Japanese venue as an alter ego even from overseas.
VIPs, business partners, and company employees who could not participate until now at exchange events and exhibitions can physically teleport to the same space (facility).You can experience the future of hybrid events. The 6th Japan Event Week was held at Tokyo Big Sight for three days from June 29th to July 7st.Report on the highlights of this exhibition that supports the reconstruction, development, and leap of the event industry, which has been greatly affected by the corona wreck.
◆ Presentation information
Representative Christophers will be on stage as a symposium panelist at an event aimed at building momentum for the Osaka-Kansai Expo to be held this month.
Detailed information will be distributed on our SNS, so please follow us there.
5. [New] From the site case to the back of the development!Get the latest blog posts!
Service-related interview articles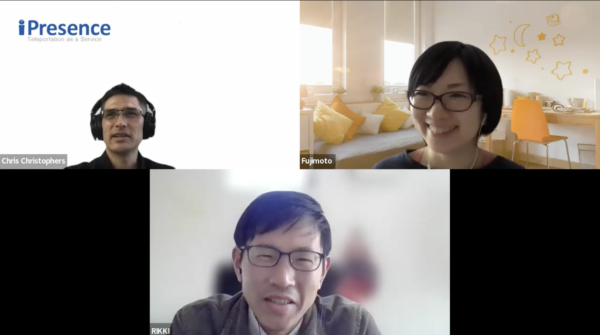 Fujimoto:
What kind of project is the ANA Avatar XPRIZE?
Chris:
First of all, here is the team that won the ANA Avatar XPRIZE.
ANA Avatar XPRIZE is an international competition sponsored by All Nippon Airways (ANA).A competition for avatar robots, with a prize of 1,000 million dollars (approximately 15 billion yen at the time). Recruitment began in 2018, iPresence applied in January 2019.
ANA has been in the business of using airplanes to transport people, but we knew that there was a limit to the number of people that could be transported.Looking to the future, I wanted to create a device that could teleport, and since molecular teleportation was still difficult, I proceeded with the development of solutions using avatar robots.
Through the XPRIZE competition, which ANA is the main sponsor, we are planning to recruit participants from all over the world and advance the development of avatar robots.
to be continued…Read the full text
Development related blog posts
Read Flutter's commits for a month
This article is an article of 2022/12 of iPresence LLC Advent Calendar 1.
first
About a month ago (strictly speaking, 1/11), I started reading the commits in the master branch of the Flutter repository on GitHub and summarizing them in notes.
The reason I started was doing Flutter code reading until now,
The scale is large (Flutter Widget implementation, engine implementation, command tool implementation, etc.) It's hard to keep reading.
Since I can no longer maintain my motivation, I refer to a blog where Ruby on Rails commits are read every day.
I stopped reading the whole code and tried to read only the contents changed on that day and put it in a note.
I'm going to write a little about what I felt after reading the commits for the past month or so.
to be continued…Read the full text

first
What is your favorite text editor?
vim?Or vim? Maybe vim?
My favorite text editor is vim.
Cursor movement with hjkl, various operations with mode switching.I can't write code in an editor without this anymore.
What is the editor you use the most on a daily basis?
I'm VSCode.
to be continued…Read the full text
Overview
GStreamer is a mechanism that can process data transmission and reception in a pipeline, and it is convenient to use it for video transmission and reception.Furthermore, it is also possible to process images with OpenCV according to the time of image transmission and reception.
A common way to combine GStreamer and OpenCV is to call GStreamer from OpenCV.However, in order to call GStreamer from OpenCV, it is necessary to build OpenCV from the source code, and in addition, it was difficult to make it available in the Windows environment, so I would like to describe the procedure.
to be continued…Read the full text

motivation
Ladies and gentlemen, didn't you think that Flutter Riverpod's .family was just an argument when using Provider (I thought so until recently)?Even so, why is it called family?I've had this question before, but it's been resolved recently, so I'll post it here.
to be continued…Read the full text
motivation
I usually write code mainly in Flutter, but depending on the project, I do web development using React.js due to the library.As a development machine, I am using the recently released M1 (arm64) Mac, but among the npm libraries, there are still some libraries that do not support arm64, and I think that the representative one is a package that uses canvas.
to be continued…Read the full text
6.[Solution] Provided by iPresenceProduct

-

 

-

Application
Business area
iPresence has a wide range of businesses, including the sale, rental, and leasing of telerobo, hardware handling and manufacturing, development of unique applications and provision of services, as well as sales, development, and support in the digital twin and event SaaS areas. We propose total solutions for success.In addition, although not listed here, we are not just selling products, but also creating value, creating new industry standards, and next-generation technology beyond the boundaries of local governments, educational institutions, research institutes, foundations, and private companies. We are entrusted with project-type businesses such as development and demonstration experiments to respond to social issues, and solutions to social issues.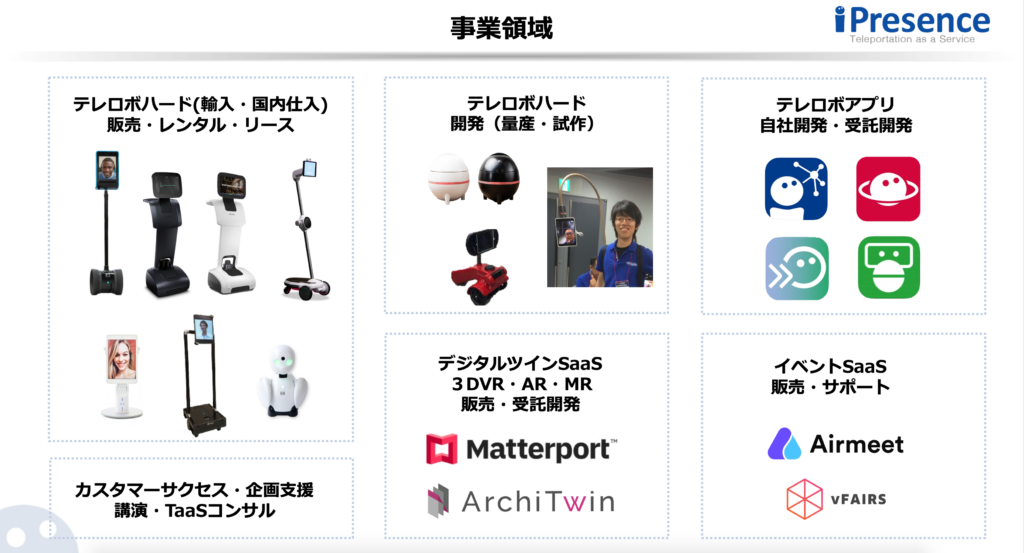 Telerobo models provided by iPresence
Telerobo is a tool that combines video chat, remote control, and a robot body, allowing you to communicate as if "your alter ego exists" there.For details on each model, click the product name below.



-temi(Avatar360)
-Dual3
-kubi
-Ohmni
-Mobile phone Telepii
-Orihime

Telerobo hardware development (mass production/prototype)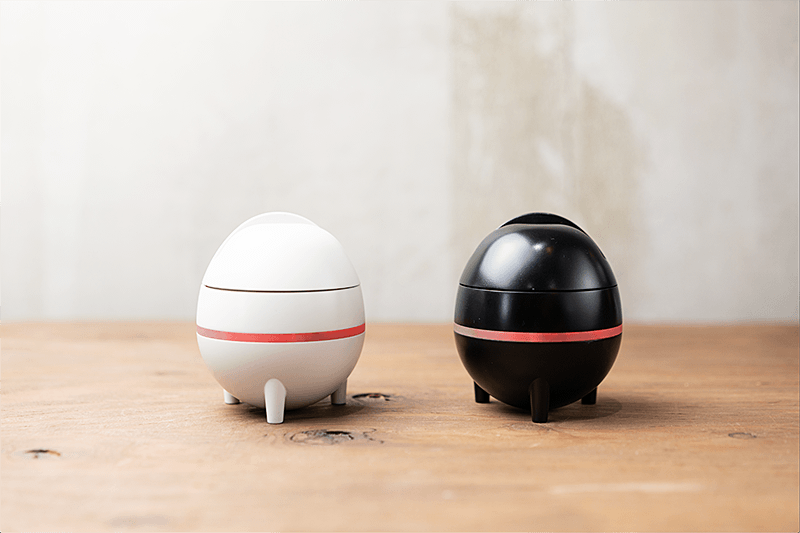 ◆withme (prototype development)
Concept: ``Walk together'' with people who are far away Telerobo

◆CARE-JIRO (prototype development)
Concept: Automatic Patrol Robot for Nursing Homes
Nickname: Care Jiro

◆FuAra (prototype development)
Concept: Soft telerobo that enables physical remote communication

Telerobo application In-house development/contracted development
Because iPresence handles multiple telerobots, we are developing applications that can link and use telerobots from multiple manufacturers (kubi/Kengan/temi).We also accept commissioned development that accompanies robot operation.
◆AVATAR Robot for ZOOM: An application that can be used in conjunction with telerobots from multiple manufacturers (kubi/Kengan/temi)

◆Telepotalk : An app for remotely participating in school life during school classes, extracurricular activities, break times, etc.

◆avatar360: An application that attaches a 360-degree camera (RICOH THETA) to temi and provides a dual screen linked with temi's image to provide a unified sense of presence and a new perspective.

◆Mobile phone Telepii: Remote control application for telepy

Digital twin SaaS 3DVR/AR/MR sales/contract development

◆Digital twin: We are developing 4DVR walkthrough with 3K image quality, point cloud data, size measurement, information embedding, and SDK.
・Introduction examples (titles omitted)
Banshu textile brand tamaki niime:https://ipresence.jp/casestudy/cs-202201-5/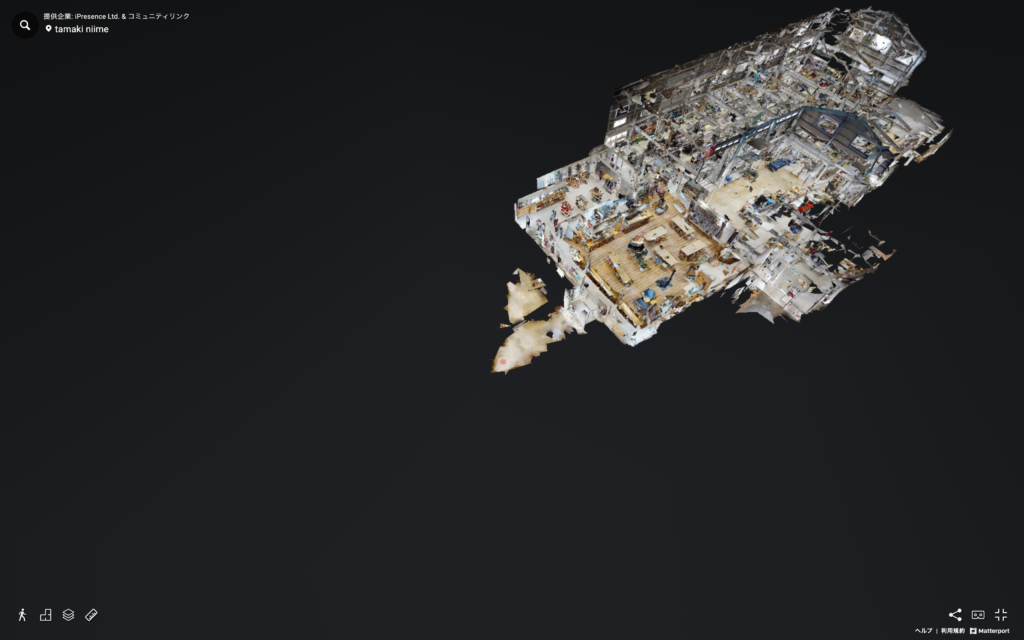 ◆AR/MR development :
・Introduction examples (titles omitted)
Hieizan Enryakuji Konponchudo:https://ipresence.jp/casestudy/cs-502/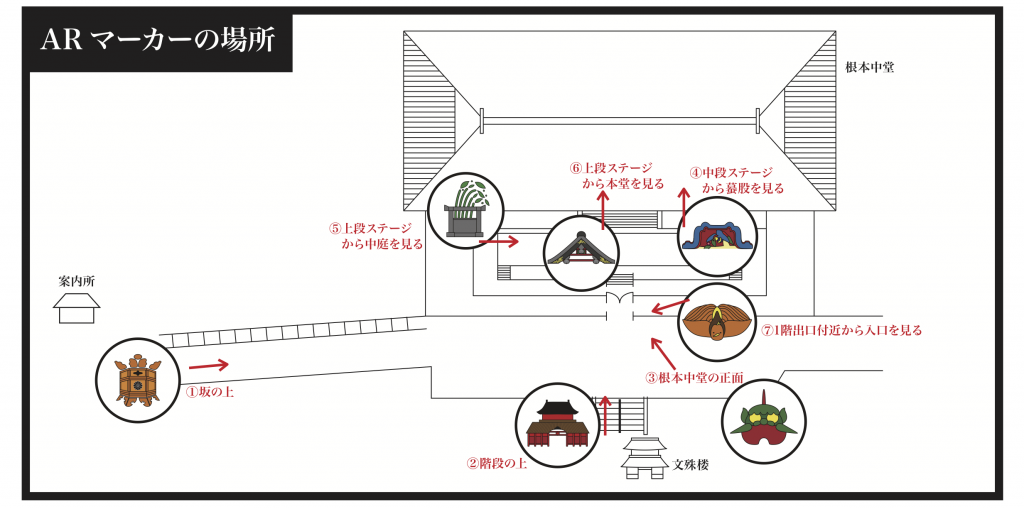 As shown above, markers (illustration) are placed around the Konpon Chudo Hall, and when the markers are read with a tablet or smartphone, the 3D object image can be superimposed on the real space and viewed.
Event SaaS Sales/Support
We provide a virtual event platform that allows you to enjoy not only offline real remote event attendance by Telerobo, but also online event holding.
◆Air meet: An online virtual event platform that provides a highly flexible experience for participants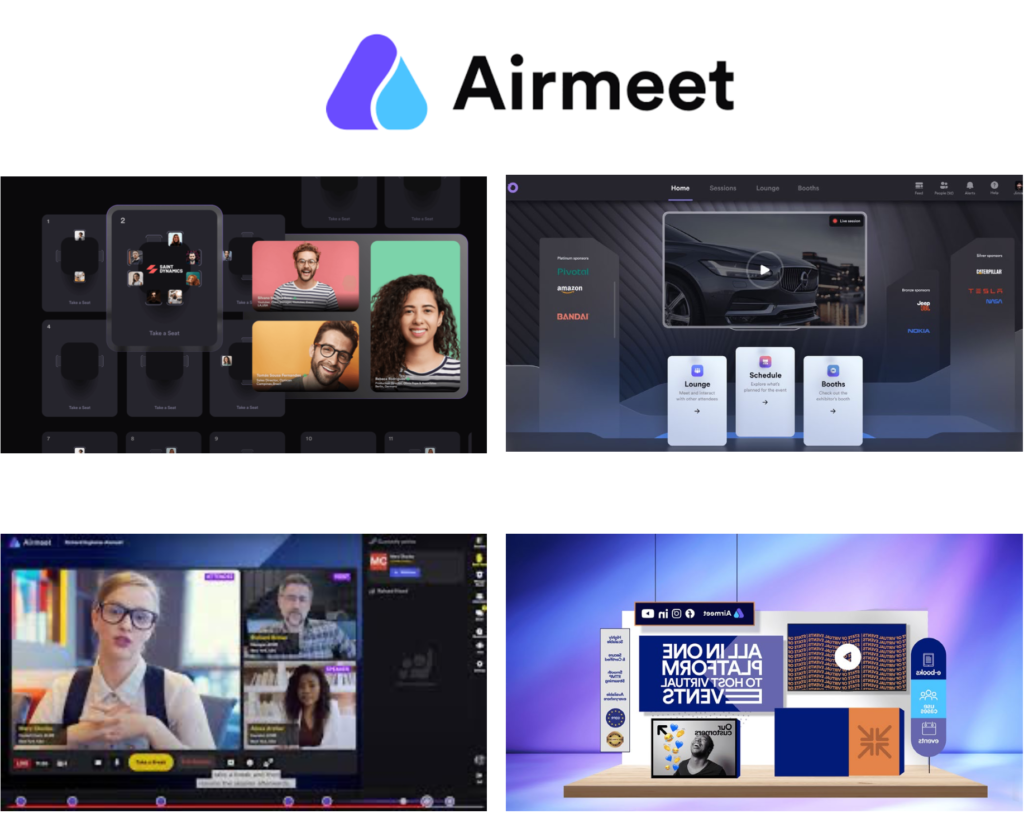 ◆vFairs: An online virtual event platform that allows customization of highly immersive graphical venue production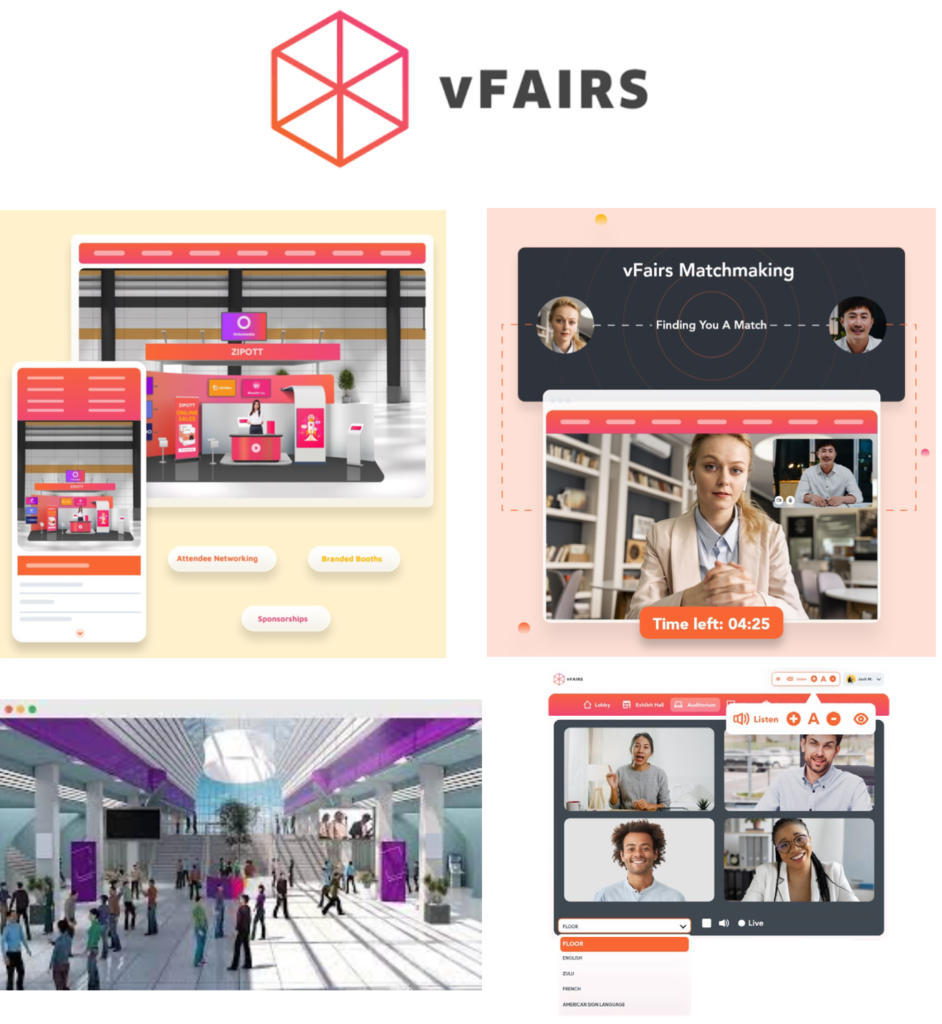 At iPresence, we are accepting consultations on telerobot remote control experiences, online demonstrations of event platforms, various estimates, and other developments.
If you wishContact formPlease feel free to contact us.