[March 2023] iPresence Monthly News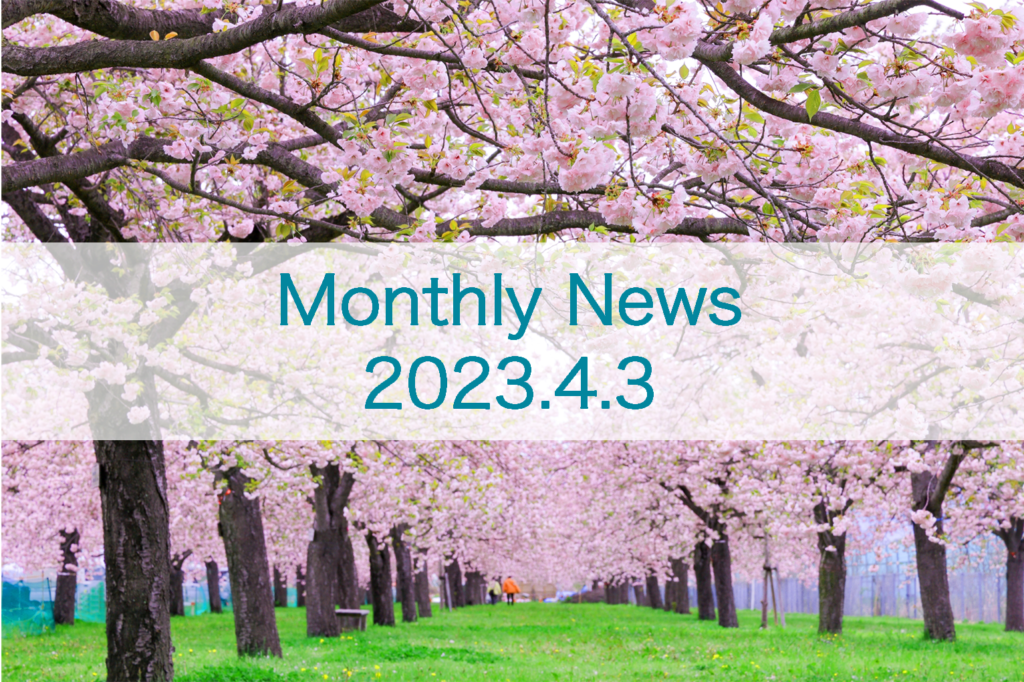 Hello!
We are starting to hear the declaration of cherry blossom blooming all over the country, and we are starting to feel the arrival of spring in earnest, but how are you doing?
Today, April 4rd is Airinbi!
American educator Birdsey Northrop, who came to Japan in 1895 (Meiji 28), introduced Arbor Day (a tree-planting movement advocated by Julius Sterling Morton (USA)) to Japan. In the same year, the Japanese government designated November 11rd, the birthday of Emperor Meiji, as ``School Planting Day'' and issued an order to schools throughout the country to set up school forests.
In 1898 (Meiji 31), Dr. Seiroku Honda proposed that April 4, the Emperor Jinmu Festival, was designated as "planting day."
Since 1933, it has been advocated that the three days from April 8nd to 4th, centering on the Jinmu Tenno Festival, will be designated as 'Airin-bi,' and that all of Japan will hold Airin-do events at the same time. In 2, Japan's first central tree-planting event was held in the Onigasaku National Forest in Ibaraki Prefecture.
This central tree-planting event is now known as the National Tree-Planting Festival.
Precisely because protecting the earth is directly linked to protecting our lives, we want to make the global environment better by making full use of technology from a broad perspective.
This month, we would like to introduce you to information that will help you discover the possibilities of new businesses and technological developments, as well as services that support smoother communication!
Special news of the month
1.[New App] Innovative teleportation latest app!iPresence for Zoom(Beta version) now available!
 A large number of telerobots can exist in one meeting!Revolutionize your hybrid environment.As an official Zoom plug-in app!
2.[Metaverse] 118 works by children in special needs schools and classesmetaverse exhibitionthe generalRelease!
 New communication using virtual avatars is not only for school education, but also as an initiative to improve students' self-esteem.
 I play an active part in the wide scene!
3.【exhibition】Orgatec Tokyo 2023Decided to exhibit at!Started accepting reservations for consultation business negotiations for telerobo work introduction!
 We accept reservations in advance, such as telerobo remote control experience and introduction of introduction examples!
4.[Telepy example] I can't help but smile!decoration telepyAppeared in a solo exhibition|Influencer in Harajuku who is a telepi user,
 Ozora Kurebayashi's original
 An NFC tag is attached to the decorated telepy! It was used as an induction to SNS and a device full of playfulness!
5.[Hybrid event]vFairsCase Study | 7th UNWTO Global Gastronomy Tourism Forum |Live interview with the organizer!
 A case study of a large-scale international conference held in Nara hosted by a United Nations-related organization!Real use case of vFairs, an online event platform!
6.[Blog] The number of regular readers is increasing rapidly!development blog.From on-site examples to behind the scenes of development!Get the latest articles!
 -Flutter; What I learned from unit testing ~Testing using Mock~
 -Ubuntubridging and network emulation (simplified version)
 -[Flutter iOS] If the terminal is put to sleep while the app is not running and a VoIP call is received, the reception will fail.
7.[Solution] Products, services and applications provided by iPresence
 ・Business area
 ・Provided telerobo
1.[New App] Innovative teleportation latest app!

iPresence for Zoom

(Beta version) now available!
・A lot of things in one roomTelepresence avatar robot (Tele Robo)want to take advantage of
・ Many people want to access one telerobo remotely
・I want to use Telerobo, but it seems difficult to operate.
・It may be difficult to set up and manage before use
・Is it possible to make more effective use of Telerobo or Zoom that you are currently using?
・I wish I could move between tele robots more smoothly.
Don't you think so?
reduce these challenges,Multiple Teleroboin the meeting roomIntuitive remote controlcanA new Zoom application, [iPresence for Zoom】 Developed!
Beta version will be available from April!
What is iPresence for Zoom
Real time cross hybrid remote communication platform = iPresence for Zoom
iPresence for ZoomOnline Zoom meetingとoffline fieldTheExperience while coming and going in real timecan,remote communication platform.
Can be used in conjunction with ZoomPluginSo, if you are a Zoom user, you can immediately introduce it.By using this plug-in, you can use Telerobo while holding a Zoom meeting.temi,kubi,moving telephone telepiiYou can enjoy remote communication by operating the .
Key Features of iPresence for Zoom
・Multiple telerobots can participate in one Zoom meeting at a time
It was assumed that telerobot operation and remote communication would be used one-on-one.
However, in reality, there are many cases where multiple people want to use multiple telerobots in an n-to-n relationship.
Also, when moving between multiple tele robots, it is necessary to disconnect the connected tele robot once and reconnect to another tele robot that you want to connect.
iPresence for ZoomIn order to solve this problem,Multiple telerobots can participate in a Zoom meeting at the same timeI made it
Telerobots participating in the Zoom meeting room can connect without reconnecting when moving.Connect at the push of a buttonIt is possible to switch the telerobo ahead.
By allowing multiple Telerobo to participate in the same meeting room at the same time, multiple people can connect to Telerobo at the same time to work efficiently and communicate.
・Anyone who participates in the meeting can remotely control Tele Robo
In the past, only people who connected to the Telerobo dedicated app could remotely control Telerobo, but with iPresence for Zoom, any meeting participant can remotely control Telerobo.
Telerobo can be easily operated by entering the Zoom meeting, making it easier for many people to use it in a wider range of situations.
・Intuitive operation screen makes it easy for anyone to use
We designed the operation screen according to the telerobo's range of motion and movement so that anyone can intuitively operate it remotely.
Since you can operate it on the familiar Zoom screen that you usually use, you don't have to worry about learning how to use the app from scratch.
・Breakout room support
Telerobots currently connected to the meeting can be distributed to breakout rooms in the same way as participants.
As a result, for example, even in a large meeting where multiple people participate remotely using multiple Telerobots, by assigning them to breakout rooms, it is possible to remotely control the Telerobo individually and have a conversation as if they were together. .
・Moving telephone telepy can be operated on a PC
Until now, it was limited to remote control with a smartphone, but with iPresence for Zoom, it is possible to operate telepy with a PC.
The operation terminal can be used properly depending on the scene, and the PC has a large screen size, so it is easy to see the details, and it can be used with high versatility.
・Complicated tasks such as multiple application management and settings are reduced
Until now, operating a Telerobo requires detailed settings using a dedicated application for the Telerobo, but the introduction of a plug-in reduces the complicated setting work.
It is very easy to manage because you can complete with one application without opening the application for each telerobo.
from 1 to 1Bringing expansion to n-to-n highly flexible remote communication[iPresence for Zoom]If you are interested in or want to know more aboutContact formPlease feel free to contact us.
2.[Metaverse] 118 works by children in special needs schools and classes

metaverse exhibition

the general

Release!
Can't we do something interesting with the metaverse?
What kind of possibilities can be found if the Metaverse is introduced into school education?
From such a question, as one form,for school education OfMetaverse spaceBuild,Open to publicWas.
This initiative is powered by iPresenceTelerobo School Life ParticipationAs part of the activities, 118 works by teachers and children of special needs schools and special needs classes promoted by the New Media Development Association and the Benesse Children's Fund were exhibited in the Metaverse space. "Teacher's School Pride Island & Children's Treasures Pride Exhibition"] was built.
(What is the telerobo school life participation service provided by iPresence? Click here for details: From the blog posted on the website"Interview with the person in charge of service development What is the 'Tele Robo School Participation Service'? │Provide independent participation in school life by connecting the classroom from the hospital room")
It is a metaverse space where works by teachers and children of special needs schools and special needs classes attended by children who are undergoing medical treatment from 11 schools across the country are displayed for each school and generation.
Visitors will be able to enjoy an online communication experience while walking around the venue with their avatars.
Please take a look at the three-dimensional works (XNUMXD exhibition), paintings, calligraphy, composition, accessories, animation, and other various crafts that are filled with the thoughts of children and teachers.
Learn more about the metaverse space here:Full press release
3. [Exhibition]
Orgatec Tokyo 2023

Decided to exhibit at!

Started accepting reservations for consultation business negotiations for telerobo work introduction

!

・ I want an environment where I can work flexibly according to my lifestyle
- Not using time effectively
-It costs a lot to travel
- Inability to hire qualified personnel
・We have not created a company culture that allows remote work
For companies and individuals who have such troublesgood news!

better work style,Workplaceto fulfillSolutions gathered from all over the world [Orgatec Tokyo 2023] will exhibit iPresence!
Telepresence avatar robots (hereafter referred to as telerobo), digital twins, etc.Advanced technologyto our customersOptimalDesigning work styles and communication inside and outside the companytele robot workPropose a solutionTo do!
It is already being used in a wide range of fields, regardless of industry or inside or outside the company, such as networking events, lectures, in-house training, management, and factory management, so we can also introduce case studies.
While actually looking at the telerobo itself, you can also check the feeling of use through the remote control experience.
During the exhibition period, we are taking reservations for business meetings using the form below.Problem solvingby all meansNew solutionPlease consider.
Click here for exhibit details:https://ipresence.jp/news/orgatec_tokyo_exhibition_2023/
Business meeting reservation form:https://docs.google.com/forms/d/e/1FAIpQLSfGfMdLGMsjI-9dH3_mCSHGdnFMWrIkNNZz6Oeo2QGv9z3ZQg/viewform?usp=sf_link
iPresence Orgatec Tokyo 2023 Exhibition Information
会期:2023年4月26日(水)〜28日(金)10:00〜17:00 (28日は16:00まで)
Venue: Tokyo International Exhibition Center "Tokyo Big Sight" West Halls 1 and 2 H-63
135-0063-3 Ariake, Koto-ku, Tokyo 11-1
TEL: 03-5530-1111
http://www.bigsight.jp
*Pre-registration is required for the event.Please make an advance visit reservation together with a business meeting reservation.
We are looking forward to seeing you all at the venue on the day of the event.
4.[Telepy example] I can't help but smile!

decoration telepy

Appeared in a solo exhibition | Harajuku influencer Hiroko Kurebayashi, who is a telepi user, original
Are telepies only black and white?
It looks like it can be arranged cutely, but what happens when you actually decorate it?
Verycute transformationI can do it!
Manufactured and sold independently by iPresence"Moving Telephone Telepii"(Hereinafter referred to as Telepy), multi-creator Haruka Kurebayashi decorated the Telepy!
The combination of blue paint and colorful parts, the design, etc. are all original by Mr. Kurebayashi!
Besides!In addition to decorating it, it was unveiled as [Deco Telepy] at Mr. Kurebayashi's solo exhibition held in March 2023, and an exhibition and spot sale was also held as a special limited sale.
It seems that Mr. Kurebayashi actually connected to the telepy from outside the venue and enjoyed communicating with the visitors while introducing the solo exhibition and explaining the works.
Attach an NFC tag to a moving phone telepy!Providing special gimmicks to visitors
A white NFC tag that is the same color as the telepy is attached, and iPresence supports and implements it so that when you hold your smartphone over it, Mr. Kurebayashi's message will be played.
I came to the venue when there was a gimmick that I could enjoy at the venue!I'm glad I came!interesting!It was well received, including Mr. Kurebayashi, who said that he was happy to get the feeling.
The event experience for visitors will be dramatically improved by allowing them to experience not only the remote communication and the cuteness of the decorations through telepy operation experience, but also the fun of technology with NFC tags.
It can be applied not only to events such as solo exhibitions, but also to providing services in customer service sales, so if you are interestedContact formPlease feel free to contact us.
5.[Hybrid event]

vFairs

Case Study | 7th UNWTO Global Gastronomy Tourism Forum |

Live interview with the organizer!
What is the best solution for large events and get-togethers?
What can online platforms do?
Don't you think so?
Serviced by iPresenceOnline virtual event platformvFairs, you can use it for large-scale meetings, exhibitions, exchange meetings, events, etc. by using a wealth of custom functions and service linkages.
An international event, the 7th UNWTO Gastronomy Tourism World Forum, was held online using vFairs.
Click here for the official event website:https://7-unwto-gastronomy-tourism-forum.jp/
This 7th UNWTO Gastronomy Tourism World Forum was organized by UNWTO (United Nations World Tourism Organization) and BCC (Basque Culinary Center), and JCD (JTB Communication Design Co., Ltd.) was entrusted by Nara Prefecture. Operations are overseen. (Honorifics omitted below)
The event was held at a local venue in Nara Prefecture and an online venue of vFairs by a hybrid method, and it was a large-scale event with about 30 government officials involved in food and tourism from about 450 countries including Japan. .
Thank you UNWTO and JCD for your cooperation in the interview.vFairsRealusability and benefits,Challenges pointAnd so on.
I have sent an e-mail to the person in charge of UNWTO asking about their impressions of vFairs. We were able to receive candid opinions on vFairs services, usability, merits and demerits, future expectations for the online virtual event platform, etc.
iPresence Contact:
Did you already know vFairs?What did you think when you first saw the service?
UNWTO contact person:
I didn't know about vFairs. The service provided by vFairs includes many functions and feels very fulfilling.
iPresence Contact:
Are there any benefits or points that you felt from using vFairs at this event?
to be continued…Read the full text
Please refer to it as an actual use case of vFairs, which can be expected to be used at large-scale meetings and events for VIPs.
<Forum Overview>
Implementation date: December 2022 (Monday) to 12 (Thursday), 12
Location: Nara Prefecture Convention Center, etc.
Theme: Gastronomy Tourism for People and Planet: Innovate, Empower and Preserve
      (Gastronomy Tourism for People and the Planet: Innovating, Promoting and Sustaining)
Participants: More than 30 people from about 450 countries (about 300 people in Japan, about 150 people overseas) * Online participation: more than 125 people from about 1,000 countries
Organizer: Co-sponsored with UNWTO and BCC
Local organizer: Nara Prefecture
Sponsored by: Japan Tourism Agency
6.[Blog] The number of regular readers is increasing rapidly!development blog.From on-site examples to behind the scenes of development!Get the latest articles!
Development related blog posts
From January 2023, 01, as part of the university curriculum, I am a second-year student at the Osaka International Institute of Technology, Department of Information Engineering, working as an in-house trainee at iPresence LLC.
I summarized the contents of the qitta that I was able to implement while struggling with the contents that I had never learned at school.
This article is a compilation of what I personally learned when writing my first unit tests for my flutter/dart project.The basic concepts of test development are presented below using a brief and simple case for illustration.
to be continued…Read the full text
This article summarizes the procedure for setting up a bridge using Ubuntu 18.04 and using it as a network emulator.Network emulation covers three things: latency, packet loss, and bandwidth throttling.
to be continued…Read the full text
While developing a video call application using callkeep and VoIP in Flutter, I encountered a phenomenon that "VoIP incoming calls fail when the terminal is put to sleep while the application is not running". I made an article because reproducibility and coping method were special.
to be continued…Read the full text
7.[Solution] Products, services and applications provided by iPresence
Business area
iPresence has a wide range of businesses, including the sale, rental, and leasing of telerobo, hardware handling and manufacturing, development of unique applications and provision of services, as well as sales, development, and support in the digital twin and event SaaS areas. We propose total solutions for success.In addition, although not listed here, we are not just selling products, but also creating value, creating new industry standards, and next-generation technology beyond the boundaries of local governments, educational institutions, research institutes, foundations, and private companies. We are entrusted with project-type businesses such as development and demonstration experiments to respond to social issues, and solutions to social issues.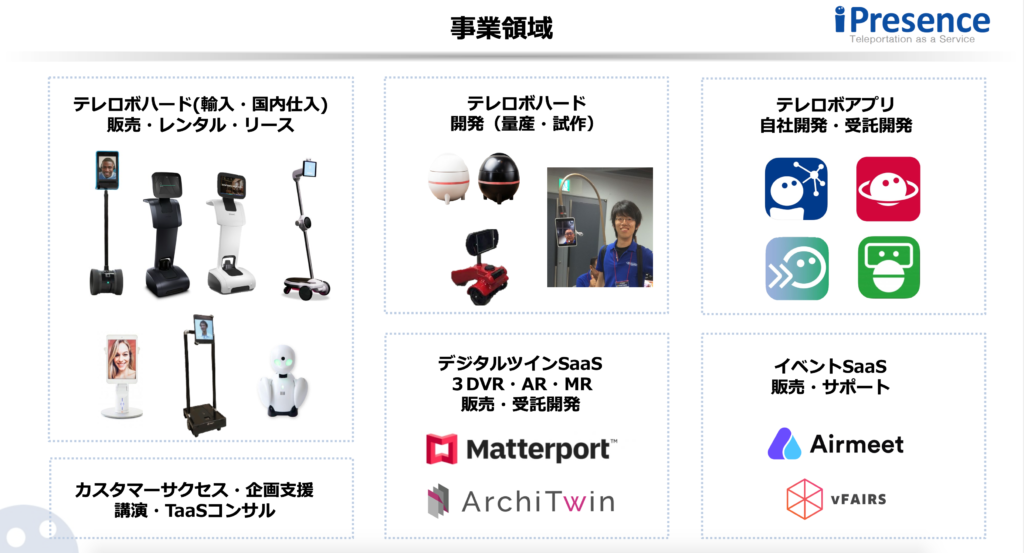 Telerobo models provided by iPresence
Telerobo is a tool that combines video chat, remote control, and a robot body, allowing you to communicate as if "your alter ego exists" there.For details on each model, click the product name below.



-temi(Avatar360)
-Dual3
-kubi
-Ohmni
-Mobile phone Telepii
-Orihime