Realizing a cross-reality exhibition that utilizes Metaverse and telepresence avatar robots in a novel way! |Challenge the fusion of real and virtual and a new remote experience!
iPresence LLC (Headquarters: Kobe City, Hyogo Prefecture) will be held at 2022 KOBE 11 held at the Kobe International Exhibition Center on Saturday, November 26th and Sunday, 27th, 078.monoAI technology Inc.Provided byMetaverse platform "XR CLOUD"and real event venues via temi, a telepresence avatar robot* (hereafter referred to as "telerobo") that we provide in-house, a new form of 078 KOBE event that can be experienced even from a remote location. We provided a teleport communication service under the title of Cross Reality Exhibition.
078 Kobe 2022 official website:https://2022.078kobe.jp/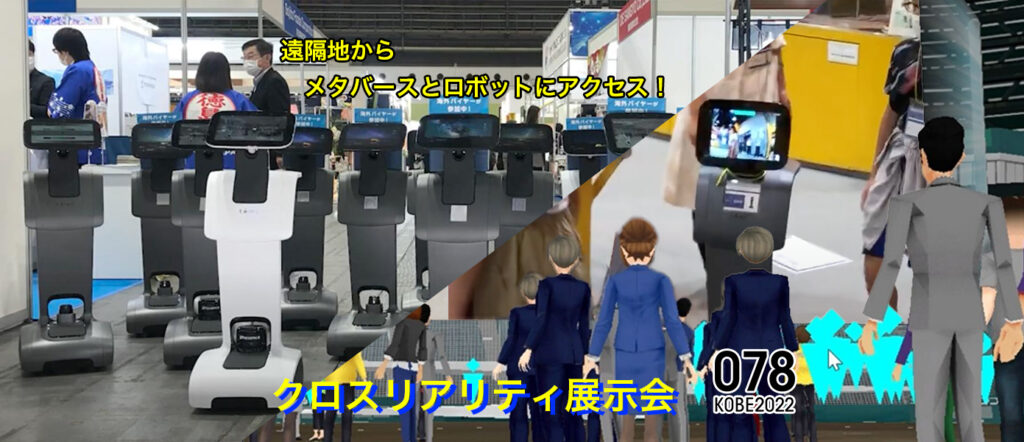 * What is a telepresence avatar robot (telerobo)?
By combining remote video chat and robot technology, Telerobo is a new communication tool that allows users to independently walk around remote areas even from a distance.
By transferring to a robot avatar in a remote location, you can share experiences with local people and communicate in real time.
■ Cross-reality exhibition overview
The cross-reality exhibition is a "real space in Telerobo" and "Metaverse online space using XRCLOUDIt is a place where you can go back and forth and experience two spaces at the same time.
・Real space in Telerobo
You can access the telerobo installed at the venue of the Kobe International Exhibition Center from your home and watch the event online.
You can enjoy real-time communication with the participants at the venue while walking around the venue by remotely controlling the telerobo at the venue.
-Metaverse online space using XRCLOUD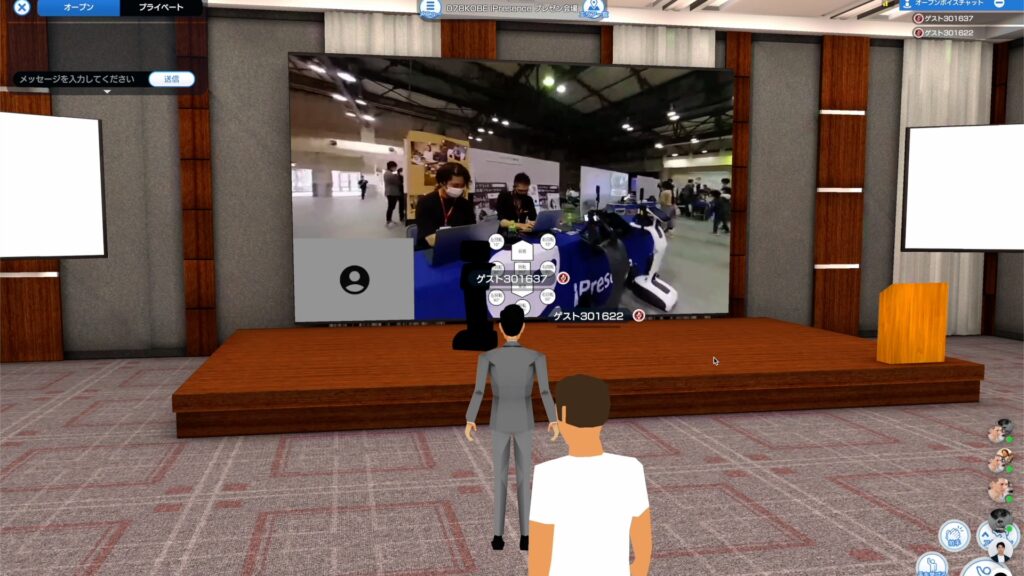 XRCLOUDcreates a virtual space based on the image of the venue, and broadcasts the telerobo's point of view live on a large screen, so you can see the 078 KOBE event venue from your home PC.
In the Metaverse space, you can communicate with your favorite avatar.
◆ What you can get at the cross-reality exhibition
By experiencing the real experience of Telerobo and the online experience of the Metaverse at the same time, you can share new experiences and special sensations that can only be obtained there with event participants in real time, making it possible to create an interactive experience from the comfort of your own home. Enjoy your communication.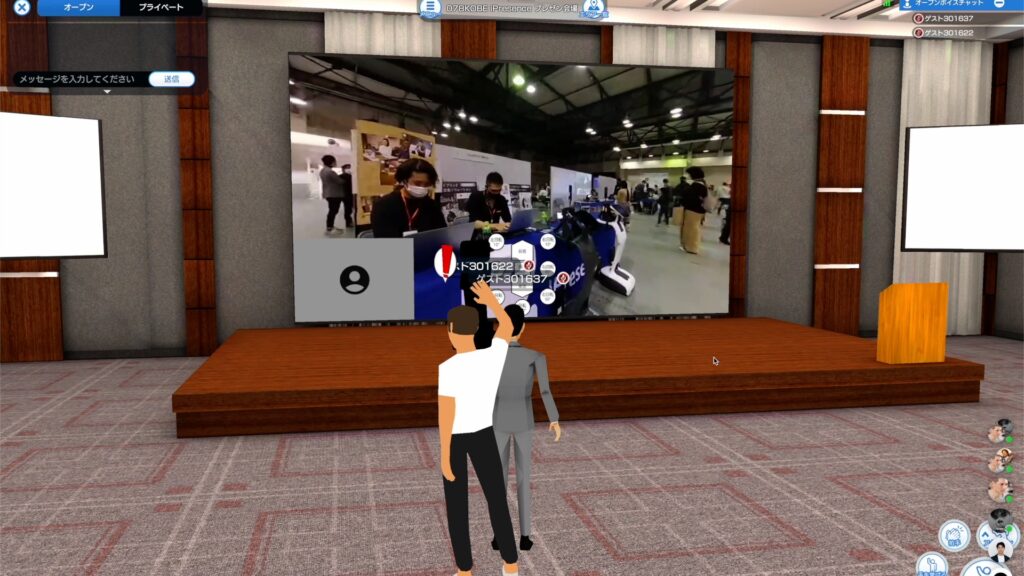 It was an opportunity to provide a new form of remote communication that allows you to enjoy 078KOBE events with local and online participants.
iPresence LLC plans to spread this experience together with planning companies and other people in the MICE industry as a cutting-edge DX initiative and as an interesting measure in the MICE field.
[COMPANY PROFILE]
■monoAI technology Co., Ltd.
Representative: Kataro Honjo
Location: Room 650, 0021rd floor, San Plaza, 8-1-3 Sannomiyacho, Chuo-ku, Kobe City, Hyogo Prefecture 34-XNUMX
Established: May 2013
Business description: XR business – Metaverse service – Event service
Company HP: https://monoai.co.jp/
The mission of monoAI technology is to create the future of entertainment and society with advanced technology. Utilizing technology, we are developing and operating the Metaverse platform "XR CLOUD" that can connect tens of thousands of people simultaneously.
[COMPANY PROFILE]
■ iPresence LLC
Representative: Christophers Chris Francis
Location: 658-0032 Naka Koyocho, Higashinada Ward, Kobe City, Hyogo Prefecture 6-9
      Kobe Fashion Mart
Established: May 2014
Business: Advanced technology equipment, robot equipment, communication equipment, software
      and provision of related services
Company HP: https://ipresence.jp
iPresence LLC aims to spread the idea of ​​"Share the Experience. Go, see, share. Teleport communication" to the world. Pioneer of teleport communication related services such as developing original applications such as Robot for ZOOM.
Combining digital twins and metaverses with remote communication technology, we develop and provide more immersive remote experience methods, and are committed to DX (digital transformation), Japanese culture, and regional revitalization projects.
■ Contact information:
iPresence LLC
〒658-0032 Kobe Fashion Mart, 6-9 Koyocho Naka, Higashinada-ku, Kobe City, Hyogo Prefecture
info@ipresence.jp