Held on 2/11!19th AVATEC Seminar [School refusal and new forms of communication for people with developmental disabilities] Practical use of Telerobo to consider diverse forms of learning -Expanding the possibilities of children who do not attend school and need special support-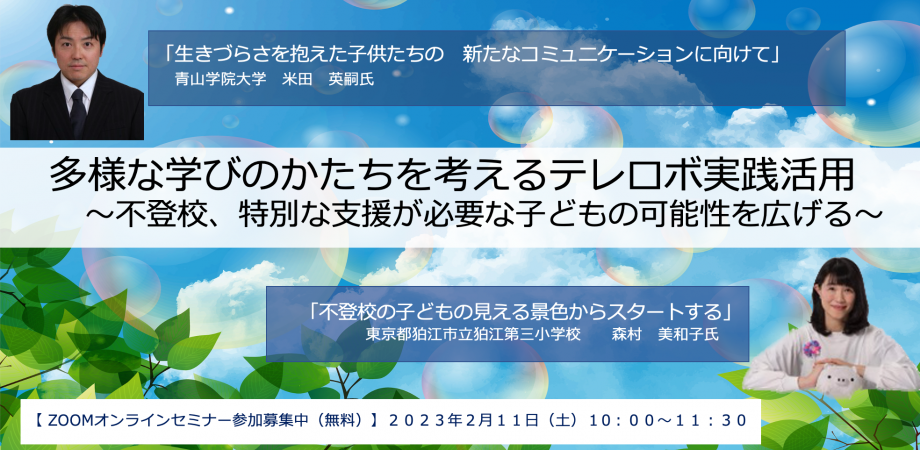 This is the 19th Open Seminar (AVATEC-19) that anyone can participate in AVATEC (AVATAr Teleportation promotion Consortium) hosted by New Media Development Association.
ICT as a new means of communication for child support against the background of non-attendance, increasing number of children who need special support, and promotion of inclusive educationteleroboIntroducing the latest practical examples of the effectiveness of utilization.
In the first half, Associate Professor Eiji Yoneda, Department of Education, Faculty of Education and Human Sciences, Aoyama Gakuin University, will give a lecture on the theme of "Towards new communication for children with difficulties in life."
People with developmental disabilities such as autism spectrum disorder (ASD) may have interpersonal anxiety and may have difficulty communicating with others.Hypersensitivity and the peculiarity of emotional understanding are thought to be factors that make communication difficult.
In this lecture, after an overview of sensory problems and emotional recognition specific to people with autism spectrum disorder, I will introduce research on communication support for people with autism spectrum disorder, and consider new communication styles that will be required in the future. sea ​​bream.
in the second half,
Ms. Miwako Morimura, Special Needs Class Homeroom Teacher at Komae Daisan Elementary School, Komae City, Tokyo. I will give a lecture.
"Self-study" is an initiative to study your own problems and think about how to deal with them.Using avatar robots with special needs classes in public elementary schools and children who do not attend school, he is exploring the possibility of communication that suits him.
Chasing after you with Avatar Robo? ! , analog games, girls-only gatherings, participation in events and award ceremonies, etc.
"I thought I wasn't good enough, but there's a way," and "I'm fine with being who I am."I would like to think about the possibility of future avatar robots that enhance self-usefulness.
Please participate in the seminar as a reference for using avatars and entering related businesses.Avatar-related businesses, ICT businesses, schools, medical care, research, related ministries and agencies, local governments, individuals, etc. are welcome to participate.Participation is free.
Click here to register for the seminar →https://peatix.com/event/3455093/view