[Participant recruitment 10/31〆] Invitation to telerobo remote control and digital twin experience in XNUMXG environment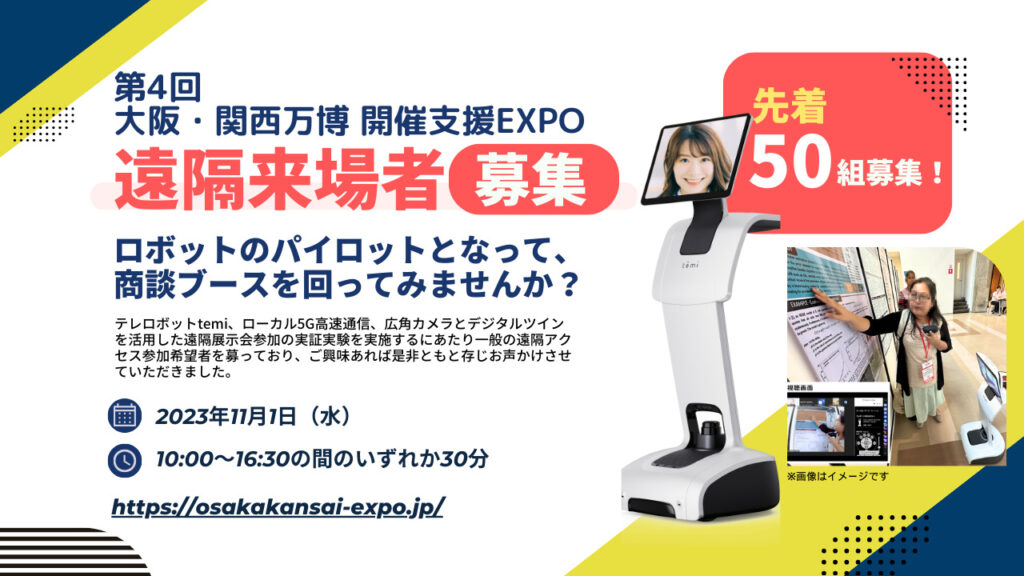 XNUMXth Osaka/Kansai Expo Support EXPO now recruiting remote visitors!
Would you like to remotely visit the 50th Osaka/Kansai Expo Support EXPO?We will invite the first XNUMX people to a demonstration experiment where they can experience remote control of our telerobo and digital twin in a local XNUMXG environment.
Remote visit date and time: November 2023, 11 (Wednesday) 1:10-00:16 (free)
Application deadline: October 2023, 10 (Tuesday) 31:13
On the day of the event, you can access the actual exhibition from a remote location such as your home via Zoom, and it is a valuable opportunity to gather information while walking around the venue with local staff attending. (Click here for a reference video of a similar initiative using temi in the past) For those of you who are currently considering introducing temi or how to use it, this is a valuable opportunity to experience its operation and use it in real situations. We would appreciate it if you could cooperate with us.
<Exhibition details> Exhibition name: 4th Osaka/Kansai Expo Hosting Support EXPO Contents: Telerobot remote business negotiation demonstration Date: November 2023, 11 (Wednesday) Time: Anytime between 1:10 and 00:16 or 30 minutes
Please use the form below to enter your preferred time (30 minutes per session) up to your 3rd choice.Participation fee: Free Participation method: We will send information such as the determined participation time, participation method, and operation instructions to those who apply individually.
To apply for participation, click hereApplication FormPlease fill in the following.Please feel free to join us!