Held on June 6rd!Learning Support Seminar for Hospitalized High School Students|The 23th AVATEC Seminar
iPresence G.K. is cooperating with the New Media Development Association to promote the popularization of AVATAR robots. (The telepresence avatar robot provided by iPresence isClick here for more information.)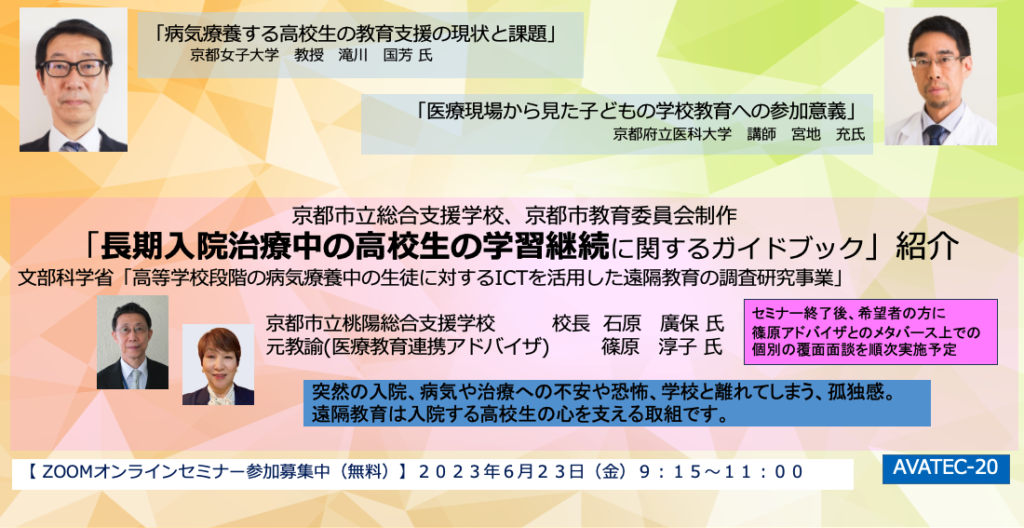 Event overview
This is the 20th open seminar (AVATEC-XNUMX) that anyone can participate in AVATEC (AVATAr TEleportation promotion consortium, AVATAR teleportation promotion exchange meeting, launched in December XNUMX) hosted by the New Media Development Association.
After the seminar,For those who wish, we will hold individual face-to-face interviews (private) on the Metaverse with Shinohara Advisor.If there are many applicants, we will set the time separately.Applicants will be solicited at the end of the seminar, and instructions on how to enter the Metaverse will be provided afterward.
Current Status and Issues of Educational Support for High School Students Recuperating from Illness
Sudden hospitalization, anxiety and fear of illness and treatment, separation from school, loneliness.Distance learning is an effort to support hospitalized high school students. (Below, after watching the video, please return to the original input tag.)
Related case video viewing
 As a reference for high school students who are undergoing long-term hospitalization and who are having trouble acquiring credits or certifying their graduation, this is a guidebook introducing practical examples of the use of avatar robots at the Kyoto Municipal Toyo Comprehensive Support School.
 At the beginning, Professor Kuniyoshi Takigawa, Department of Education, Department of Education, Kyoto Women's University, will give a lecture on the theme of "Current status and issues of educational support for high school students recuperating from illness."
 If high school students are hospitalized for a long time due to illness such as cancer, they may be forced to take a leave of absence from the school they are enrolled in or drop out of school.In the national government's "Fourth Stage Cancer Control Promotion Basic Plan" (March 4), as a measure to be taken for cancer patients of the AYA generation, such as children and high school students, "Patients who need education during medical treatment Developing an environment in which students can receive appropriate education, establishing a system for support for enrollment and return to school, etc., and grasping the actual situation in order to clarify issues regarding remote education using ICT.
 At the seminar, we will introduce the significance of educational support for high school students who are recuperating from illness, the efforts we have made so far, and future challenges. 

Significance of Children's Participation in School Education from the Viewpoint of Medical Practice
Next, Mr. Mitsuru Miyaji, Lecturer, Department of Pediatrics, Kyoto Prefectural University of Medicine, will give a lecture on the theme of "The Significance of Children's Participation in School Education from the Viewpoint of the Medical Field."
 The development of information and communication technology (ICT) has enabled simultaneous two-way distance learning, which is effective in ensuring learning opportunities for students who have difficulty commuting to school due to medical treatment.
 Especially for high school students, since it is not realistic to set up classes within the hospital, implementing remote education is extremely useful as a means of guaranteeing learning opportunities.The implementation of remote education not only makes it possible to advance to the next grade and graduate, but also has the effect of reducing feelings of alienation during medical treatment and reducing anxiety when returning to school.We can see a positive attitude toward treatment, and we will introduce the changes that the introduction of distance learning will bring to high school students undergoing medical treatment from a medical standpoint.  

Guidebook introduction
 Lastly, following a greeting from Mr. Hiroyasu Ishihara, the principal of the Kyoto Municipal Toyo Comprehensive Support School, Ms. Junko Shinohara, a former teacher of the same school (medical education collaboration advisor), will introduce the guidebook.
 Kyoto Municipal Toyo Comprehensive Needs School and the Kyoto City Board of Education are working to support high school students who have been hospitalized for a long time due to cancer, etc., so that they can balance treatment and high school life. We created a guidebook to promote support, focusing on the use ofBased on actual cases, the guidebook was created by considering the information necessary for the people concerned.
 At the seminar, along with introducing the guidebook, I would like to inform you that distance learning, which supported high school life during hospitalization, has the power to support the hearts of high school students facing severe treatment.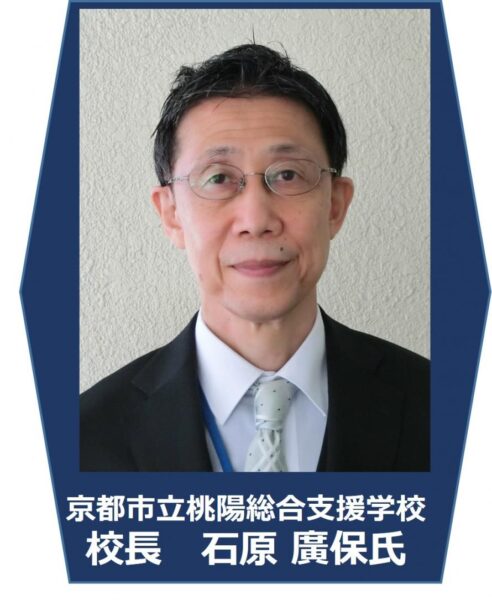 Please participate in the seminar as a reference for children and families who are having trouble with learning support (credit acquisition, graduation certification) for high school students undergoing long-term hospitalization.Avatar-related businesses, ICT businesses, schools, medical care, research, related ministries and agencies, local governments, individuals, etc. are welcome to participate.
Participation is free.
Click here to apply for participation:https://peatix.com/event/3586618/view
Summary
Organizer New Media Development Association
Date June 2023, 6 (Friday) 23:9-15:11 
Viewing method ZOOM meeting (lecture), metaverse space (applicant / individual masked interview)
Participation fee: Free