Japanese food export EXPO/RX Japan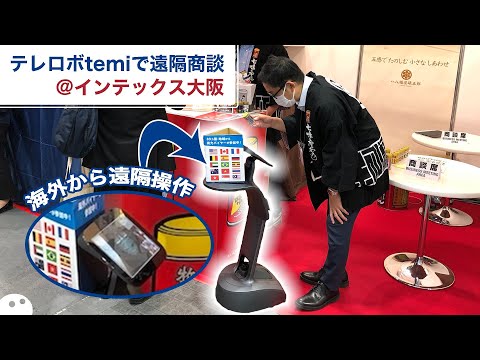 At the "Japan Food Export Expo (sponsored by RX Japan)" held at INTEX Osaka from November 2021th to 11th, 17, telerobo online tours from more than 19 countries around the world to the exhibition venue will be realized for 3 days!
iPresence provided technical support, and 15 units of temi were operated by the host, RX Japan.

Follow the interpreter and guide staff in automatic follow-up mode, and after arriving at the booth you are looking for, start remote business negotiations with exhibitors.By having a robot body, the exhibitors can feel the buyer's presence more and face-to-face business negotiations with Telerobo, which is a little different from a simple web conference.

Walking around the exhibition hall and temi's presence will give both of you a sense of being there.There was also a voice of joy at the conclusion of business negotiations over Tele Robo.

Visitors and members of the media were very interested in the new form of robot business talks.We prepared special equipment to solve the issues and concerns about the robot operation at the exhibition venue, such as the Internet environment and radio wave problems.The exhibition hall was full of excitement.