What solutions does iPresence provide for MICE activities?It is possible to host and support multifaceted events with robotics and DX technology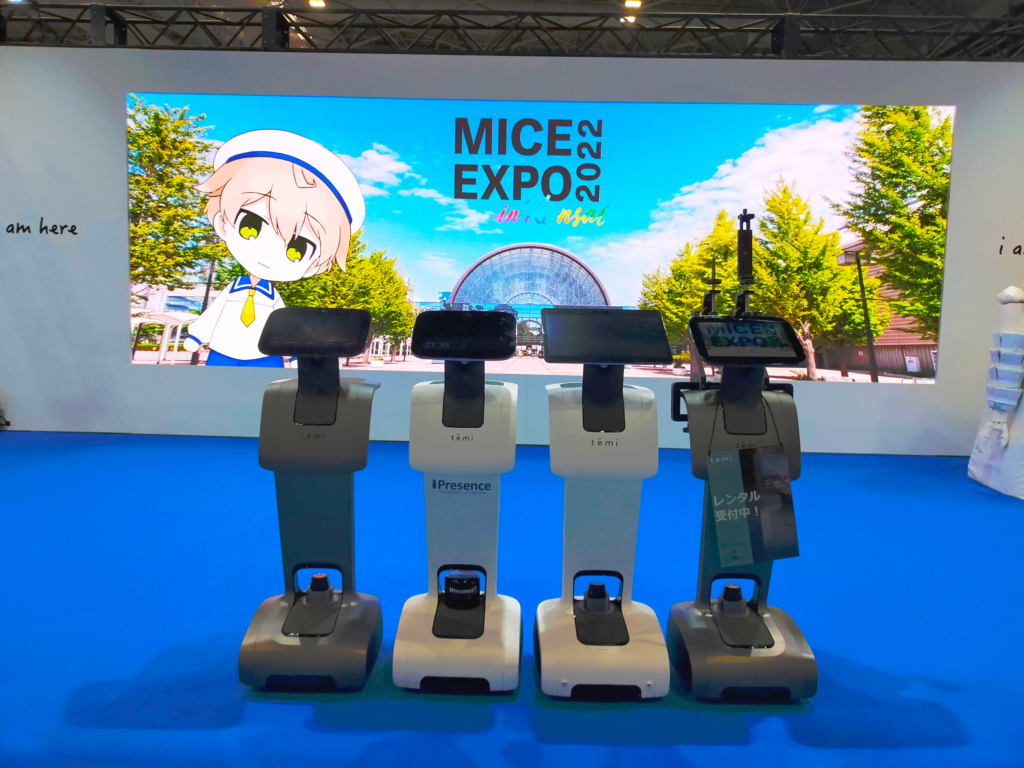 MICE is attracting attention in many industries such as business and tourism.As a pioneer of remote presence, iPresence entered the MICE field from an early stage. What kind of solutions can iPresence provide for business events?
In this article, we introduce what MICE is and the achievements of iPresence related to MICE.We will also explain in detail the cross-in hybrid event that fuses real and physical.
What is MICE?Social events important in business strategy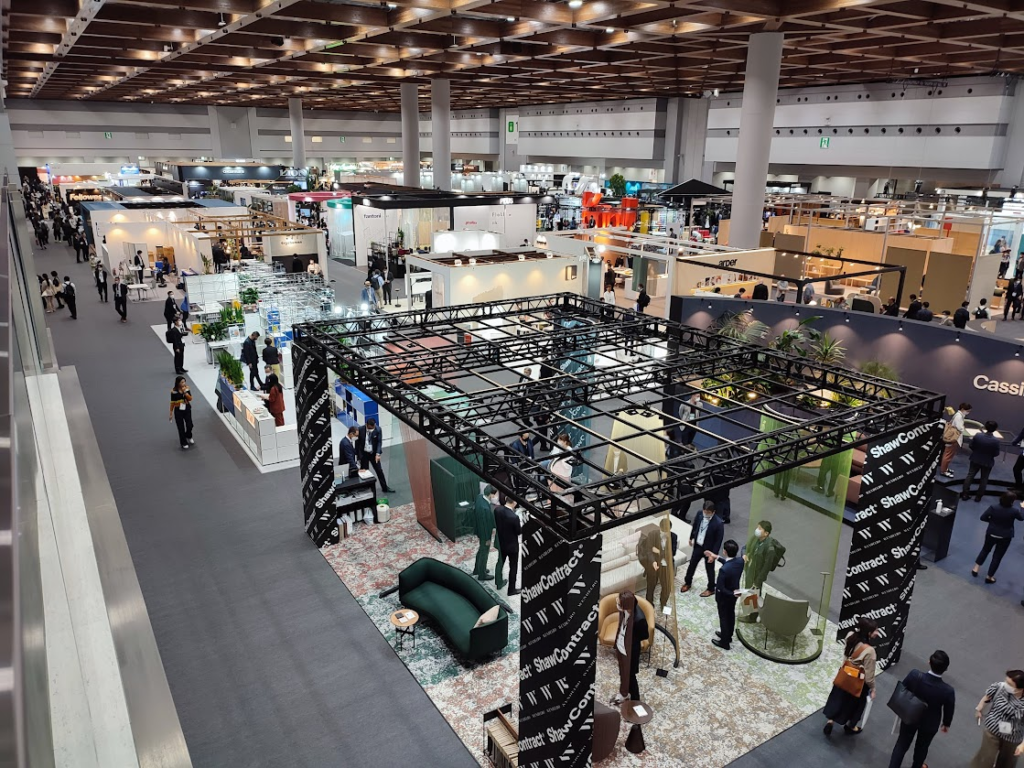 MICE is a coined word consisting of the initials of Meeting (corporate conference), Incentive Travel (incentive/training trip), Convention (international conference), Exhibition or Event (exhibition, event, etc.), and is expected to attract a large number of visitors. A general term for business events that are held.
In business, MICE is used for exhibitions and trade fairs that introduce corporate technologies and solutions, and in political terms, it is used to improve the competitiveness of countries and cities.Participating organizations vary depending on the purpose of the event, such as international government agencies and advanced companies nationwide, and in most cases, large-scale events are held at large event venues.
Because MICE attracts customers and has a large economic ripple effect, it is considered an important event in the business and tourism industries, and more and more organizations are actively working to attract MICE and make use of MICE.The number of international conferences held around the world is increasing, and in 2019, 527 international conferences were held in Japan as well.
Due to the spread of the new coronavirus infection after 2020, statistical data has not been released, but there is no doubt that there is room for consideration of how to hold large-scale events and international conferences.Today's MICE is not only real, but new forms of events are being created that incorporate remote and virtual technologies.
Achieving advanced MICE at a cross-hybrid event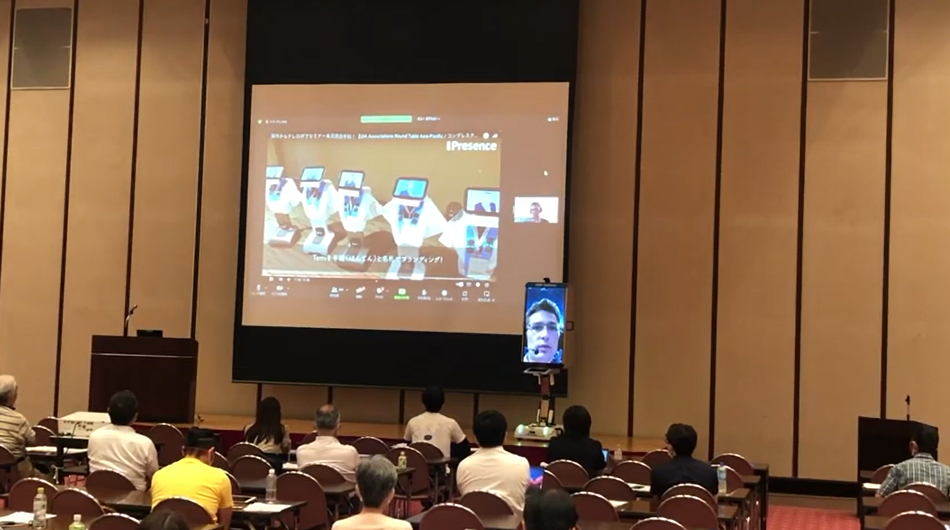 iPresence can realize a cross-hybrid event that seamlessly connects physical space and cyber space.iPresence, which has been developing robotics and telepresence technology since its inception, can provide advanced solutions for large-scale events such as MICE.
・Introduced as an up-and-coming company in the founding notebook.
https://sogyotecho.jp/news/ipresence_interview/
The cross-hybrid event advocated by iPresence is a solution that integrates telepresence technology such as telerobo (telepresence avatar robot) and virtual space (metaverse) with events held in real space.
・Click here for details of the cross-hybrid event.

Remote communication tools have rapidly spread to the general public due to the corona vortex, but the current situation is that 60.3%, more than half of the people, feel that communication is difficult when participating in remote events.Regular video calls and online distribution will lose the special experience that can be obtained from real participation.
By combining real + online + telerobo, iPresence realizes a next-generation event that gives remote participation a degree of freedom, a sense of immersion, and a presence. It is possible to transfer to an avatar robot (tele robot) such as temi or Double3, move around the event venue freely at the will of the remote participant, and communicate with the real participant.
・ Remote business negotiations from overseas with temi (Japanese food export EXPO)

At the cross-hybrid event, not only the participants operated the telerobo, but also the exhibitors used the telerobo.You can present your company to visitors without having to travel to a faraway venue.In addition, a special camera can be used to record the inside of the venue in three dimensions as a digital twin, which is highly satisfying for exhibitors.
・Exhibitor's telerobo use case (Awaji roof tile industry association)

Telerobo is also used at conferences and symposiums where scholars gather.There are many examples of the introduction of Telerobo at academic events, and the trend of introducing advanced remote communication tools is spreading nationwide, with challenging scholars trying it out first.
・Here is an example of iPresence providing Double Robotics.
https://news.yahoo.co.jp/byline/yukiigarashi/20141211-00041418
The cross-hybrid is used not only for MICE but also for familiar events.Telerobo fulfilled my wish to attend a family wedding from overseas, and I was able to realize a remote experience that made me feel as if I was actually there.
・There is also a case where I attended my younger brother's wedding from overseas (South Africa) with temi. (Detail isContact Us please)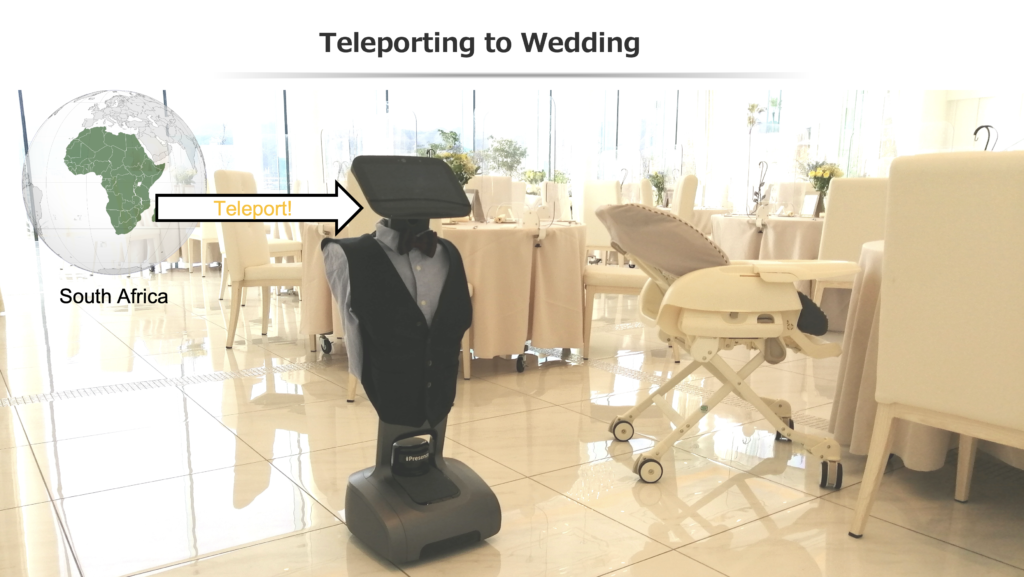 iPresence achievements related to MICE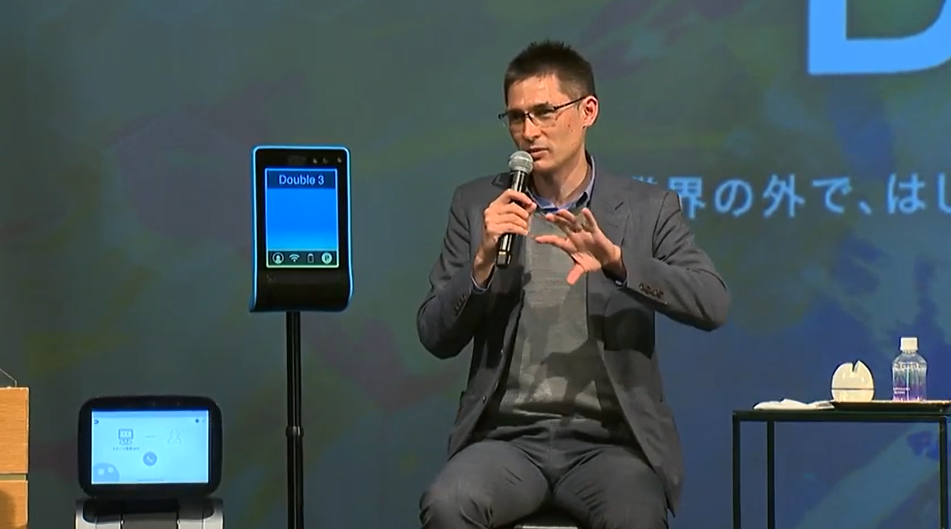 iPresence, which has incorporated advanced technologies such as telepresence, robotics, and DX into MICE, is attracting attention from various industries as an advocate of next-generation events, and has received many requests to speak.We have also exhibited the solutions so that you can actually see and experience them.
・Speaking at the MICE Business Practice Course
https://business.yokohamajapan.com/mice/img_data/WH-NEWPDF176_1.pdf
・Exhibition at the 17th MICE Innovation Study Group Demonstration Business Results Presentation
https://www.congre.com/news/20220316-13377/
Due to the spread of the new coronavirus infection, non-contact and remote operations are accelerating.In particular, the hotel and bridal industry, which involves eating and drinking and meetings, has come to a time when it will be hit hard and forced to change. Teleport communication technology, which is iPresence's strength, is required by many industries from the perspective of preventing the spread of infection.
・Present at Koryu no Mirai DX (sponsored by Happoen)

Christophers, the representative of iPresence, who advocates the ideal form of next-generation events, not only makes presentations in person, but also makes presentations from overseas through large displays.She continues to put new ideas into practice and propose solutions.
・Kobe Chamber of Commerce and Industry 17th DX Seminar Large Display

Countries and cities actively attract MICE and hold events as MICE is indispensable for creating cities and companies that are internationally competitive.As one of them, iPresence has been officially entrusted with the Tokyo Tourism Foundation's "Public Call for Technologies Contributing to the Realization of Next-Generation MICE."
・Adopted for public offering of technology that contributes to the realization of next-generation MICE
https://www.nri.com/jp/service/mcs/koubo/mice_promotion_2022
Strict screening is carried out in the public offering for this project, and adoption is not easy.It can be said that the fact that iPresence has been able to accept the contract and fulfill it is a great achievement in the midst of the question of whether it can demonstrate high performance and whether it can meet expectations.
As a pioneer in advanced technology and remote communications, iPresence also conducts research and development, and sometimes undertakes research from affiliated organizations. It won't be long before new solutions such as 360-degree distribution applications and technology that utilizes real-time city data from telerobo are provided.
iPresence platform that can be used for MICE
Introducing the platform provided by iPresence that can be used for MICE for medium to large business events.
iPresence handles a wide variety of tele robots and also develops applications. We are building a seamless interface between real and virtual based on the concept of Taas (Teleportation as a Service).
By handling a wealth of platforms related to teleport communication, we are able to provide solutions that meet diversifying user needs.
Airmeet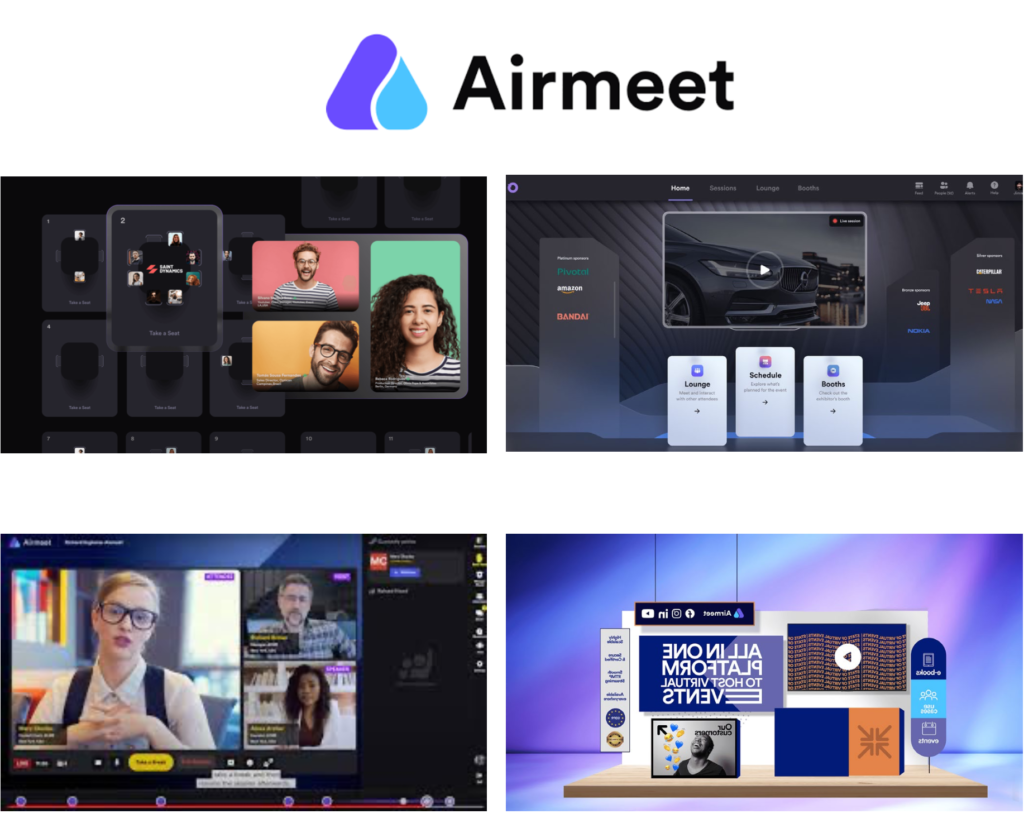 A 2D communication platform specialized for large-scale online events with many participants.You can view the webinar in full view and communicate with each other in the social lounge at the table.
There are plenty of reaction functions such as hands up and pictograms in chat.No need to download any software, just click the URL to join the event.
The host can record and aggregate logs, and control events with superiority.An all-in-one remote event tool for small meetups to large summits.
https://ipresence.jp/airmeet/
vFairs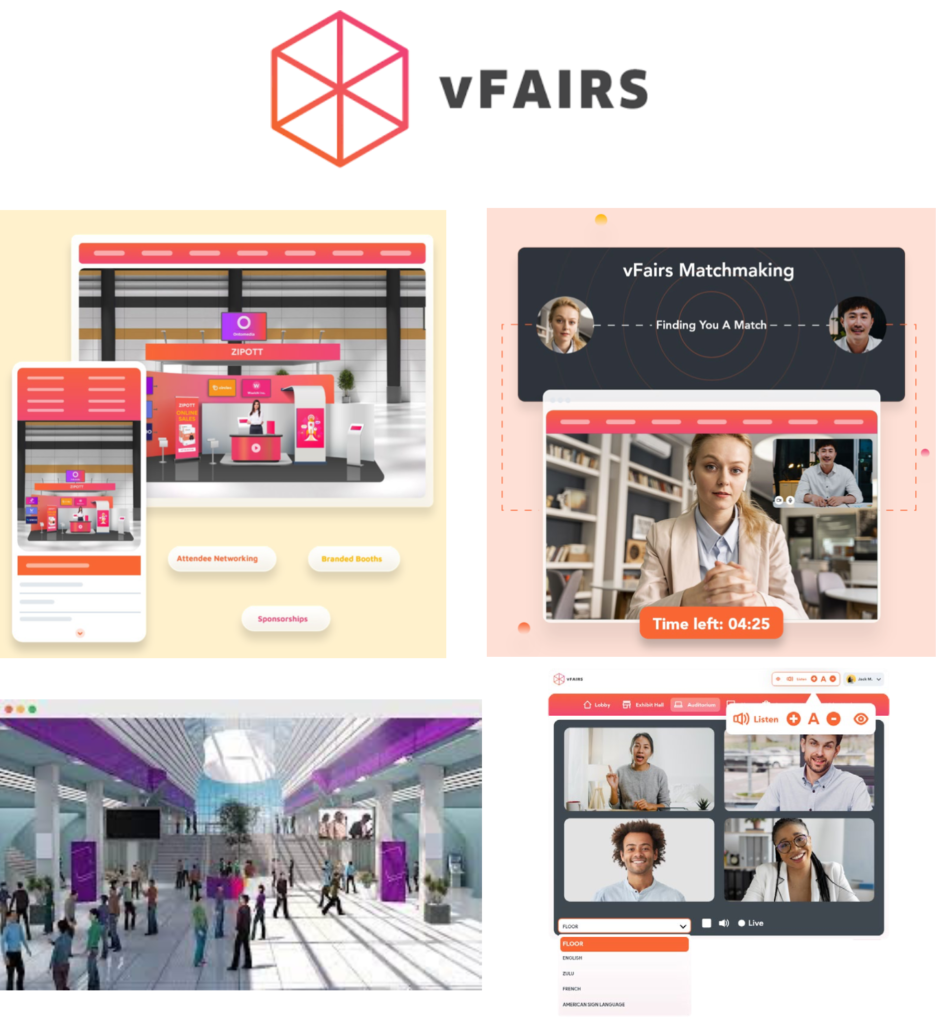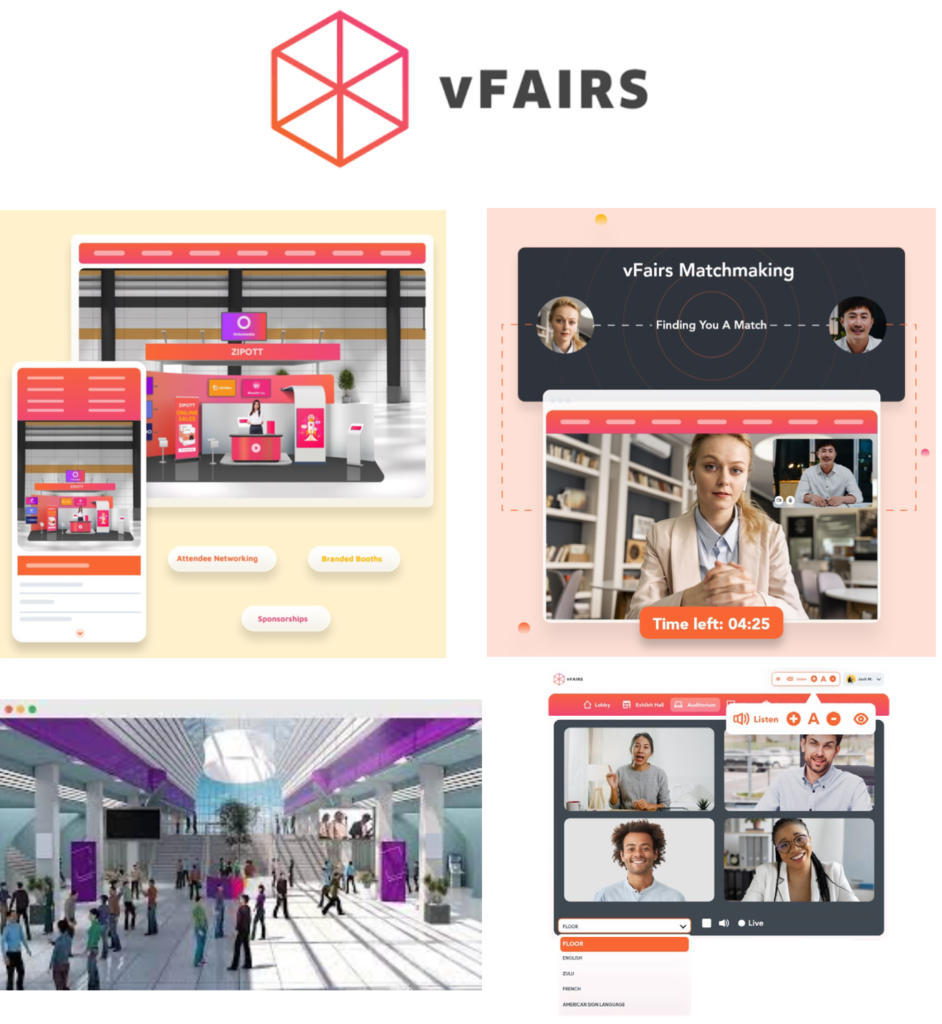 An event platform for VIPs with extensive experience in holding large-scale international conferences and academic conferences.Used to host both hybrid and virtual events.
Although it is a 3D metaverse screen design, the operation is a 2D plane operation specification that anyone can handle.Just click on the screen to move to the main venue or exchange lounge.
You can freely change the design of the virtual environment according to your needs, and you can change the specifications such as signboards and background scenery according to the branding of the event.In addition, you can flexibly respond to requests such as adding mini games that online participants can enjoy.
https://www.vfairs.com/jp/
[iPresence MICE] Total support for large-scale cross-hybrid events

As described above, iPresence can utilize existing services and platforms to provide a place where people can interact during and after hybrid and online events.We have a wide variety of methods to provide the best solution for your event and branding.
iPresence has established a system of cooperation with partner companies to realize medium to large-sized next-generation cross-hybrid events.By fusing multiple technologies such as robotics, video, and communication, we can provide total management support so that you can blend in with the event.
Please feel free to contact us if you are considering the introduction of telerobo or a hybrid event for MICE activity.