Telerobo kubi use case | School participation of children under medical treatment realized by "Telerobo kubi"!What are the XNUMX benefits of introduction?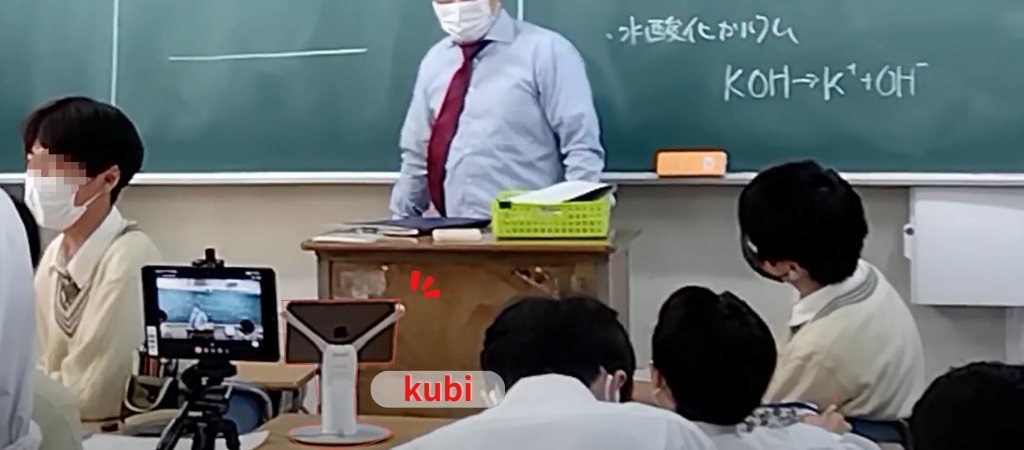 Even when you can't go to school, you can participate in class with Telerobo kubi
Mr. K, who attends Osaka Prefectural High School, was suddenly forced to be hospitalized due to illness in the first semester of his second year of high school.After discussion with the medical social worker, school, and family members, it was decided that the child would participate remotely in school classes from home or the hospital.After that, he spent about a year of remote school life, and with the support of those around him and his own efforts, he was able to advance to the next grade.
The background to the fact that the students of the full-time general high school were able to advance to the next grade by participating in the remote school life,supported itExistence of telepresence avatar robot (a.k.a. telerobo) kubihad.We will introduce the merits of introducing kubi to schools, such as remote control, communication with others, and contribution to credit acquisition.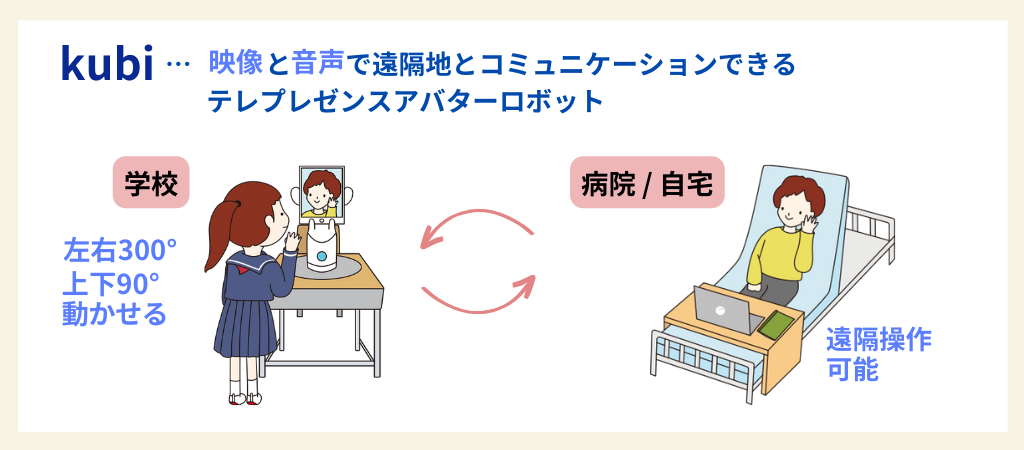 Participation in telerobo school life, realized through cooperation among stakeholders (family, medical staff, school, and education agency)
Ms. K was able to participate in remote classes at a full-time general high school not only because of the cooperation of the school, but also because of the understanding of the Osaka Prefectural Board of Education, which has jurisdiction over the high school.Although there are guidelines from the government that remote class participation can be treated as attendance, the interpretation varies depending on the school.The people concerned respected Mr. K's desire to go to school and learn, and established a support system.This supported my participation in remote school life for about a year.
With the decision to introduce kubi as a tool for remotely participating in school classes, and the establishment of a support system to support daily classes and regular tests, Mr. K is currently in the hospital and recovering at home. However, I was able to spend time at school with my friends and advance my studies.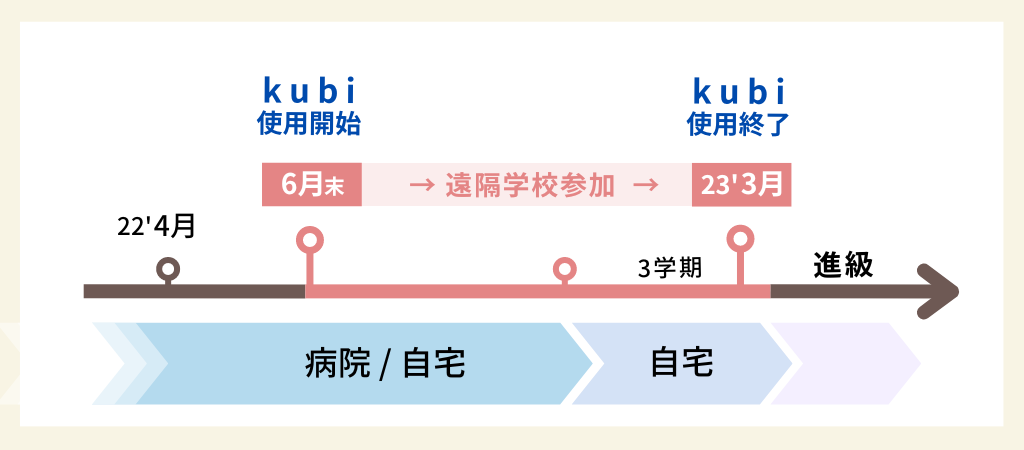 What are the benefits of introducing kubi into class lessons?
1. Smooth student participation in class through remote screen operation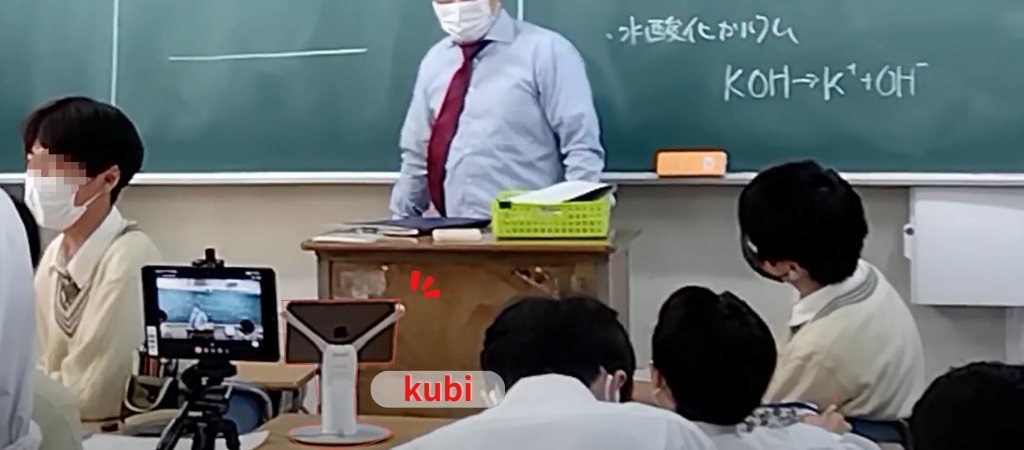 When Mr. K connected remotely, he connected his computer to kubi and watched the video of the class in real time.
The kubi was placed on the desk in front of the classroom, and when the blackboard did not fit on the screen, Mr. K used his own smartphone to remotely control the kubi and adjust the projected screen. .Since it is placed in the front, the characters on the blackboard are clearly visible from edge to edge, and you can see where you want to see according to the teacher's writing on the board.
In the past, I had classes streamed using an iPad, but the screen was fixed, so I was limited in what I could see. By using kubi, the screen can be moved 90 degrees up and down and 300 degrees left and right by remote control, so class participation went smoothly even from a remote location.
2. kubi

Sense of "being there" by


〜Communication with classmates and teachers〜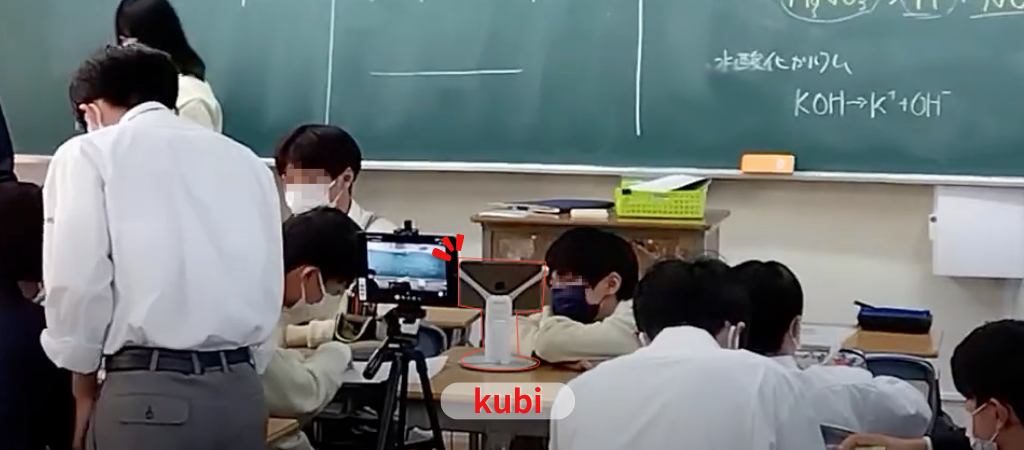 In addition to being able to participate in classes, kubi is also active in terms of communication.
During school breaks, Mr. K used to chat with friends who were nearby through kubi.In the case of class distribution by iPad, it was used as a transmission tool on the school side,You can share Wai Wai Gaya time with your friends in both directionsThis is a unique way of using kubi.
In a mobile classroom, a friend can carry the kubi to a new location.In a physical education class, you can do muscle training through a screen with an assistant teacher.Communicate with teachers and classmates even from remote locations. I had the opportunity to take
3. kubi

Even if you participate in remote classes at*


*Credit approval varies depending on the school you belong to.




Many schools have different practices when it comes to whether remote class participation is treated as attendance like other students who are in class. The high school where Mr. K was enrolled will be recognized as attending even if he participates in remote classes.

For more than half a year, Mr. K was repeatedly in and out of the hospital.Each time, I was hospitalized for about a week and devoted to treatment, and then for about three weeks while recuperating at home, I participated in remote classes using kubi from home.While I was recuperating at home, my physical strength and energy were declining, but when I was having a hard time, I used kubi to participate in classes while lying on my bed. was doing.At the high school I attended, I participated in classes with kubi and devised testsAs a result, I was able to advance to the new school year without dropping a single credit.
Thinking about the future after hospitalization
Mr. K says that while using kubi through participation in school life, his desire to get a job related to robots in the future became stronger. When she visited iPresence G.K., she told us about her one-year recuperation life.Her smile when confronting the robot was impressive.
Mr. K successfully advanced to the third year of high school.

However, being discharged from the hospital and returning to school is not a "goal" but a new "start".Contrary to the joy of being discharged from the hospital and returning to school, I was worried whether Mr. K himself would be able to live the same way as before.Although his one-year period of using kubi has now come to an end, iPresence will continue to support Mr. K, who thinks for himself and moves forward.
■ Click here for kubi: https://ipresence.jp/kubi/