[Voices of mobile phone Telepii users] Corona treatment & Mt. Fuji climbing "Indispensable existence"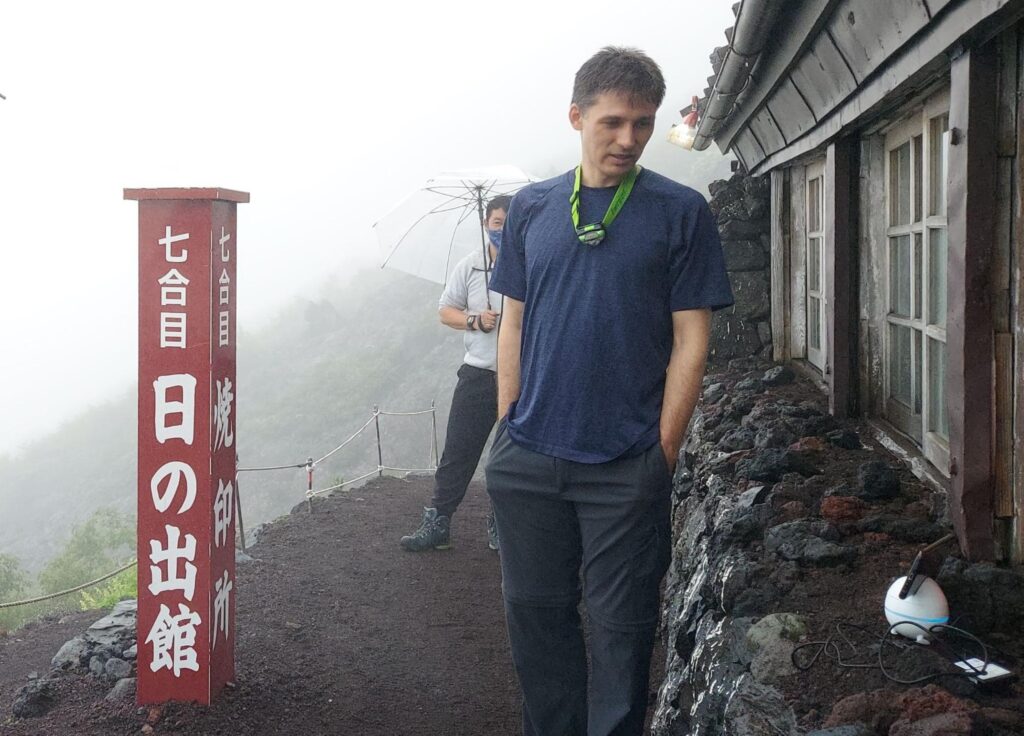 Mobile phone TelepiiiPresence, which manufactures and sellsRepresentative Christophers Chris Francis(Hereafter Chris) was interviewed as a telepy user this time.How did you use telepy and what did you feel during the loneliness during the corona treatment and the special experience of climbing Mt. Fuji?There is also a message for those who are wondering whether to use telepy.
The interviewer is Fujimoto, who is in charge of marketing.We also have photos of Mt. Fuji climbing, so please take a look.

[During corona treatment] Use telepy at the dining table every day │ Children set themselves
Fujimoto:
Chris, thank you for joining us today.
Chris:
Thank you.
Fujimoto:
Mr. Chris said that he used telepy during the corona treatment and when he climbed Mt. Fuji, so this timeAs an actual user of a telepi, rather than a creator of it, I would like to introduce "examples of usage in my home" for those who are hesitant about buying a telepi.
Chris:
understood!
It's a bit early, but I took a photo with impact the other day, so I'll show it to you.


I went to London and did my best to take pictures. (About an hour and a half from home)
Fujimoto:
Great, it looks great now that it's done.Who were you in contact with at this time?
Chris:
my son.I was the only one who went to London, so it was like my son at home running the London telepy.
Fujimoto:
When you usually use the telepy, which side do you mostly operate, Chris-san?How are you using it?
Chris:
Well….When I'm doing something interesting, like when I went to Mt.
When I use it at home in the UK, I will be in Japan, and I will be the one who operates it in the bedroom like this corona treatment.
My son would come up to my room on the second floor and bring me food, saying, "It's Uber Eats."
Not only that, but they will spontaneously set it by saying, "I'm going to set the telepy."Children know best when to use it.
I had a telepi on the dining table, so I would put my smartphone up next to it and have a conversation while eating.
Fujimoto:
It means that Chris is the operating side.
Even if you don't say "Let's telepy" in advance, do you feel that telepy has become the norm?
Chris:
That's right, the children's smartphones also have a "telepy (app)".


Occasionally we quarrel with each other like, "Whose smartphone will I put on my telepy today?" (laughs)
Fujimoto:
(Lol)
During the meal, do you connect the telepy until the meal is over?
Chris:
I agree.While chatting with the child, I looked this way and that way.I've been using it for dinner every day for about a week.
Fujimoto:
Did the children have any hurdles until they got used to it?
Chris:
I agree.Children are more comfortable because they just push left and right.At first, I tried to move it left and right, and I was like, "Wow, that's enough."

Calling is not just telepy│The feeling of connecting because there is telepy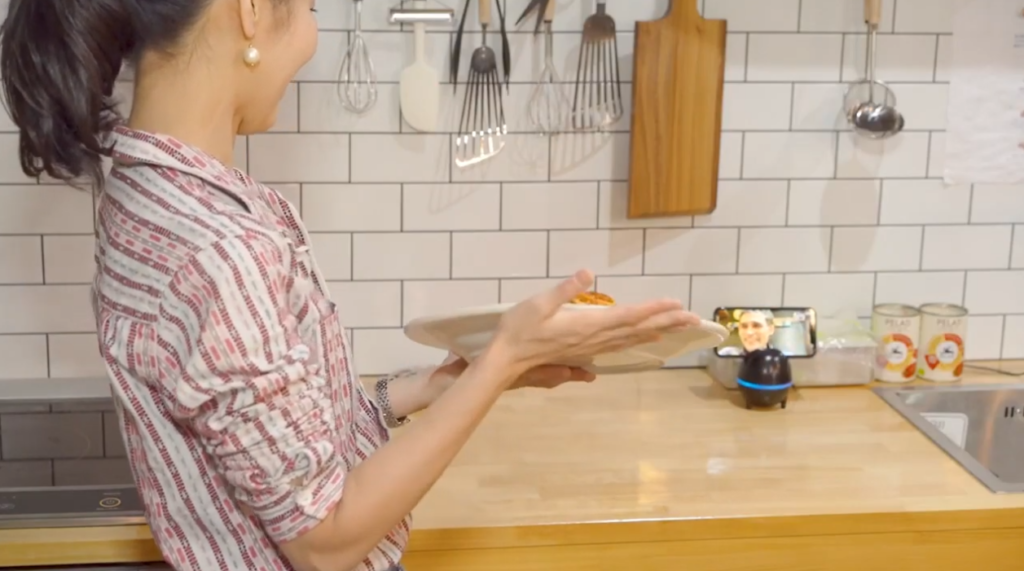 Fujimoto:
Are you using telepy so much that you'll never go back to a traditional videophone?
Chris:
No, not at all (laughs).
Telepy is easy to use, especially when you're eating.When I'm walking around, or when I want to make a normal phone call, I make a LINE call and switch to video chat every day.
Telepy must be used where there is telepy, so you have to consciously launch the app and call the other party.There is definitely a lot of work involved.
Fujimoto:
It's easier to use when it's set up.
Chris:
Also, unless you consciously think "Let's use telepy", you don't use telepy.
LINE and Messenger are apps that I usually open, and being able to send text messages is a big deal. It's a smooth process to send a text message on LINE or something like that and ask, "Can I call you on telepy?"
When I eat rice, I feel like "I use it because I have a telepy".I wonder if we use properly depending on the time and situation.
Fujimoto:
When I'm eating, I move my hands, so I can use telepy by using a fixed point camera.
Chris:
This is a picture of using telepy during corona treatment.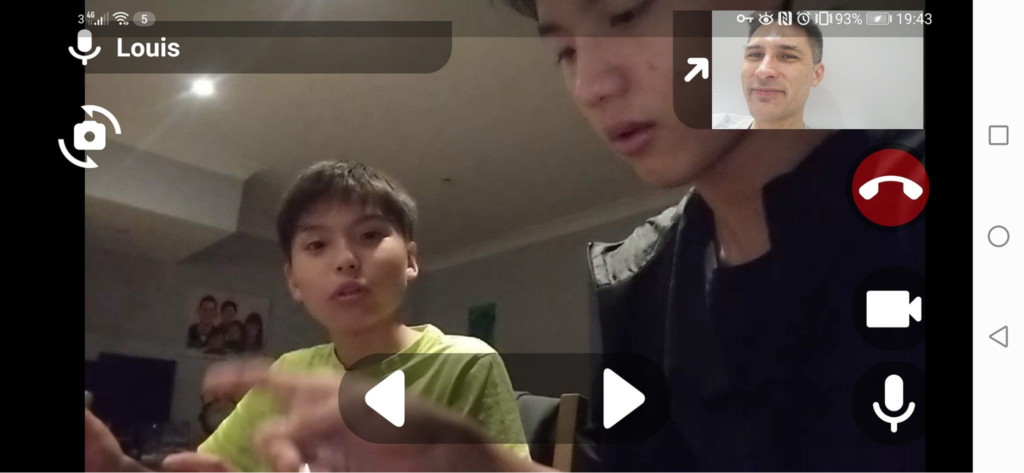 (The state of the dining table The official Facebook page for living with a "moving phone Telepii")

It seems that the president who manufactures the telepi also used the same method during the corona treatment.
I think it would be nice to include a telepy in "10 must-have items for corona" (laughs)
I also thought that I would like to appeal the necessity of telepy during medical treatment.
Fujimoto:
It looks like it's going to be a healing item that is pretty supportive of the heart.In times like these, it's important to let go of loneliness.
Chris:
Yes Yes Yes.
There are LINE video chats, but when I'm in a situation where I don't have to go out of my way to connect, I sometimes say, "I can connect because I have telepy."After all, there is a feeling that we should connect because we have a telepy.
A certain influencer also seems to have said, "I have a telepy, so let's connect to grandpa and grandma."
It's a small thing, but it's worth it.You can feel it when you use it.
Fujimoto:
Thank you very much.
Now, please tell us about using telepy when climbing Mt. Fuji.

Climbing Mt. Fuji starts in the rain│ Telepy connection at the 5th and 7th stations

Chris:
Okay, first let me tell you how the Mt.Fuji climbing itself was.
This time, I climbed Mt.Fuji with two iPresence engineers from India and the staff of a partner company.

Everyone wants to climb Mt.Fuji at least once in their life, right?Even more so if you are Japanese.
I'm the same way, and for about 10 years I've been saying, "This year, next year."Still, let's decide the day in the new year this year!So, I decided to go no matter what in July and went to recruit friends.

It was my first time, so I wanted to try climbing first and then let's climb together next year.
Telepy was used at the 5th, 7th, and summit.After about two hours by bus from Shinjuku, we arrived at Yoshidaguchi, the 2th station, and had a light lunch.
However, it was raining heavily and thundering at that time, so I thought I might not be able to climb.I didn't want to cancel, so I tried to connect the telepy at the 5th station.


At this time, I connected with Mr. Fujinaga (in charge of sales of iPresence), but I found out that Mr. Fujinaga was in the mountaineering club when he was in college (laughs).
Fujimoto:
Surprise! (smile)
Chris:
This time my knee is not feeling well, so it seems that I refrained from doing it.
At the 5th station, I felt like I talked about the state of the restaurant and what to do next.It's a normal restaurant, but just being at the 5th station of Mt.
Fujimoto:
Mr. Fujinaga, what kind of reaction did you get when you moved the telepy?
Chris:
After all, you said that you can see that if you look over here.
Well, Mr. Fujinaga is used to telepy, so he didn't have the impression that he could move, but he moved naturally, and he was impressed that he was connected from Mt. Fuji.


After waiting for about an hour, the rain got weaker, and I thought I could do it, so I started climbing an hour later than planned.
At the trailhead, the rain almost stopped and I felt like I was in the fog.It takes about 8 hours to the 3th station, and you can hardly see the scenery.
The way I climbed is like this.

As expected, I was out of breath, so I bought an oxygen spray can and inhaled it.
Fujimoto:
They are selling properly.
Chris:
Yes Yes.It was only for a moment after sunset, but the sky opened up and I was able to see a beautiful scenery.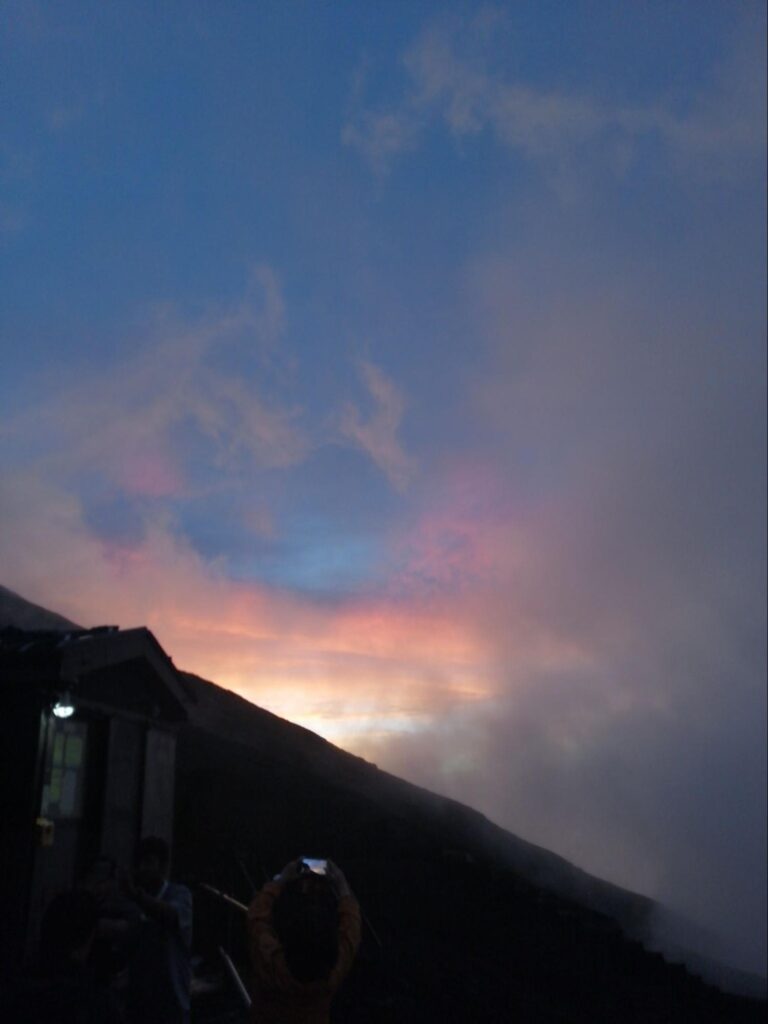 I was so happy that I could see the sun! (laughs)
Then, at Hinodekan on the 7th station, I connected the telepy.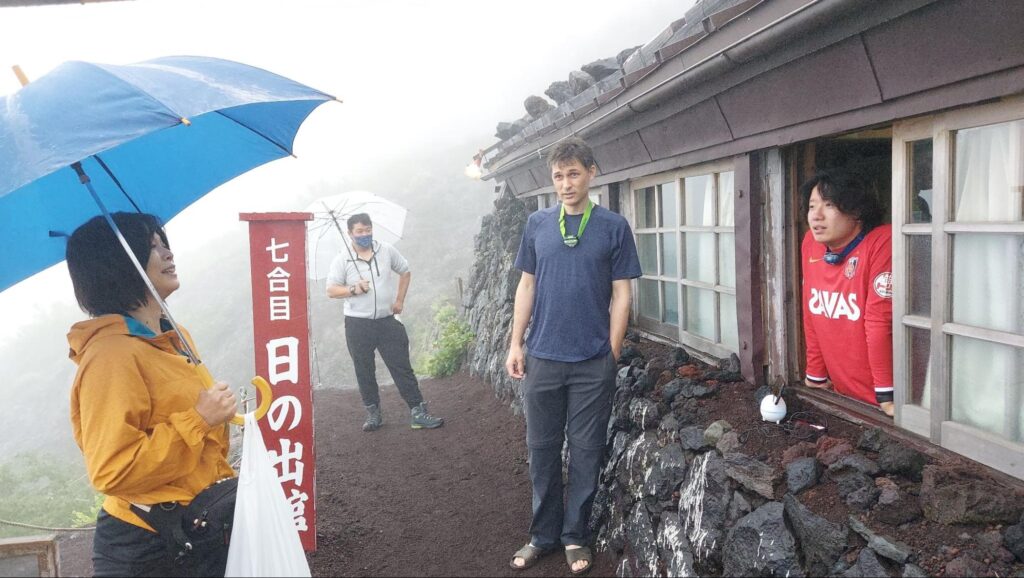 This left side is a cliff and the scenery is usually beautiful.
I put it through to Mr. Murayama, who is in charge of sales in Tokyo (of iPresence).Mr. Murayama was wondering whether to climb this time or not.
I told him on telepy that I had come this far.
By the way, the beer sold here is 600 yen per can!
Even one can is enough to make you sick because oxygen is thin.

This is when I connected Murayama's telepy while eating curry inside.

Fujimoto:
It's a good connection, isn't it?

Chris:
So yeah, the communication was good.Actually, there is a base station of NTT at the top of Mt.Fuji.
There is an impression that it is connected from the 7th station.

Sunrise and wonderful scenery on the second day│Connecting telepy from the top of Mt.Fuji to India
The next morning, I could see the sunrise so beautifully.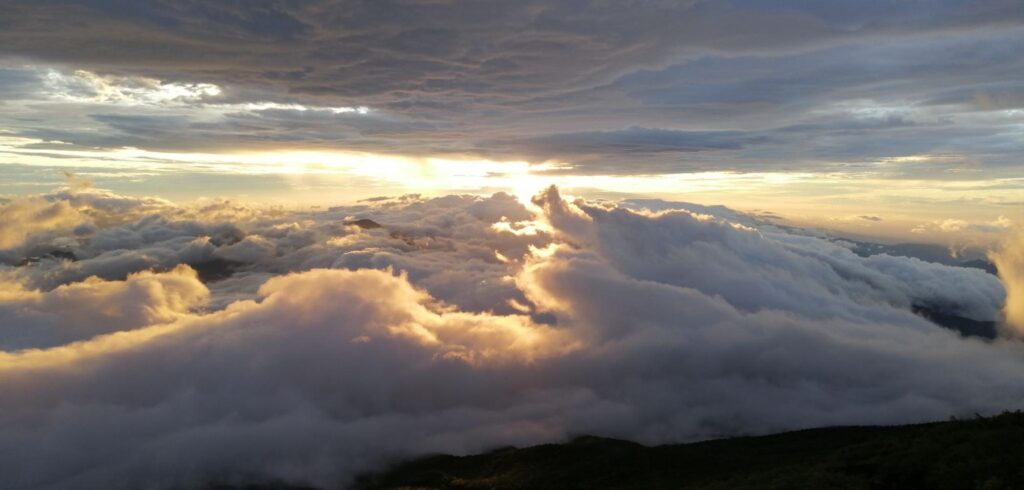 At this time, I connected to England, but in the end I didn't have time to set up a telepy, so I connected via LINE video chat.
Well, I didn't have a place to put it outside.
I wonder if I saw the sunrise and left around 6 in the morning.It feels like climbing a rocky place like this.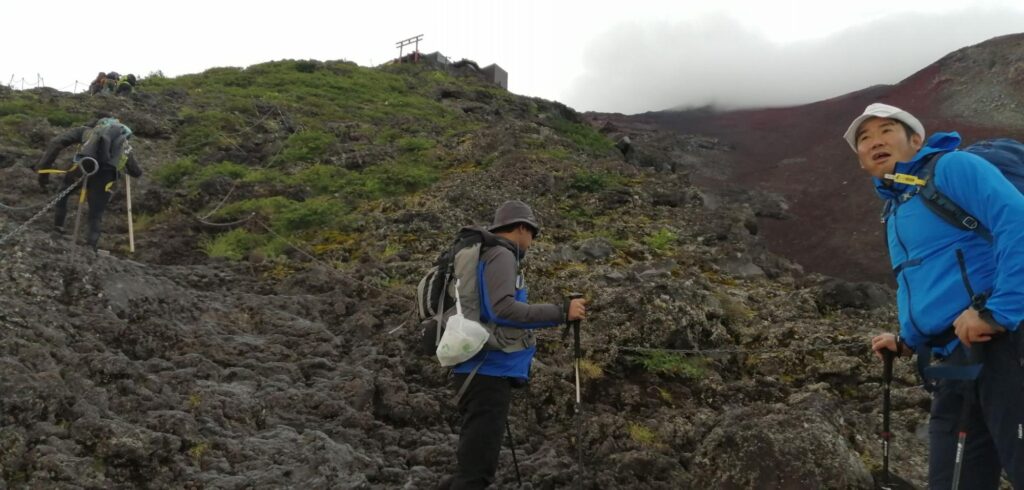 On the second day, there was a view behind me, so I stopped and enjoyed the view.
And here is the top.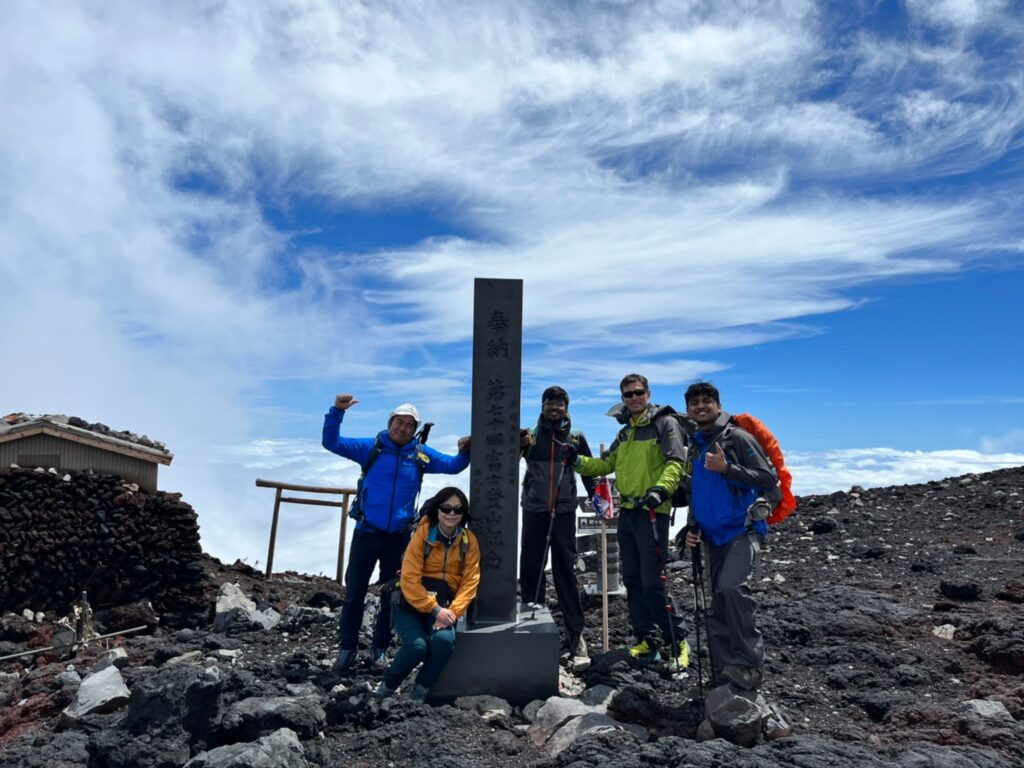 There is also a vending machine and a cup is 500 yen!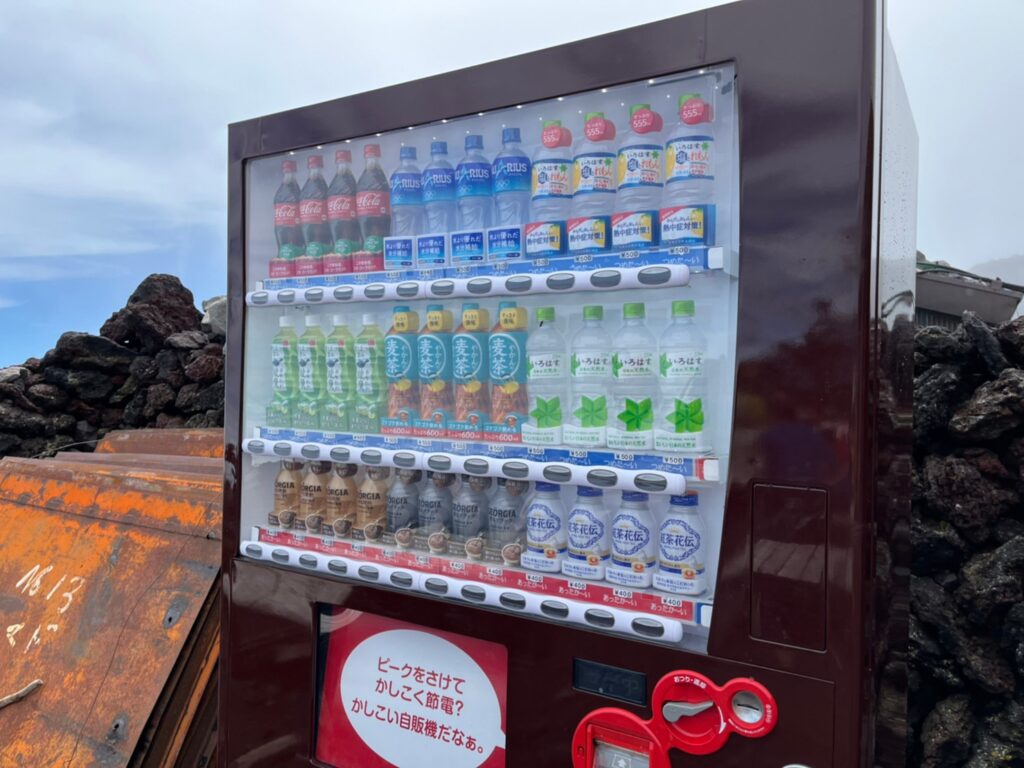 This is the crater of Mt.Fuji.


It's huge and has no fences.
It takes about two and a half hours to go around the bowl.

Fujimoto:
Huh!It's such a big crater!
Chris:
This is Kengamine, the highest point on Mt. Fuji.They say you can't get there unless you go around the bowl.
Fujimoto:
It makes me want to go.
Chris:
Kengamine was only reached by me, the Indian staff, and one of our partner companies.
The other members said that just reaching the top was enough, so they ate ramen and drank alcohol.
At the top, an Indian member was telephoning India.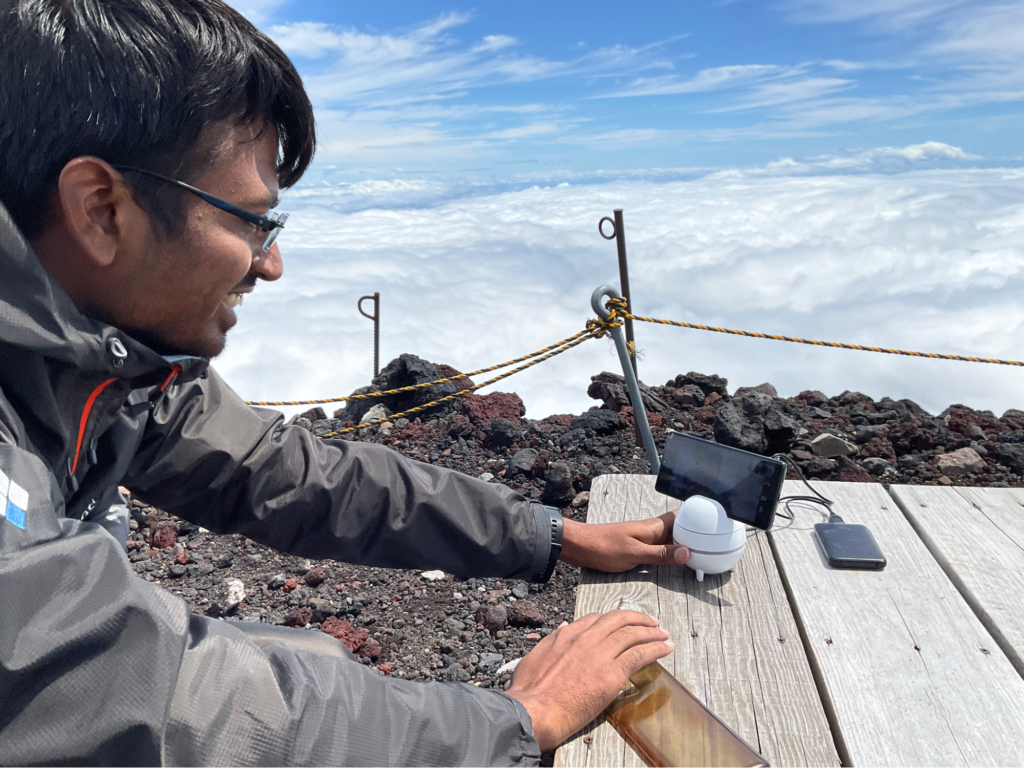 Fujimoto:
How did the Indian team react to the telepy?
Chris;
I was so happy!I hung it on my family in India.
Fujimoto:
Did you say in advance that you would hang it on the telepy?
Chris:
Originally they had a telepy at home,Since the app is also included, it seems to be connected normally.
Fujimoto:
India is also connected to telepy!
Chris:
Yes Yes Yes.Now, when I told them that we were at the top of Mt. Fuji, they were also impressed.
Fujimoto:
It's not something that happens very often.
Chris:
Well, I used it on Mt. Fuji like this.

Telepy becomes a remote device at the top of Mt.Fuji! |After experiencing it, it became indispensable.

Chris:
You can have a normal video chat, but telepy allows you to remotely control and see what you want...
It's just a small thing, but I think that being self-motivated can be an extra experience.
The experience of not just looking at it, but remotely controlling a device on top of Mt. Fuji itself is truly novel.
It simply moves left and right, but by doing that, I think it's an image that gives you a sense of being there and a little more experience.
Of course, it's different from actually going there, but you can feel the feeling that someone is going there to replace you.
For example, you can see various places such as the scramble crossing in Shibuya now on live video, but instead of that, you can have two-way conversations, and you can take the initiative to move yourself. The experience value and fun of people will be completely different.


Fujimoto:
indeed.
Chris, is there anything you would like to say to people who are wondering what to do with telepy?I just want to say this.
Chris:
what about….After all, if you use it, it will become indispensable.
Before video chat came out, voice calls were enough,Once video chat is available, I feel inconvenient and lonely if I can't do it when I want to.In the same way, once you get used to it, when you can't control it remotely, you're like, "Why can't you?"

I would like everyone to experience it, and they say that this kind of new form of communication using robots can be easily tried.
The experience of communication using an avatar robot is not something that anyone can easily try, but it can be experienced in such a simple form.
I would like everyone to try it.
From now on, I think this will become commonplace in communication in the future, so I'd like you to try it in the sense of anticipating it.
Fujimoto:
I see.I hope that many people will try it.
Thank you for your time today!
Chris:
I'm the one who should be thanking you!