Overview of hybrid events (advantages and disadvantages) and the future
Due to the influence of the new coronavirus, online events have spread.Now, we are returning to holding real events, but more and more events are being held as "hybrid events" that combine online events.
Given the evolution of remote communication tool technology, events are expected to become more hybrid.
This time, I would like to talk about the overview and future of the hybrid event that is currently attracting attention.
What is a hybrid event
A hybrid event is an event that combines both physical and online events.Some people will attend in person at the event venue, others will be able to attend via the Internet.
According to a survey by Peatix Japan Co., Ltd., the number of online/hybrid events held is rapidly increasing due to the impact of the new coronavirus.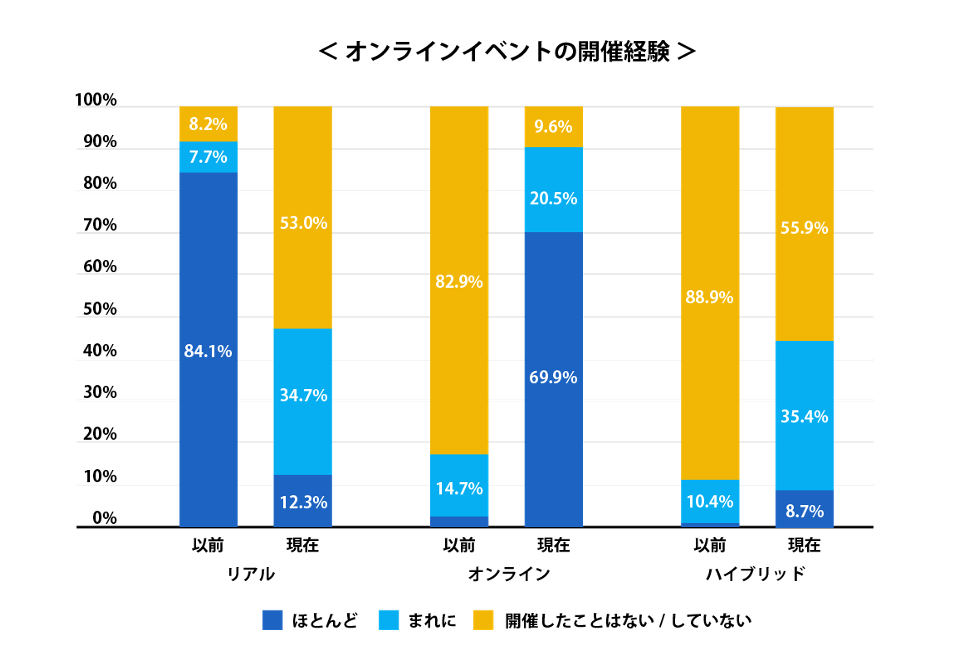 Quote:2021 Peatix Event Research Report
In the future, the number of hybrid events will increase.
Characteristics of hybrid events
A feature of hybrid events is that they can be attended from anywhere.Participants can come to the venue or participate remotely.In this way, attendees can participate in their own way without missing an event.
This allows you to reach a wider audience by allowing attendees to join your event even if they are in remote locations.There is also an economic advantage because it can be held at a lower cost than at the venue.
Events that have been adopted as a hybrid event
Hybrid arrangements have been adopted at some events.The representative ones are summarized in the table below.
| | |
| --- | --- |
| Conference/Seminar | Speakers, panel discussions, and more will be held and attendees will be able to watch them online. |
| Exhibition/Fair | You can come to the venue, and you can also browse online. |
| workshop | Attendees can watch presentations and lectures online. |
| party | Attendees can watch live streaming online. |
Advantages and disadvantages of hybrid events
Here, we will introduce the advantages and disadvantages of holding a hybrid event.At first glance, it seems like there are only advantages, but in fact there are also disadvantages.
Benefits of hybrid events
First, let's take a look at the benefits of hybrid events.
Participate remotely
It will be held both online and offline, allowing people from geographically distant locations to participate in the event.
This removes restrictions on where events can be held and allows more people to participate.
Reduce operating costs
Since you can participate via the Internet, you can reduce the cost of holding the event.For example, you can save on transportation and accommodation costs for venues where attendees need to come and for invited guests.
easy to communicate
Participating over the Internet can provide an interactive participation experience.For example, you will be able to chat online, take quizzes, surveys, etc.
leave an archive
Live streaming and recording online so you can look back on the event.
This allows people who missed the event or who want to hear it again to access the archive later and check the details of the event.
Disadvantages of hybrid events
Next, let's look at the disadvantages.
depends on communication environment
Participation via the Internet is mandatory for hybrid events.Therefore, depending on the state of the Internet connection, participants may not get the experience they want.
For example, an unstable internet connection can cause jerky live streaming or choppy audio.
Requires special tools and applications
Online exchanges can also be conducted, but special tools or applications are required to do this.We also need to ensure that participants have or can download these tools and applications.
technical skills are required
Hosting may require technical skills.For example, live streaming and recording online requires knowledge of using video cameras, microphones and live streaming platforms.
In addition, when conducting online exchanges, knowledge of using communication tools is required.These technical skills must be mastered in order to host a hybrid event.
Achieved by the evolution of telecommunications tools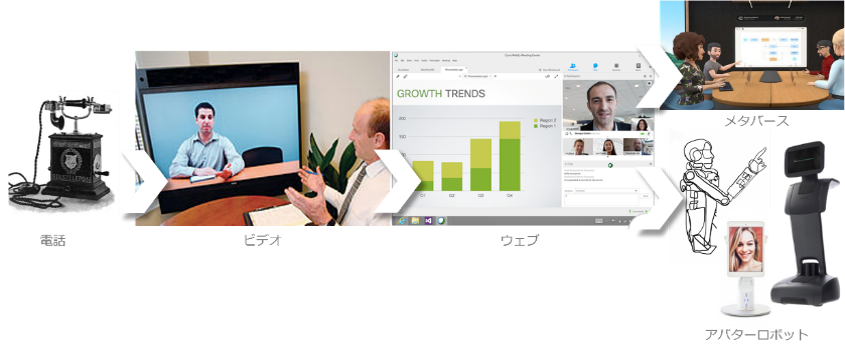 hybrid eventTelecommunicationThis has been achieved through the evolution of tools.With the spread of the Internet and the advancement of technology, various forms of communication have become possible.
Telework and remote work have become widespread, and communication over distance has come to be emphasized.The spread of web conferencing tools, chat tools, telepresence robots, etc. that make these things possible has a background of development along with innovation.
In the next chapter, we will introduce new digital technologies that will be utilized for these hybrid events.
Upcoming hybrid event
We believe that future hybrid events will take the form of freely coming and going between real and virtual spaces, such as interacting with robot avatars in real space and interacting with digital avatars in virtual space.
We will introduce the digital technologies that are currently attracting attention to realize these.
Virtual exhibition
A virtual exhibition is an exhibition held over the Internet.Compared to face-to-face trade fairs and trade fairs, it has the advantage that attendees and exhibitors can participate from their homes or offices.
Generally, virtual exhibitions are held through websites and apps that can be viewed using a computer or smartphone.Participants can observe exhibits and booths in a 3D space that simulates the venue, and conduct business negotiations with exhibitors through video conferences and chats.
Virtual exhibitions are not only held in real time, but can also be recorded and archived so that participants can view the exhibition according to their own schedule.
Online interaction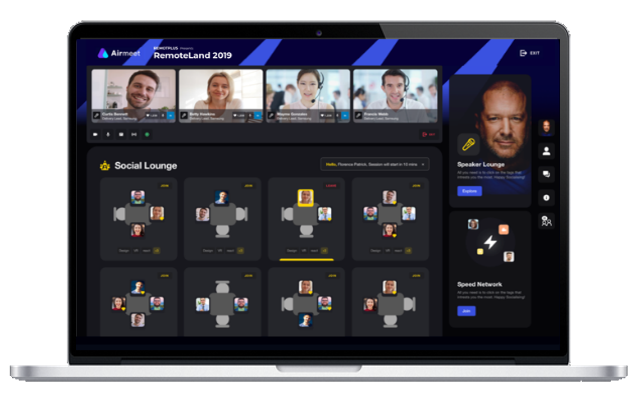 Online interaction refers to any communication or interaction that takes place over the Internet.
There are many ways to communicate online.
・Exchanging text messages using email and chat tools
・ Face-to-face meetings and presentations using web conferencing tools
・Exchange opinions and share information using SNS
Because it allows you to easily communicate with people around the world regardless of location or time, it is used in a wide range of situations, such as business, academics, and personal exchanges.
Digital twin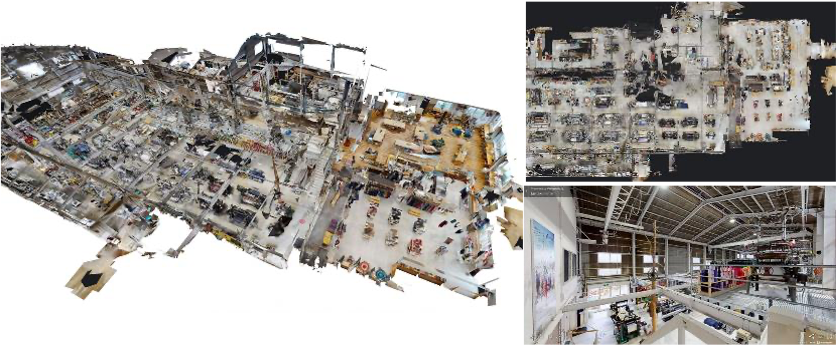 Digital twin(DigitalTwin) is the concept of a twin relationship with a digital copy of a real space.A semi-realistic world that makes you feel as if you are there is reproduced in digital space.
For example, it is being used as a simulation tool to predict the future by combining it with real-time sensing to store the past, share information, and grasp the situation.
Metaverse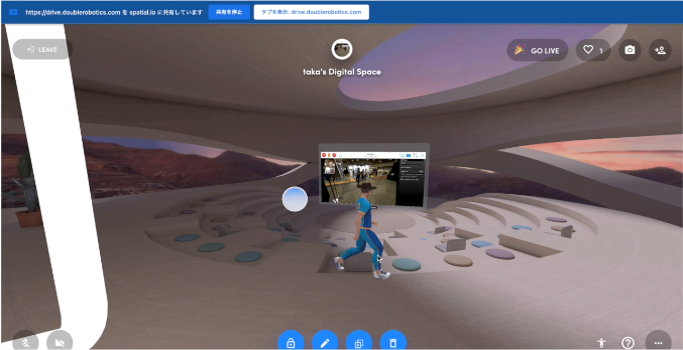 Metaverse refers to virtual space.A three-dimensional virtual space is built on the Internet, and users can communicate and act by operating avatars.
Since humans can operate virtual space in real time and act in the virtual world, it is used in a wide range of fields such as games, entertainment, and business.
telepresence avatar robot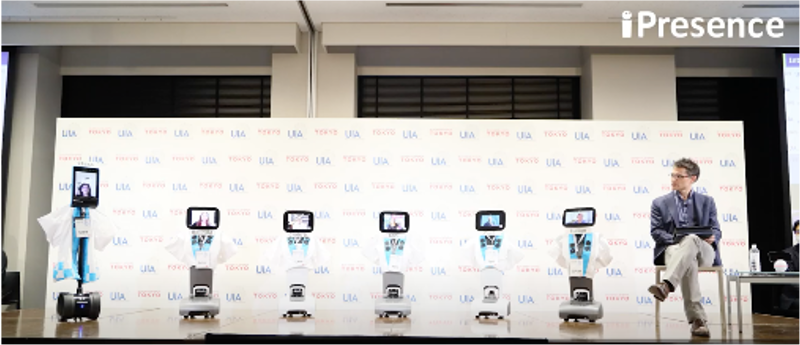 telepresence avatar robot(Telepresence avatar robot) is a robot that combines video conferencing + robot + remote control technology.By combining remote control and robot technology, it is possible to have a presence in a place far away from where you are now.
A display such as a smartphone or tablet is attached to the head, and by using this display, it is possible to move by teleconferencing and remote control.The user remotely controls the robot on the other side while conducting a video conference with a smartphone, tablet, PC, etc.This gives you the freedom to decide who to communicate with and where to go.
Summary
We introduced the overview of the hybrid event and the digital technology that will be used in the future.It is still in the process of development, and there are few companies that have introduced it, but it is an initiative that is attracting attention.
By making good use of the characteristics of real and online, the effect of the event can be increased many times.If you haven't held a hybrid event yet, why don't you consider it?