Interview with the author about the article published in "Factory Management February 2022"
Factory management February 2022 issue with the theme of "remote patrol in factories and worker support using telepresence avatar robots"
Fujinaga, iPresence's sales representative, wrote a 3-page article and posted it as a special article!
https://pub.nikkan.co.jp/magazine_series/detail/0007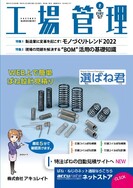 Factory management February 2022 issue
・What is a telepresence avatar robot?
・Main models and functions of Telerobo
・Remote factory management using telerobo
・Psychological consideration for workers and maintenance of usage environment are necessary
(Interview cooperation: Komyo Rikagaku Kogyo Co., Ltd.)
This time, I will describe the interview I did after writing.
・Impressions after writing about factory management
Since it is a specialized magazine, I wrote it on the premise that it will be read by people working in the field.
If you don't have a way of communicating and content that can be understood by the people in the field, the content will be skipped, and new information will be overlooked.
It's a waste if you don't receive it.
I tried to write this from the point of view of the person who manages the factory as much as possible, so I would be happy if it was conveyed.
How long did it take you to write?
I spent about two days writing it.You can't tell what Telerobo is at first glance, so it's easy to imagine.
I used my head to think about the composition.
・Is Telerobo used in the manufacturing industry?
Although it is not yet widely used, it is being used little by little.
Basically, it is often used in offices, and it is said that placing tele robots in manufacturing sites has not progressed that far.
It's honest.
After all, when moving, there are a lot of restrictions on movement within the factory.
The ground is uneven, there are steps, and there are physical restrictions such as safety, so all of them are fine.
It is the current situation that it is used from the place.
・Are there many places where you conduct demonstration experiments and trials before introduction?
Both have patterns.If you have a remote operation experience and have a pattern that will be introduced immediately, you can rent it for about a month,
Some patterns are evaluated after trying several possible uses.
・In the future, I think there are high expectations for telerobo in the manufacturing industry.
I think that it is quite useful in situations where human presence is required, such as "succeeding technology" and "managing from a distance."
In the future, I think it will gradually be used in ways such as "using robots to work together remotely".
I have an image.
・Do you want to continue sending information to everyone in the manufacturing industry?
Well, the world with things is the foundation, and it is precisely because of this that the world of the Internet can exist.
I believe that the world with things should not be neglected.
・Are there any industries other than the manufacturing industry that you would like to promote?
Construction, schools, medical facilities, events.
Telepresence avatar robots and the services we are doing are tools that supplement human communication,
It can make you richer.
It would be great if we could delve a little deeper into its use in "places where communication between people is the most valuable".
I think it's good.
・I want to connect people and people, real things and things in virtual space with telerobo and iPresense services.
Do you feel like that?
Well, the input is that you can exchange information without barriers between offline, online, virtual and real.
・I think it's a telerobo or service as an output tool.
・Would you like to write an article like this if there is a request in the future?
I would rather give a lecture than an article.It's good because the article is better, but it's easier to talk.However, both
I would like to go with the stance of accepting.
・What do you think of this kind of interview?
Conversation is better.I don't understand what people are interested in when I talk one-sidedly at seminars.
I don't know if there areI would like to emphasize communication.
・I feel like I want to catch the needs of other parties, companies, and society in real time.
To be honest, I think I've been able to understand their needs recently, and I can fill the latent desire of wanting to be with them.
I'm starting to think that it might be a tool that can be used.
Pursuing what it means to be together There are almost no service products or solutions on the market yet.
I think so.
In my current state, I still feel like I'm just "just sitting next to me", so for example, the robots are scurrying around, or the walls are crumbling.
If you do, you'll wonder what they're doing and get stuck.
I wish I could have the feeling of being there naturally.I wonder if it's okay to specialize in the fact that we're together a little more.
I thought it was around this time today.
I wish I could make something like that.