PoC example for introducing Double3 to factory management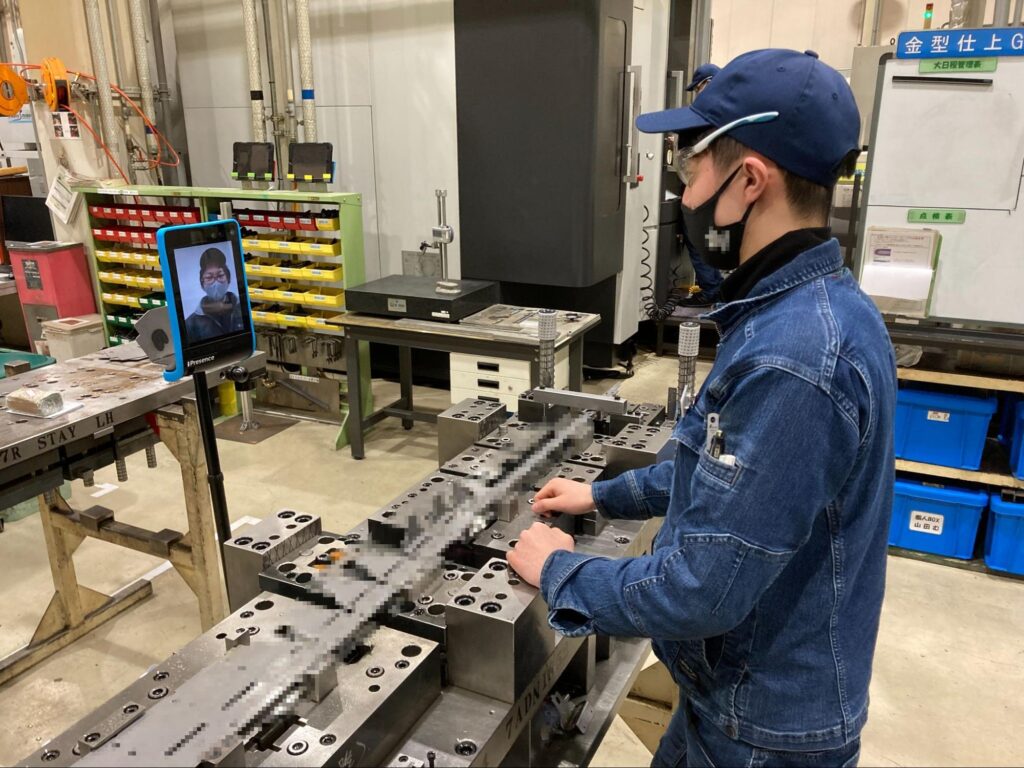 Stylish and easy to useTelepresence avatar robot (Tele Robo)has been introduced in a wide range of industries asDual3.What kind of utilization is expected in companies and factories that require remote management and remote communication?
This time, we will introduce the case of Higuchi Manufacturing Co., Ltd. (hereafter, Higuchi Manufacturing), which actually introduced Double3 for PoC (Proof Of Concept) in the factory management scene.If you are considering remote management of your factory, please read it.
Conducted PoC on Double3!Check remaining assignments remotely
A PoC (PoC/Pock) is a demonstration experiment to verify whether a product or system that is about to be fully introduced can operate as hypothesized.
Higuchi Seisakusho, which we interviewed for this time, has a track record of more than 50 years as a specialist in molds and press working, and has been a driving force in the manufacturing industry in Japan.We have production plants in the United States, Mexico, and China, and provide metal processing products all over the world.
The HP of Higuchi Seisakusho is here.
https://hig-jp.net/
Let's take a look at an example of working with Double3 as a PoC for the full-scale introduction of Telerobo.
Witness at Double 3 at the time of handover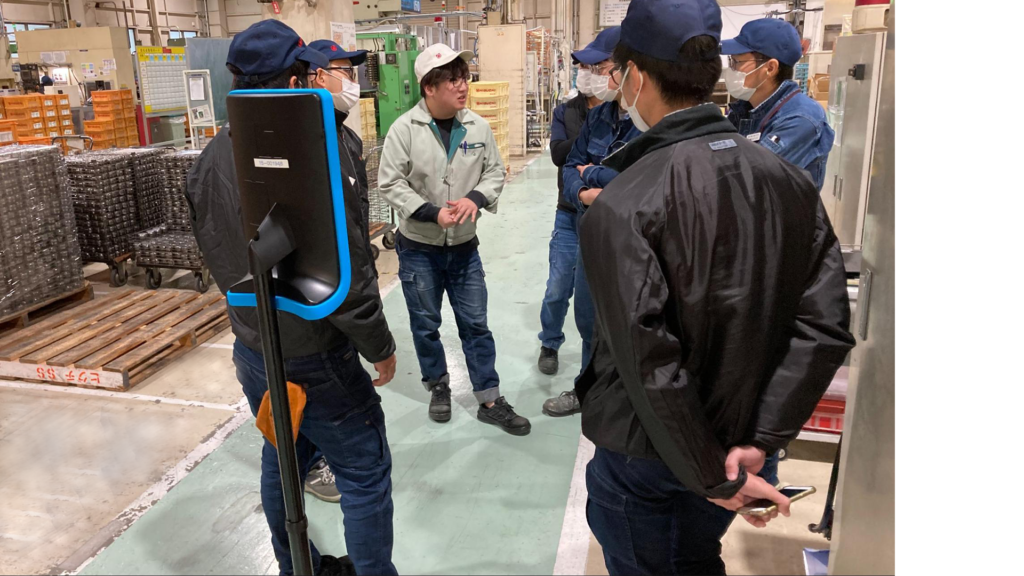 (Handing over)
At Higuchi Seisakusho, a process called "handover" is carried out, in which completed molds and equipment are handed over from the engineering department to the manufacturing department.At this time, the person in charge gathers in front of the molds and equipment to check the production status and movement, and the person in charge gives an explanation.This is an important process to make a final check to see if there are any omissions or remaining issues.
The photo above shows the person in charge standing by at Double3 at the time of delivery.In addition to listening to the conversation, you can speak and change the viewpoint to any place, so it seems that Double 3 was able to hand over without problems.
Check the overall manufacturing process with Double3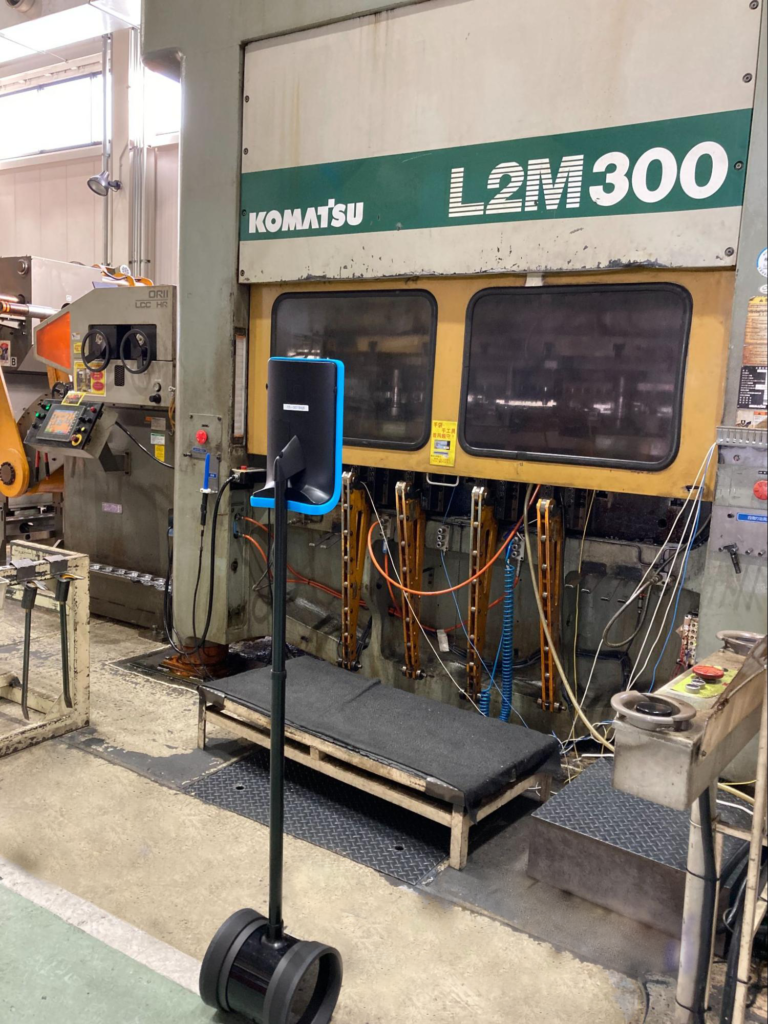 Sometimes I operate Double3 to move to an arbitrary place and check the site.The above photo shows the movement of the machine and the monitor being checked with Double3.
There is a live camera in the factory that shows the movement of the machine, so basically we can grasp the operating status of the machine.However, it is difficult to change one's point of view.

Double3 has a robot base that can move freely and a monitor that can be tilted and height adjusted to move the viewpoint to the angle you want to see.The built-in camera has a zoom function and can save high-resolution screens for excellent visibility.

With the introduction of Double3, it is now possible to see in terms of surfaces what was previously only possible in terms of points, making it easier to grasp the overall picture.
Remote participants participate with their favorite avatars!
It seems that the person in charge often used a favorite avatar image when using Double3.Of course, when you need to show your face and talk, you switch the screen and use the screen according to the situation.
Using an avatar image may also have the effect of softening the formal atmosphere of the meeting.It's interesting to see how you can participate in Telerobo by projecting your favorite images on the monitor.
Check the entire factory with Double3!Patrol and remote communication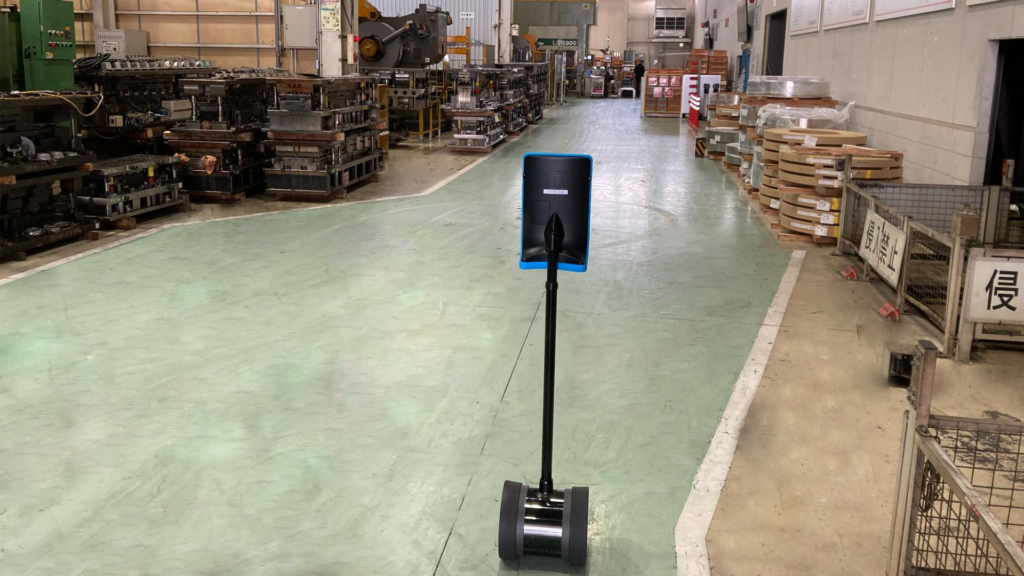 At Higuchi Seisakusho, we use Double3 to grasp and patrol the entire vast factory. Operate Double3 to pinpoint where you want to go and check the equipment and work status.Regular patrols can also be performed remotely.
With Double3, you can not only watch videos remotely, but also make business contact with workers and staff, such as confirming work details.Just like a real patrol, you can greet people you pass by and have a natural conversation, enabling immersive remote communication.
The factory in the photo above is about 50 x 100m wide, so it is quite difficult to walk around.With Double3, remote factory management is possible without having to go to the factory and walk around.
Expanding Possibilities by Introducing Telerobo to Factories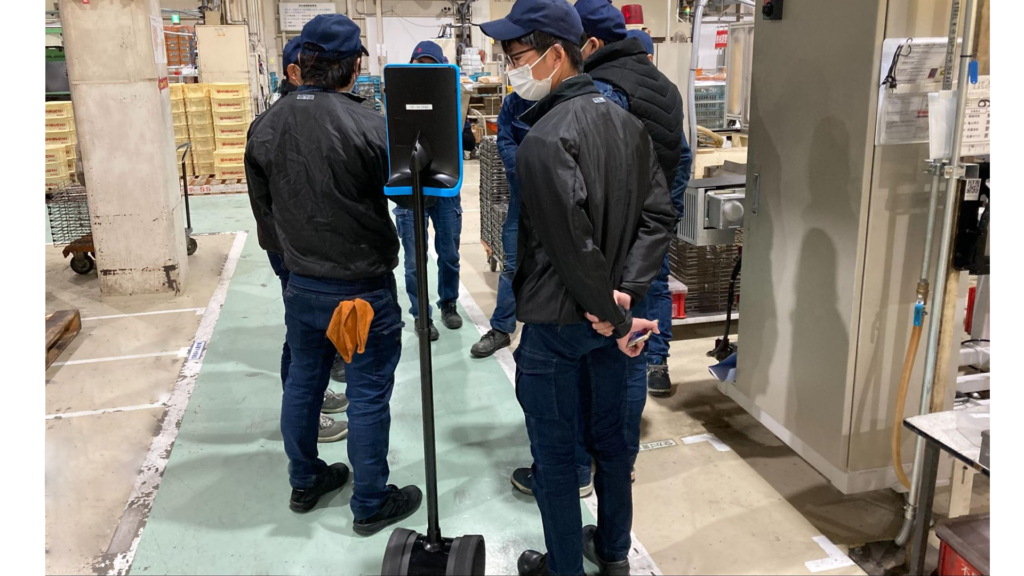 Double3 ortemiWhen I talk to contractors who have introduced telerobo such as, they often come up with ideas for how to use it and feel the expansion of possibilities.
We asked Higuchi Seisakusho, which performed PoC for Double3, about the spread of telerobo utilization.
Introducing telerobo overseas has a high cost advantage!
The person in charge commented that the introduction of Telerobo overseas would lead to cost reductions and would have many advantages.We have factories in the US, Mexico, and China, so we have regular overseas business trips.A single business trip takes about three weeks, but a simple calculation can cost about 3 yen.
By introducing Double3 to overseas factories, there is no need to go to the site for work that can be done remotely. The cost of introducing Telerobo will be offset by the elimination of two or three overseas business trips.
In addition, not everyone is happy to go on overseas business trips, which require long-term absences.The reduction of the burden on people who want to cherish their time at home is also an advantage of introducing Telerobo.
Can also be used for online support from equipment manufacturers
Double3 is expected to be used for online support of equipment manufacturers. Double3 has a function that allows multiple people to share the screen in addition to the operator, so it is possible to immediately grasp the situation and troubleshoot.
Especially overseas, the manufacturer may only be able to come after a few days for equipment trouble, but if you build a remote support system, you can expect to be able to respond on the same day.
Double3's telepresence (as if you were there) technology greatly expands the range of utilization depending on the user's ideas.
Expectations for increased battery capacity
Double3 users have voiced expectations for increased battery capacity.Double3 currently has a duration of 3-4 hours.
At Higuchi Seisakusho, it seems that the battery duration is a little worrisome because it moves between large factories and it takes a long time to attend.
One of the solutions is to increase the placement of charging docks sold separately.It is also possible that future updates will increase the battery capacity.
Experience next-generation factory management!Considering additional introduction to domestic and overseas factories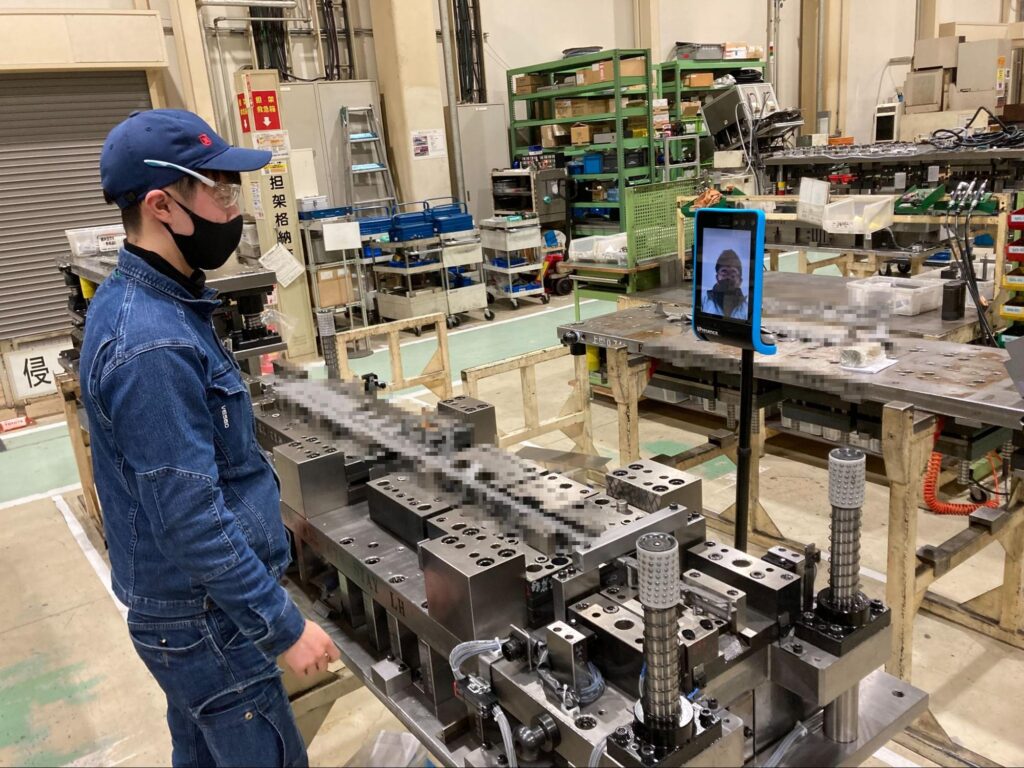 We introduced a PoC example of Higuchi Seisakusho's factory management using Double3.Telerobo blended into the atmosphere of the factory floor, and was used in a manner unique to robotic devices.
Not only the operator but also the staff and external supporters will get used to handling Double3, and the range of use will be greatly expanded.
Higuchi Seisakusho's case study shows that the introduction of Double3 at the factory has produced solutions that reduce costs and time, improve productivity, and enhance communication.
If you are considering converting your factory or workplace to DX or introducing Telerobo, feel free to contact us.Inquiry formPlease contact us.