Interview with iPresence who participated in "ANA Avatar XPRIZE" | Ask about future prospects based on what was obtained and challenges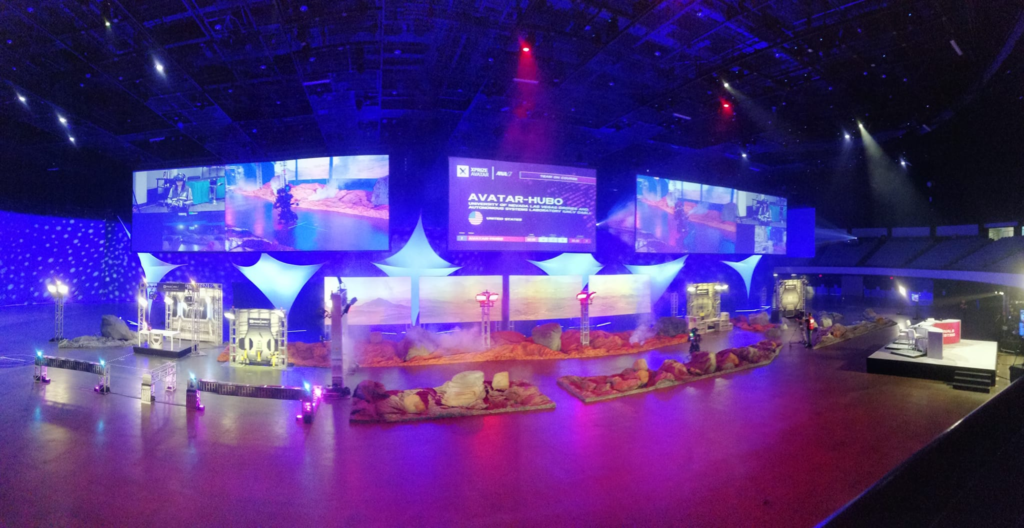 On November 2022th and 11th, 4, the ANA Avatar XPRIZE, sponsored by the XPRIZE Foundation, will be held to decide the championship.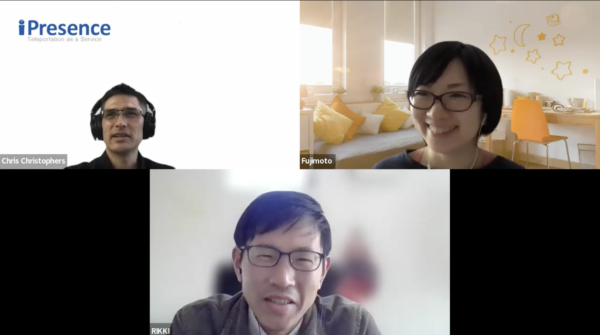 What did the iPresence teams, who advanced to the semi-finals, feel when they saw the highest stage of the tournament? ?
We will ask in detail about the process leading up to participating in XPRIZE, the challenges and what we learned from the tournament results.
What kind of project is ANA Avatar XPRIZE? What is XPRIZE? ?
Fujimoto:
What kind of project is the ANA Avatar XPRIZE?
Chris:
First of all, here is the team that won the ANA Avatar XPRIZE.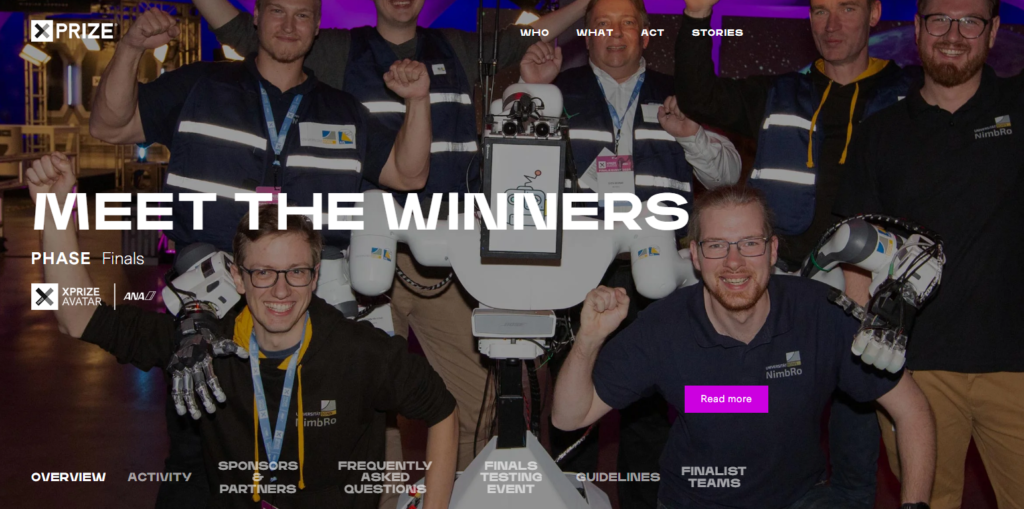 Image quote:XPRIZE official page
ANA Avatar XPRIZE is an international competition sponsored by All Nippon Airways (ANA).A competition for avatar robots, with a prize of 1,000 million dollars (approximately 15 billion yen at the time). Recruitment began in 2018, iPresence applied in January 2019.
ANA has been in the business of using airplanes to transport people, but we knew that there was a limit to the number of people that could be transported.Looking to the future, I wanted to create a device that could teleport, and since molecular teleportation was still difficult, I proceeded with the development of solutions using avatar robots.
Through the XPRIZE competition, which ANA is the main sponsor, we are planning to recruit participants from all over the world and advance the development of avatar robots.
Fujimoto:
What is XPRIZE in the first place?
Chris:
XPRIZE is a famous competition especially in America.Well-known entrepreneurs such as Elon Musk, Jeff Bezos, and Larry Page are sponsors and competitions are held using the XPRIZE platform.
The XPRIZE competition aims to support and accelerate human evolution from a scientific perspective.In Japan, there used to be a project called the HAKUTO Project, which attempted an unmanned exploration of the lunar surface, and that was also part of XPRIZE.
HAKUTO: A lunar exploration team operated by ispace, a Japanese aerospace company. It has a track record of participating in the Google Lunar XPRIZE, an unmanned lunar exploration race sponsored by Google.
https://prtimes.jp/main/html/rd/p/000000008.000024249.html
Last year, it became a hot topic that civilians went on space travel for the first time. Amazon Jeff Bezos and Virgin's rockets competed for civilian space travel.In fact, Virgin's Rocket has acquired the XPRIZE winning team's Rocket and has made the project a success.
https://www.xprize.org/prizes/ansari
How did iPresence participate in the ANA Avatar XPRIZE?Are you ready to participate?
Chris:
When I found out that the avatar robot competition was going to be held at this year's XPRIZE, I knew about Japan's HAKUTO project, so I felt a sense of mission that iPresence had to participate.
I mean, who will put it out without us!That's what I feel.
It was difficult for iPresence to participate alone, so I called out to XOOMS, a company in Kobe that handles VR and other things, and decided to participate with two companies. Participation fee of 2 yen was split in half.
Fujimoto:
XPRIZE has a different theme every time.So you applied because the theme this time was avatar.
Chris:
That's right.
Since I was going to participate, I wanted to make it feel like a festival, so I called out not only XOOMS, but also Knowledge Capital and Osaka Institute of Technology, and set up a team called X: Presence.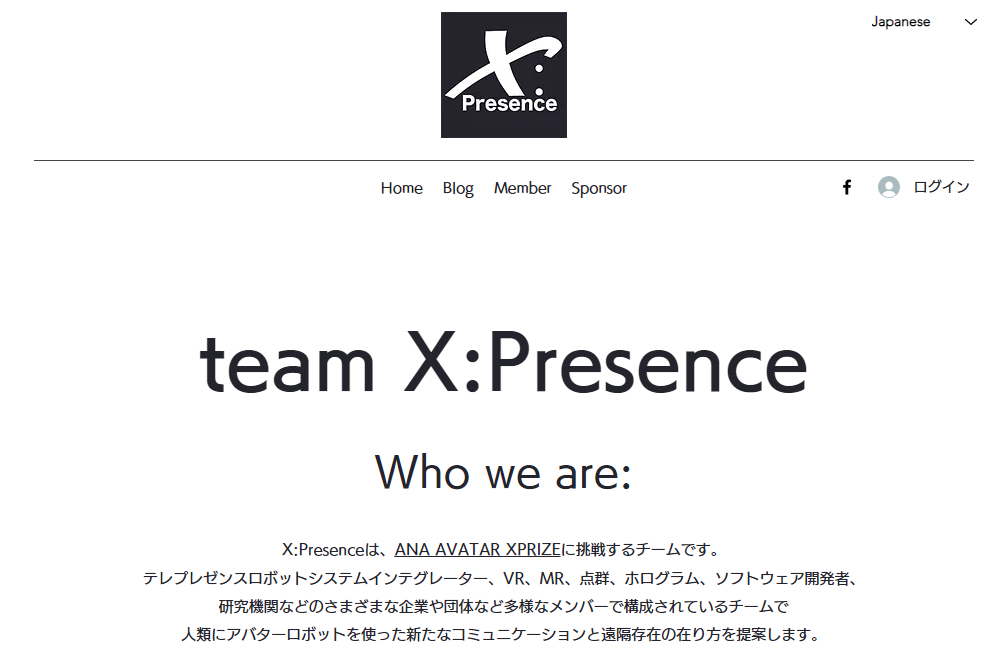 https://www.x-presence.com/
In this way, I made a homepage and expanded the team according to the needs. We are collaborating with companies that have their own characteristics, such as companies that are good at AR and companies that are good at hardware.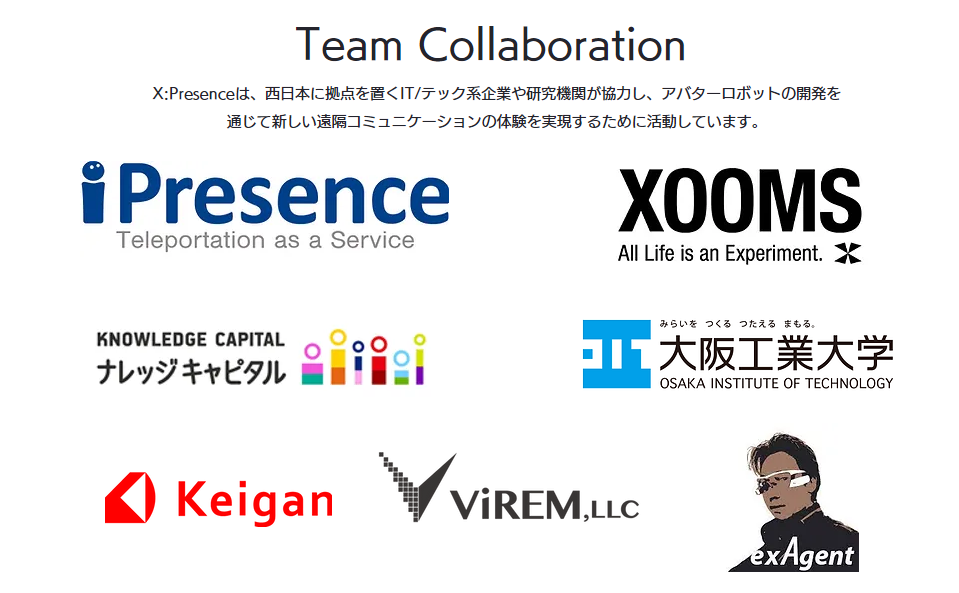 At the beginning of the ANA Avatar XPRIZE, about 500 teams around the world showed interest and registered, and 99 of them officially paid money to apply.

Next, there was a review of the avatar robot plan that will participate in the document screening, and it was narrowed down to 77 teams.And then you can build your own robot.

During the document screening, questions such as "What kind of experience will the remote location have?" and "What will the robot look like?" will be asked.Various proposals for the box body of the robot were created through trial and error.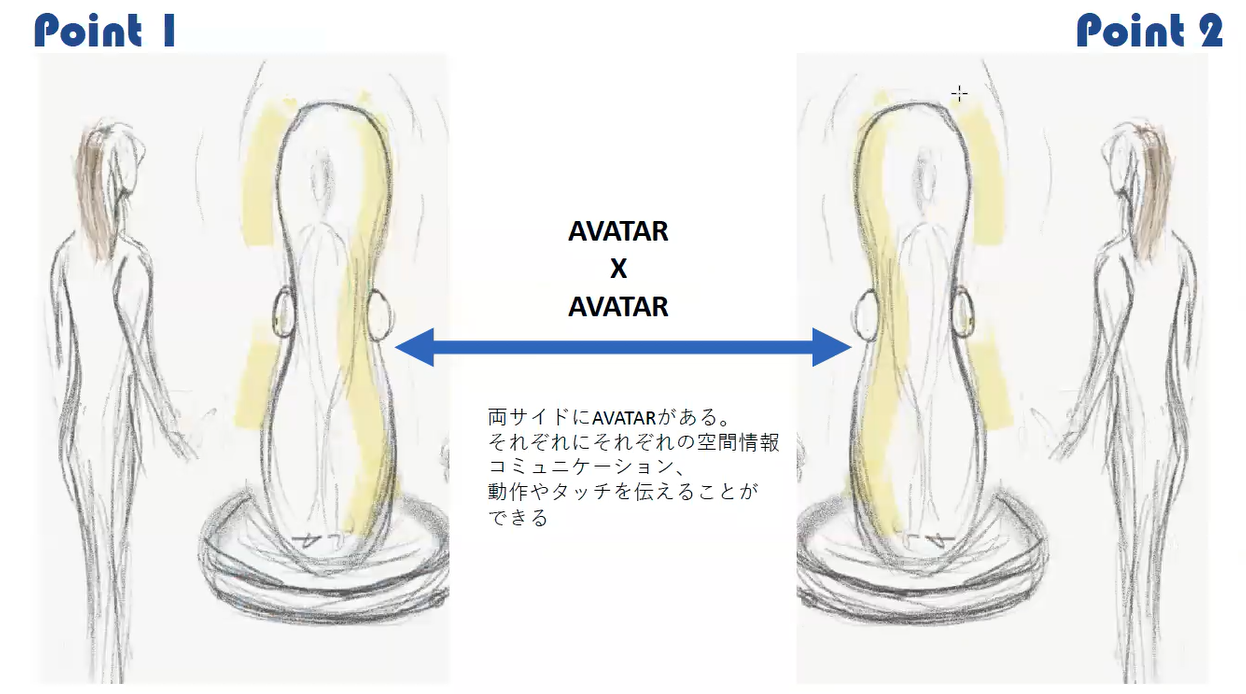 Robots can break, so you shouldn't hit them.I wanted to make it with a soft material so that it wouldn't hurt to touch or knock it over.I wanted to make Baymax (laughs)
I thought about a lot of things, but I came up with an avatar robot that has a person floating in a punching bag and wanders around on a robot base.You can extend your arms and shake hands.
Fujimoto:
The draft was something like this.The image will change quite a bit from now.
Chris:
It's different from the robot I participated in, but I still want to make this robot (laughs)
At the beginning of the recruitment process, the organizers of XPRIZE were not sure about what an avatar robot is and what it can do, so we made several proposals and solidified the definition of an avatar robot. There is a place
Fujimoto:
This project started before the definition of an avatar robot was decided.
Chris:
I agree.
After all, this is what iPresence submitted in the document review.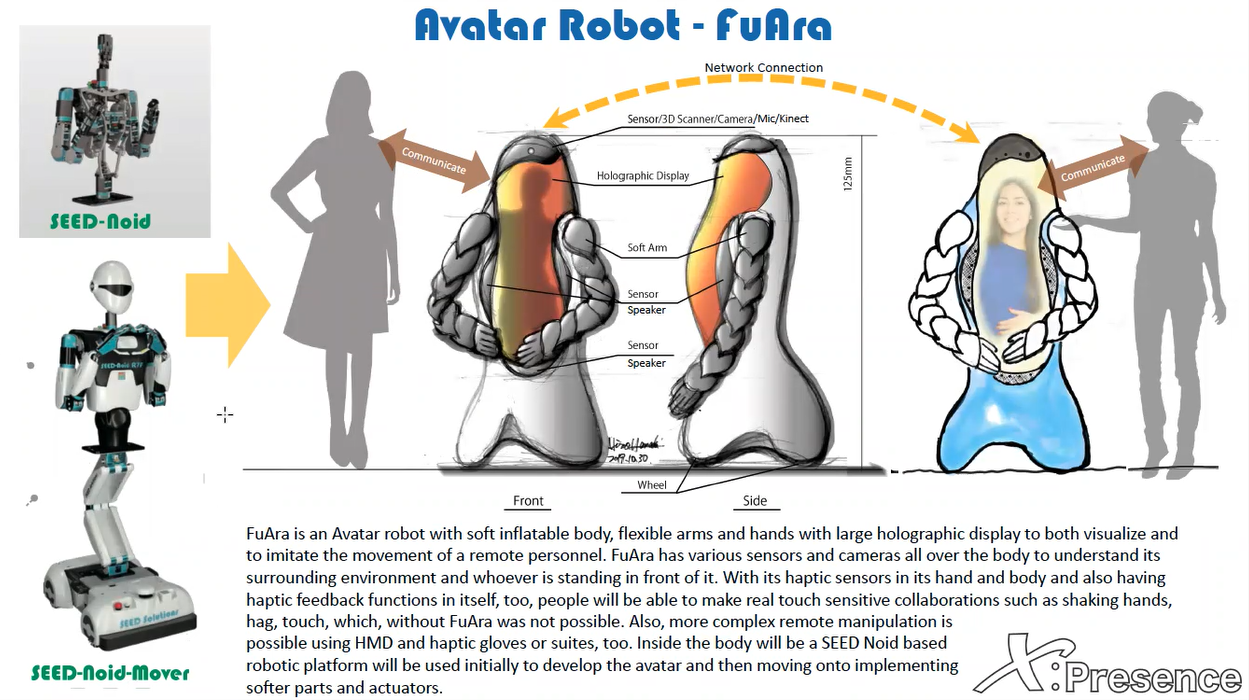 The ability to communicate with people by displaying images on a soft body.I submitted the concept of using Seednoid robots.

This passed the document screening, and the 99 teams were narrowed down to 77 teams.

Next, there was a field test and I went to Florida in the United States.It was December 2020, but I had to report the progress many times before then.
Fujimoto:
There were many steps before joining.
Chris:
Yes, it was quite difficult.
While reporting on the progress and making proposals to the organizers, the box of the robot was gradually completed.The main body is made of a soft material, and the arm is pneumatically operated.We proceeded with the project by allowing people in remote areas to move avatar robots without wearing anything (using sensors and cameras).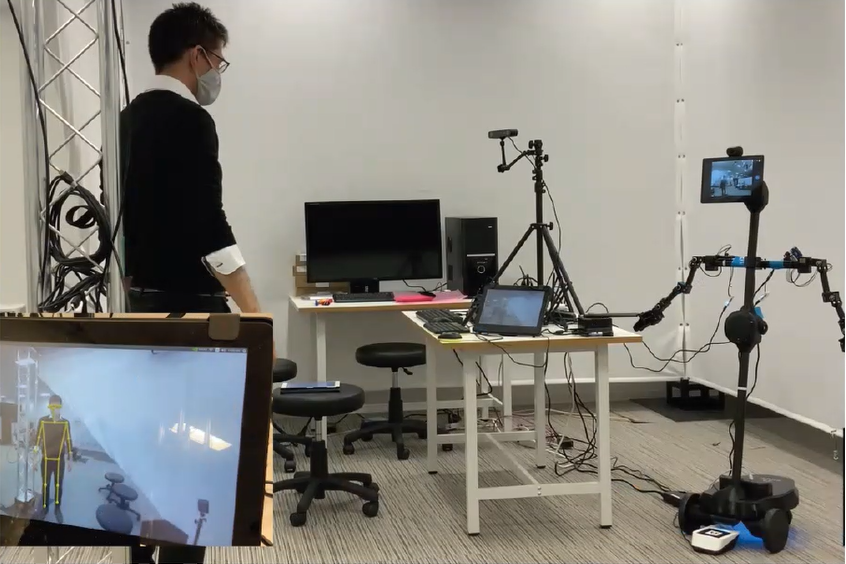 For the remote side, let's use a wide-angle projector to create an interface that gives a sense of presence.Each time, the team worked through trial and error.
Fujimoto:
It was quite a big preparation before participating in the competition.
Chris:
I agree.
What was the result of the X:Presence tournament that iPresence participated in?how were the other teams?
Chris:
After document screening, 77 teams were narrowed down to 40 teams, and we decided to participate in the semi-finals. It has become a situation.So we sent only the robot to the site and took the form of requesting local engineer support.
The contents of the semi-finals are given tasks such as holding things remotely and placing puzzles in a determined place.Operation is done by local judges.Mr. Ota and I verbally supported the local people in the middle of the night via ZOOM.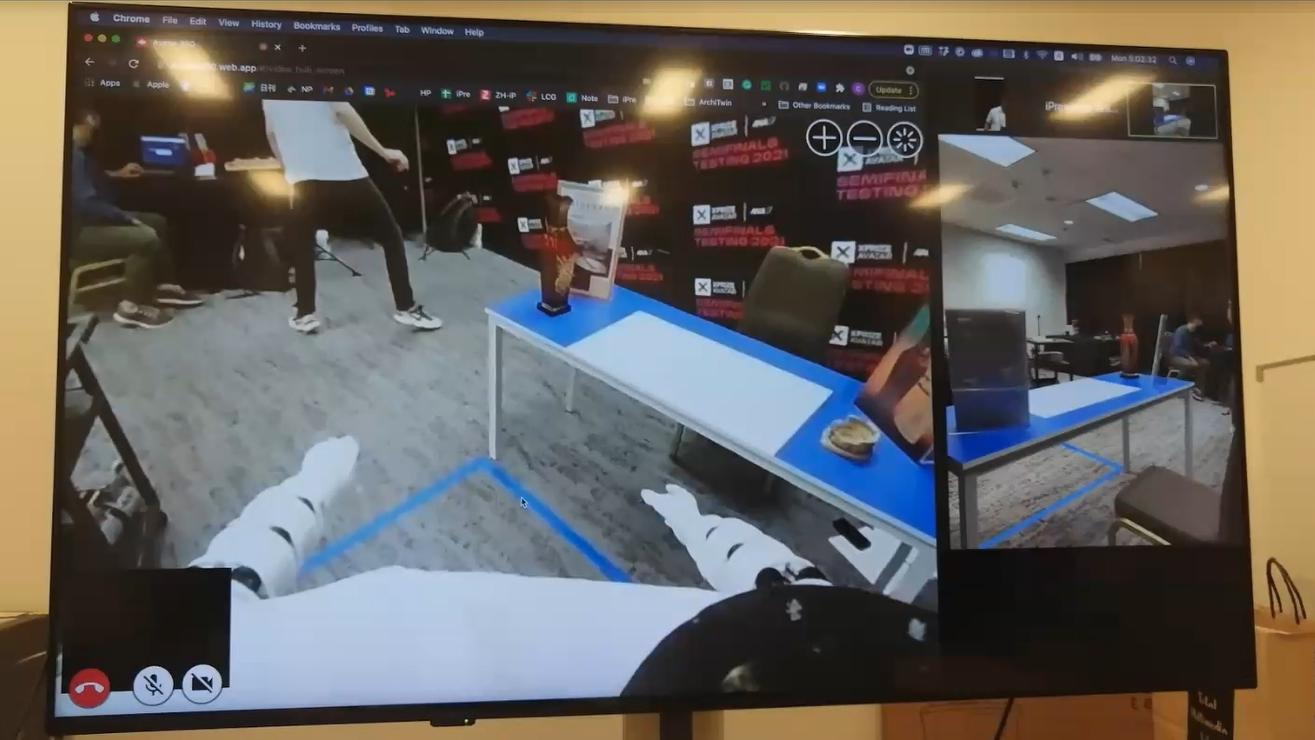 After all, it was support from Japan, so we couldn't coordinate well, and the movement of the robot wasn't good.could not pass.

There was talk of giving us another chance, but the robot returned to Japan was in tatters, and the cost of shipping to and from Japan was over 100 million yen. The robot came back in December and my second chance was in February, so I had no choice but to give up because the period for getting a sponsor was too short.

So, we ended up with the final result of giving up in the semi-finals.

The final 20 teams that cleared the semi-finals will participate in the finals on November 11th.
The content is to clear some tasks within 25 minutes, and the ranking is determined by the time and the cleared tasks.
Fujimoto:
It is necessary to make a robot that can clear the task.
Chris:
that's right.It seems that the flow of making robots that can clear tasks gradually became a trend.
Such tasks are prepared on the stage that imaged Mars.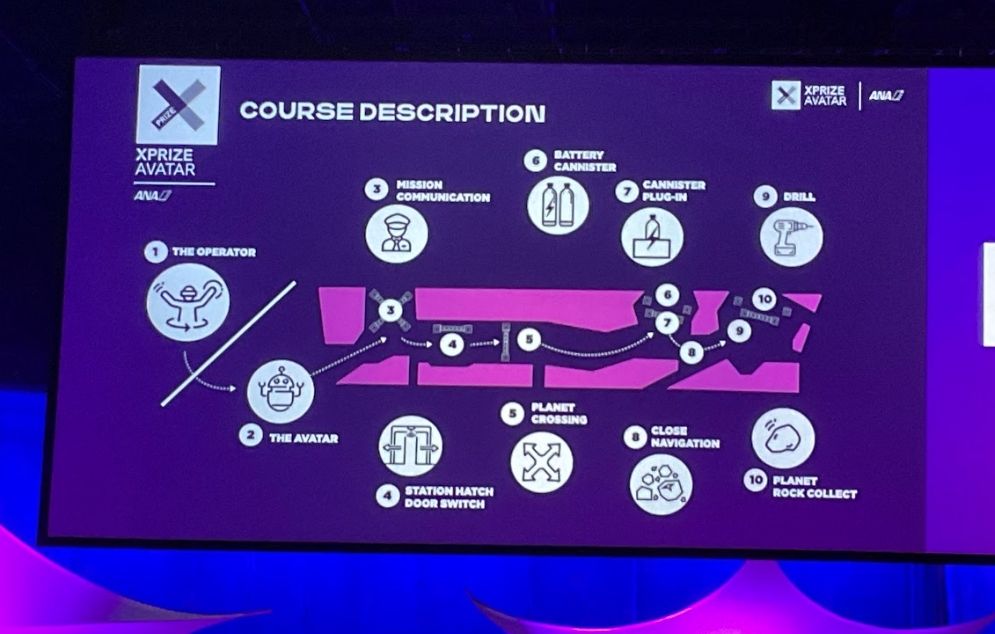 final task
・Conversation with the operator
・ Raise the lever and press the power switch
・Go through the gate
・Identifies bottles containing liquids
・Going through uneven places
・Open the lid with an electric drill
・Distinguish the texture of the stone surface
The winning team overwhelmed the other teams with a time of 5 minutes and by far.After all, 20 teams out of 4 teams completed all the tasks.

When the robot holds a heavy object, the device attached to the operator's hand is pulled in the opposite direction so that the weight can be detected.When the robot touches a rough object, a sensor that transmits vibration is transmitted to the operator.Such advanced technology was used.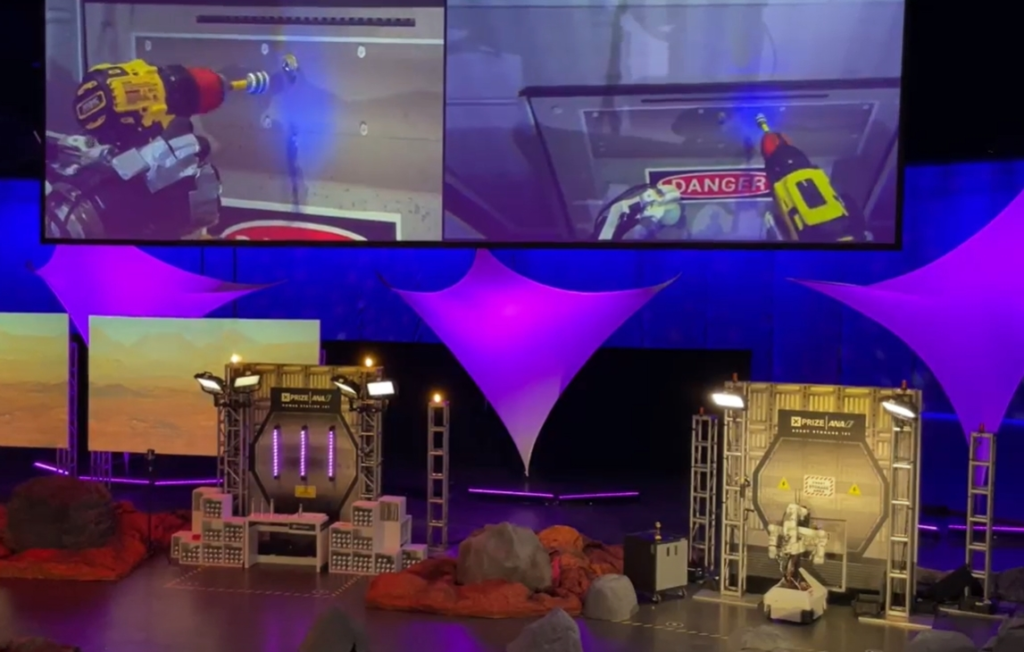 Many teams couldn't even hold a power drill, but the winning team managed it very easily.
Fujimoto:
Were you informed about the finals in advance?
Chris:
Yes.However, the person who operates the robot is not a member of the team, and the person who operates the robot for the first time participates in the competition after just one hour of training.
Fujimoto:
That means that the winning team was very accurate.
Chris:
iPresence is a business centered on remote control and communication, but I feel that we can only win if we can cover our shortcomings, such as haptics and mobility.
(What is the telepresence avatar robot provided by iPresence:https://ipresence.jp/telepresence_avatar_robot_products/)
Fujimoto:
I understand that XPRIZE is a fairly high-level competition.
What are the challenges in participating in the ANA Avatar XPRIZE?What did you get?
Chris:
As for the challenge, when I applied, iPresence didn't have the technology to make hardware, so it was strange to ask for cooperation and create a team.Also, I'm taking on challenges from where there is no budget, and keeping the team motivated.
As X:Presence, there were times when it was difficult to find a direction.
Fujimoto:
It seems that the box body was not decided easily.
Chris:
That's right.However, a motivated professor from Osaka Institute of Technology joined us, and it became very easy to do.And it was a big thing that I was able to make a robot for the first time.
What are your future prospects for iPresence after participating in the ANA Avatar XPRIZE?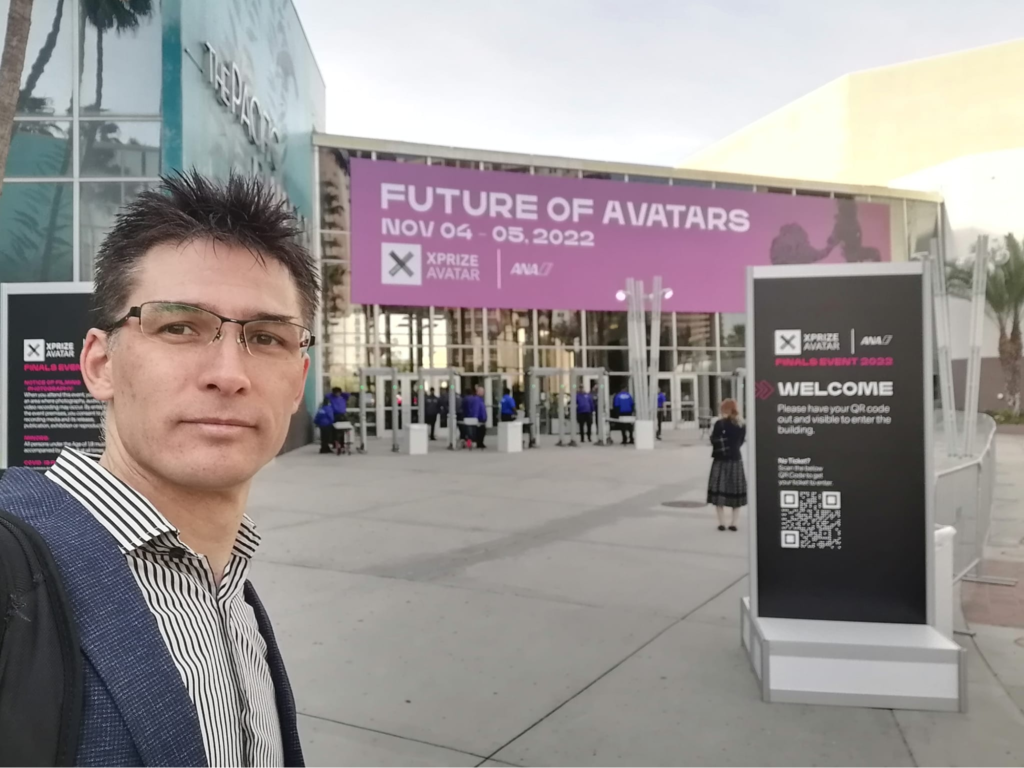 What we want to achieve with iPresence is our telerobot business,TelepiiI want to show that there is a world full of possibilities ahead of us.
When I show the Telepii to the people who participated in the XPRIZE in Los Angeles this time, they say "This is good!"The final avatar robot is a device that costs tens of millions of yen to make, but Telepii is the simplest version of it.
When thinking about telepresence avatar robots, I would like to show more and more that it is a solution with such a wide range.

On top of that, I think that if we can clarify what iPresence is sending out to the world, this concept will spread to the general public.

Also, I am glad that I was able to participate in XPRIZE as a milestone for the big project of the 2024 Kansai Expo, as well as the completion of the second phase of Grand Front Osaka in 2025.
I would like to make use of my experience at XPRIZE for my next big project.
Fujimoto:
So XPRIZE has become a worthy milestone.
Chris:
I agree.
I wasn't sure whether to go to the finals until just before, but I'm glad I was able to tell everyone about this world.
Fujimoto:
I feel like I was able to see a new world.Thank you very much for today.
Chris:
Thank you all!