[Wednesday, September 2022, 8] Airmeet Conference Live Online Demo!Now accepting applications!
What is Airmeet?
India's first online meeting and event hosting platform (English official site:https://www.airmeet.com/ Japanese official website:https://ipresence.jp/airmeet/).
It has grown rapidly since its establishment in 2019, and is a company with a sense of speed that system updates are being performed at a dizzying pace.It is attracting a lot of attention all over the world, and the number of companies investing in it is increasing in Japan as well.Adopting a freemium model as a business model, we provide solutions that meet the needs of the times so that anyone can easily create and experience an event platform.
For further information, please read This article.
[Airmeet commentary video]

[Actual online event]



You can experience Airmeet Conference realistically! Join the Live Online Demo!
At iPresence, once a month, while talking online with the person in charge,Air meet Entering the conference venueThank you, organizers and participantsOperability,What you can doto introduceExperience partyis being implemented.


In addition to the schedule belowIndividual consultation supportTherefore, if you would like more information,Contact formPlease feel free to contact us.


Airmeet Conference Live online demo date and time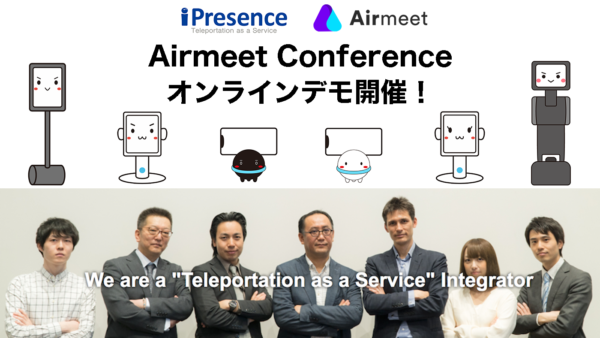 ◆ Date:
Wednesday, March 2022, 8 31: 16-00: 17
*Those who find it difficult to participate in the above are also welcome.Contact formPlease contact us.
◆ Contents:
16:00-17:00 Live Online Demo
17:00-17:30 Live individual consultation
◆ Location:
Online event platform Airmeet Conference event venue
◆ How to participate:
Online demo application form buttonPlease apply from
After you have applied, we will send the event venue link to your registered email address.
■Online demoParticipation inGoogle Chromeplease use.
■Recommended device : PC
(If you are participating on iOS or Android, please download the Airmeet app in advance before participating. If you are participating on a device other than a PC, you will not be able to use the Airmeet lounge. Please understand.)
◆Application for Airmeet Conference Live Online Demo
Those who wish to participate on Wednesday, September 2022, 8
~ Until 2022:8 on the day of September 31, 13 (Wednesday)Online demo application formReception at