AVATAR-LEARN- Avatar utilization creation cram school | Supporting value creation using Telerobo!
It was held on June 2023, 6 (Wednesday) at B-biz LINK in Suehiro-cho, Beppu City, Oita Prefecture.Business creation eventAt [AVATAR-LEARN-Avatar Utilization Creation Cram School], iPresence Fujinaga was in charge of the lecturer and gave a lecture on business creation using telepresence avatar robots (hereinafter referred to as telerobo).For those who are considering using telerobo (avatars), we gave them a familiar feeling through lectures and operation experiences, and provided advice on how to use them and support for introduction.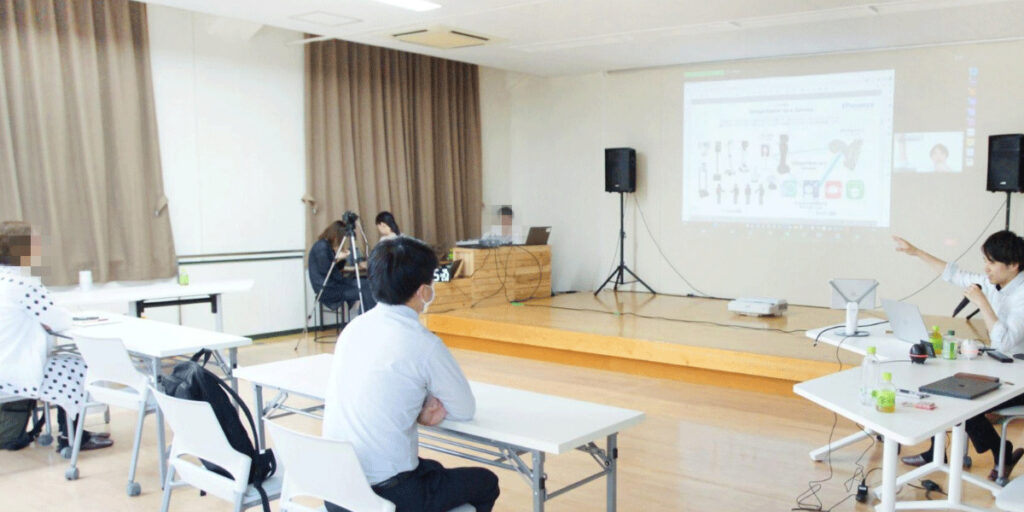 Through Telerobo, iPresence has promoted innovation and provided solutions in various fields such as business, events, tourism, and education.Along with that, we have received inquiries from local governments and organizations aiming to create DX and new industries.This time, I would like to introduce a day when I felt the enthusiasm for regional revitalization in Oita Prefecture, which is called "Avatar Prefecture Oita."
Avatar utilization creation cram school "AVATAR LEARN" /

Lecture by iPresence Fujinaga
In the field of tourism, which can be said to be one of the main industries in Oita Prefecture, we are trying to establish a new tourism model for inbound and distant tourists.For example, we plan to use concierge avatars to create a system that enables proactive customer approaches in both the real and digital worlds.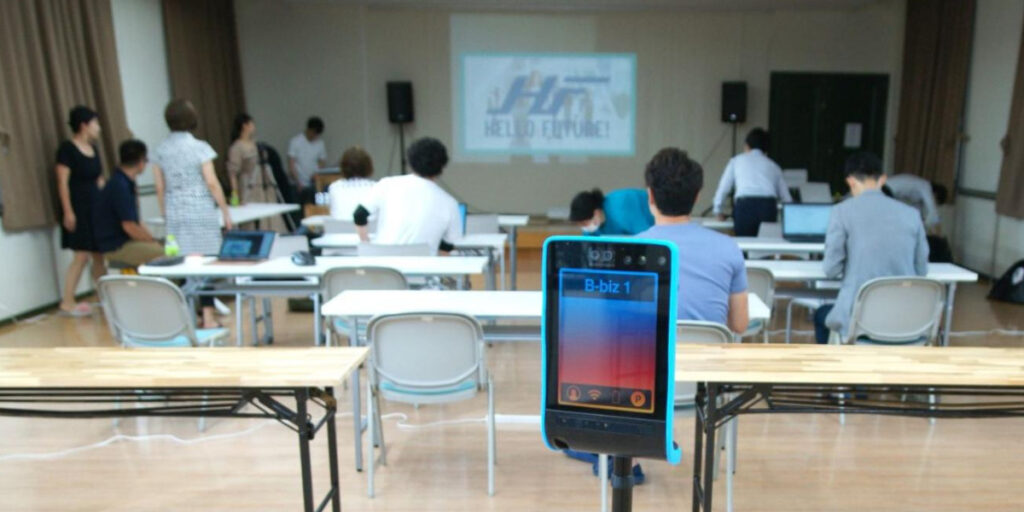 ItsSupporting the creation of an avatar business in Oita PrefectureWith HELLO FUTURE!AVATAR LEARN" was held.
For those who are considering introducing or further utilizing Telerobo, we have established Telerobo for the purpose of having them feel familiar with Telerobo through lectures and hands-on experience, and providing advice on how to use it and support until its introduction. Double3, kubi, Telepii, etc. were prepared at the venue.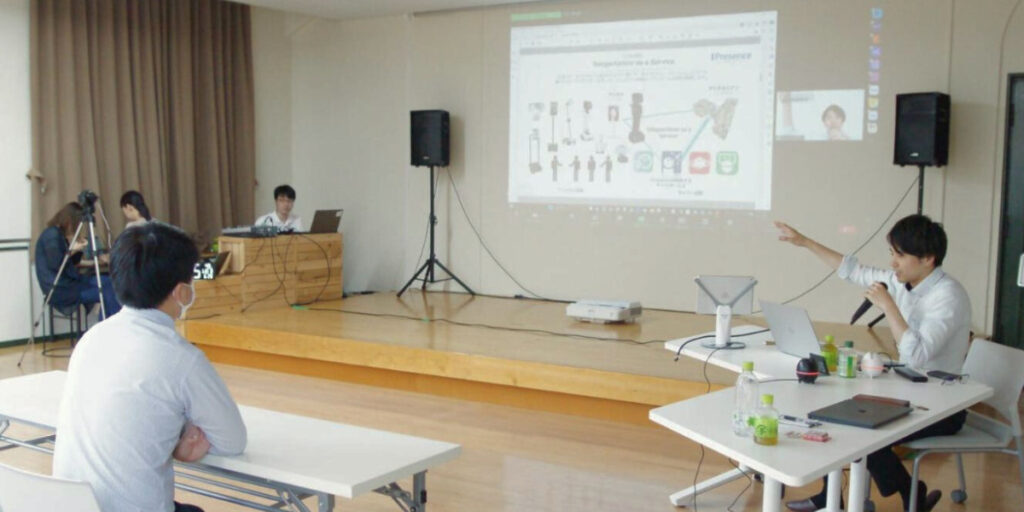 Fujinaga gave an overview of iPresence's remote robot business, introduced examples, and explained how to operate temi and Double3.In the latter half, the content is to have the students operate and touch the actual telerobo machine.Fujinaga has been involved in telerobo sales and business development since 2015.I have added a detailed explanation based on my experience.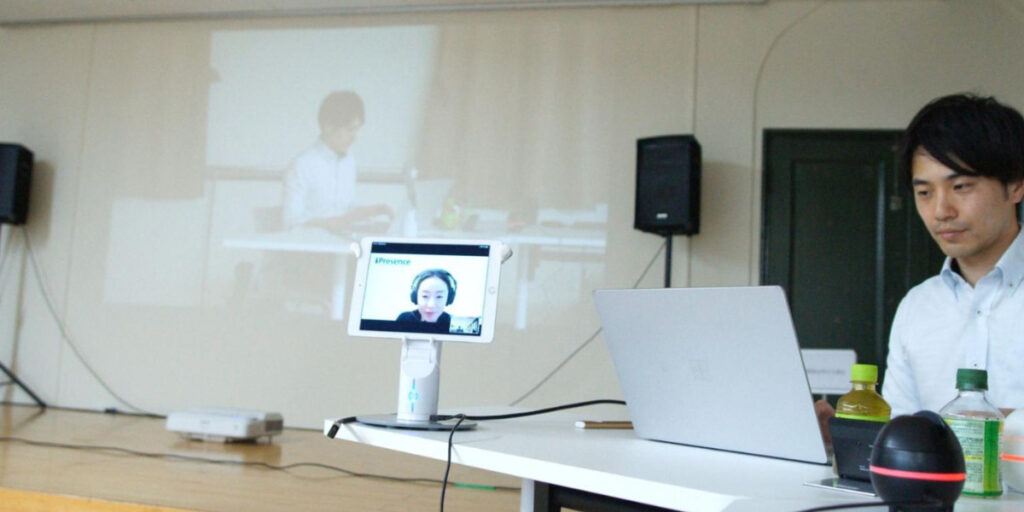 During the lecture, I used a desk-top telerobo kubi to connect the iPresence staff in Hyogo Prefecture with the event venue.We asked the staff to operate the kubi from a remote location, and talked with Fujinaga while moving the left, right, up, and down monitors.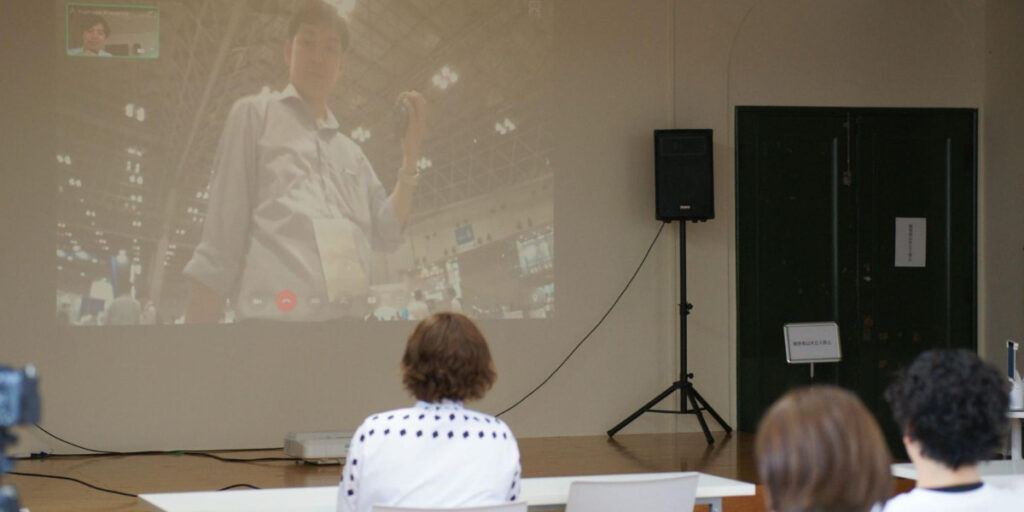 In addition, we remotely connected to temi, which was installed at the exhibition venue of the "Japan Drone Exhibition 2023" being held at Makuhari Messe in Chiba Prefecture, so that the students could experience remote control of Telerobo.While watching the video of the exhibition site sent from temi at the venue, the participants had a conversation with the staff at the exhibition venue and had the experience of visiting the exhibition remotely.
I want to liven up the region with a telepresence avatar robot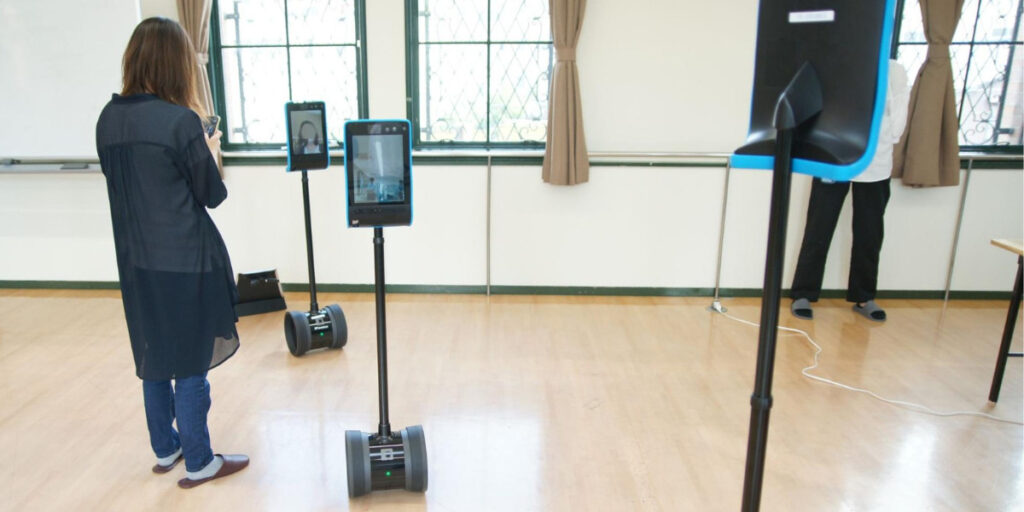 This year's AVATAR LEARN was attended mainly by people in charge of companies and public organizations in Oita Prefecture.As for the impression of those who operated Telerobo, rather than touching something new, it seemed that they were carefully checking the operability and functions and comparing them with existing models.
Many of the participants in the event had already introduced Telerobo or had experience in demonstration experiments.It seems that the purpose is to explore further usage methods and update demonstration experiments.iPresence also received requests for temi and Double3 and hints for service improvement.of participants"I want to liven up the area with Telerobo (Avatar)"I could feel the enthusiasm.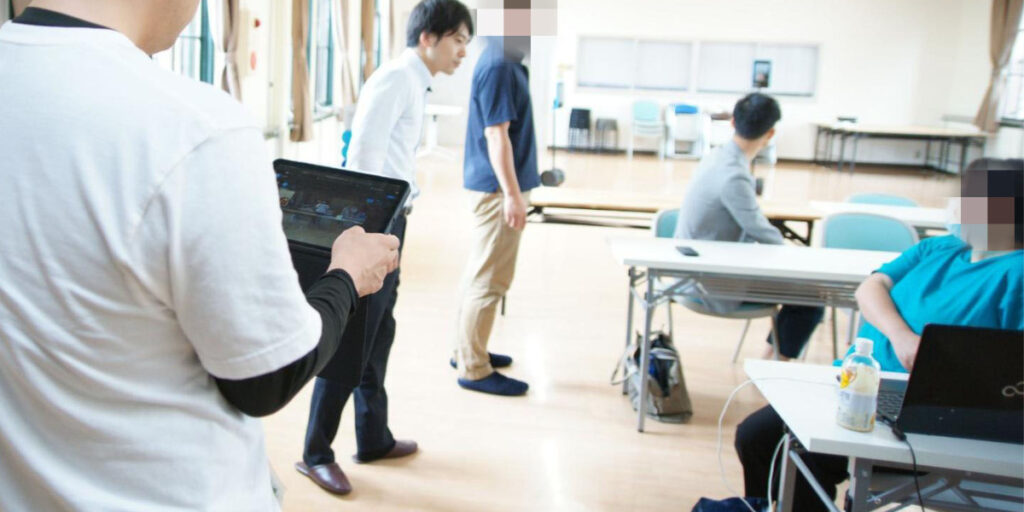 Remote-controlled robots such as Telerobo avatars have telepresence technology that makes them feel as if they exist there, which is a solution that can be more useful in rural areas. iPresence is actively engaged in lecture activities and usage support so that telerobo can be widely used in the world.
If you have any requests, please feel free to contact us using this inquiry form!

AVATAR-LEARN-Avatar utilization creation cram school :

About the overview
Date: Wednesday, October 2023, 6 28:13-30:16
Management office:HELLO FUTURE!
Venue: Beppu City Industry Collaboration and Collaboration Platform B-biz LINK
(1F Brick Hall, 3-2 Suehirocho, Beppu City, Oita Prefecture)
Models on display: Double3, Kubi, Telepii, etc.
URL:https://avataroita.jp/news/462/
About Oita Prefecture
Oita Prefecture is known nationwide as an "Onsen Prefecture", but in fact, we are also focusing on recognizing it as an "Avatar Prefecture".Here are Oita Prefecture's demonstration experiments and major initiatives aimed at popularizing avatars.
Cooperating with the planning of ANA AVATAR XPRIZE

Connecting Oita Children's Hospital, Oita Aquarium, and Tokyo with avatars

Experience multiple tourist facilities in Oita with avatars from Malaysia's Japanese tourism event

Connect Tsukuba Space Center, Oita Prefectural Museum of Art, and three elementary schools far from Oita City with avatars

Visiting a museum in Tokyo from a special needs school in Oita with an avatar
Connecting hospitals and high schools with avatars for students who cannot go to school due to illness
Distance learning for ALTs by connecting schools on remote islands and Oita city, etc.
Official HP of Oita Prefecture "Efforts of social implementation for Avatar Prefecture Oita":https://www.pref.oita.jp/site/oita-iot-lab/avataroita.html
About B-biz LINK
B-biz LINK is a business operator entrusted with the Oita prefecture avatar business, and is a general incorporated association Beppu city industrial collaboration / collaboration platform in Beppu city.The concept is "HELLO FUTURE!" as an industry creation promotion project that utilizes avatars.
B-biz LINK official website:https://www.b-bizlink.or.jp/