VIRTUAL EVENTS
REAL CONNECTIONS
All-in-one platform for hosting live events online
Connect with the community and share your ideas with the world.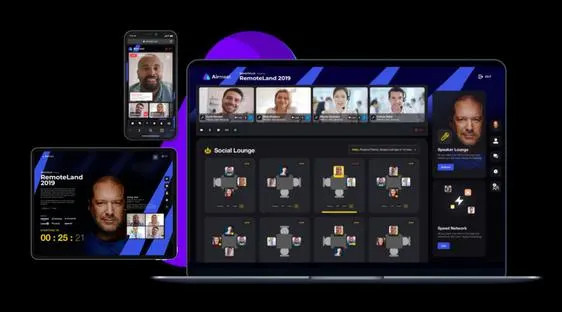 CommunitiesAir meet
like Popeye loves Spinach
Beyond the webinar
Airmeet is designed to help you do more, engage more people, and grow even more!
Create your own event

Focused on hosting both small meetups and large summits, it has the ability to scale with your community.An immersive experience for each participant.

No download required

It works on all modern browsers and devices with no software downloads and is a hassle-free experience for your attendees.We'll do the heavy lifting for you, so focus on your event.

All-in-one

Publish online events, manage registrations, invite speakers, accept payments, partner with sponsors, engage attendees, enable networking, and live like a pro.

High security and safety

Keep your event truly private and take full control of your attendee interactions.We build security and scalability at the heart of our platform.
find your mate
face to face
Meet and talk with like-minded people in your community.
Face-to-face builds real relationships.
Everything you have is important.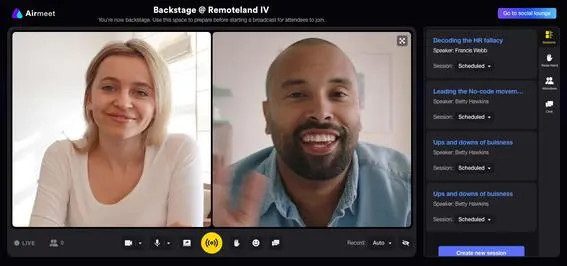 in the social lounge
conversation to conversation
Our virtual table allows flexible networking and communication.
Within the social lounge, you can seamlessly move from table to table and participate in a variety of individual conversations.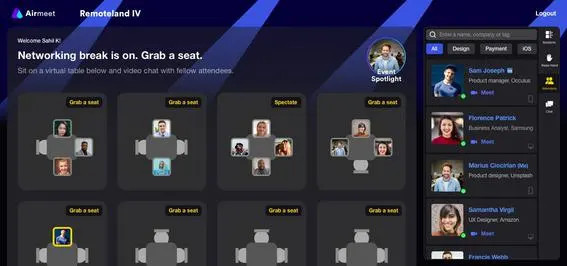 your own event
to control
Set up a backstage area for hosts and speakers to chat and prepare privately before and after sessions.
Avoid mistakes by testing and preparing your presentations.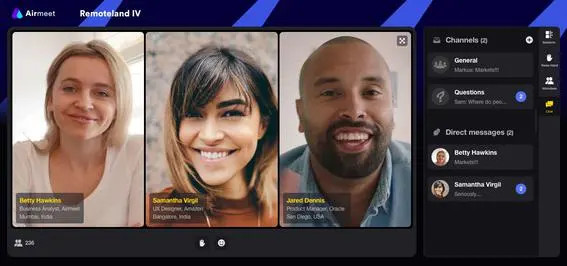 with participant profiles and tags
You can see the basic information of the other party
Detailed profiles and tags help you find people with common interests and relevant participants to start meaningful conversations.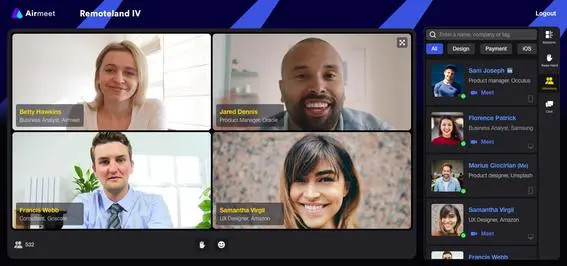 in an unprecedented way
join the community
virtual table - Customize your virtual table title and logo to create a virtual booth to support sponsors, networking fairs and workshops.

contact card - Exchange virtual cards with people you meet in social lounges and build new connections.

Raise your hand - Ask attendees to "raise their hand" and join them live on stage.

vote - Collect opinions and feedback by running simple polls and surveys.At the same time, it keeps the participants interested.

チ ャ ッ ト - Public and private chat built with a focus on productive, safe and secure messaging.

Q&As - Dedicated window for asking questions, voting, sorting by popularity and managing answers.

reaction - It's the age of emojis.Express your love, applause, laughter, and love for the event to your attendees.

Live stream - Grow your audience significantly by live streaming your event to Youtube and Facebook.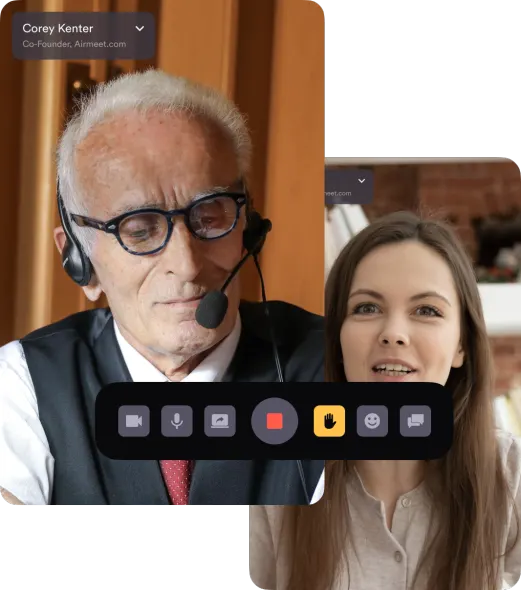 Create a community using Airmeet
Events| Meetups| Workshops| Town Hall| Networking| Exhibitions| Education
networking event

Create and attend special networking events that benefit and further your career goals.

workshop

Conduct immersive workshops that educate and entertain a wide audience.

company event

Make company events fun and engaging, such as company meetings, town halls, and product launches.

meetup

Attract and meet new people to create an inspiring community that shares common interests with you.

Webinar

You can interact effectively with your defined audience.It also associates pre-recorded and live webinars.

conference

Easily attract attendees, invite on-demand speakers, and start your meeting with little effort.
Testimonials
"I highly recommend asking Airmeet for a demo if you're hosting an online community event."

John Coghlan

Evangelist Program Manager at GitHub

"Airmeet makes remote meetings feel like face-to-face events. Virtual tables, spontaneous meet-ups, Q&A with presenters...so cool."

Niels Hoven

Product Manager, Cloudflare

"Airmeet has reshaped online meetings. I had an enjoyable Airmeet session with Lalit Mangal."

Kashish Sharma

AngelList India

"I had a great experience at Airmeet. It felt like an actual in-person event."

"If you want to know your community, it is a must."

Praveen Singh

Founder 1000 Founders

"I had a great experience with Airmeet. Great interaction."

Sreekandh Balakrishnan

CTO at Enchanting Travels
Want to give your community a more interactive online experience?
Try Airmeet's all-in-one virtual event platform.